Easy and delicious lemon olive oil cake infused with CBD oil and decorated with a soft vanilla icing and candied lemons.
This post is sponsored by KOI CBD. All opinions are my own.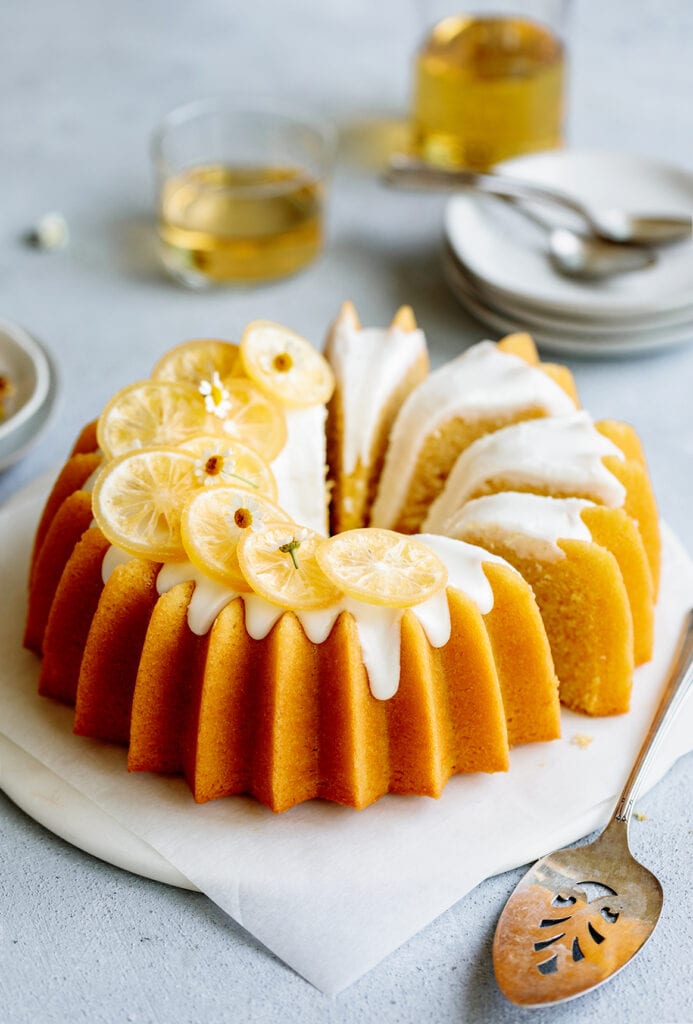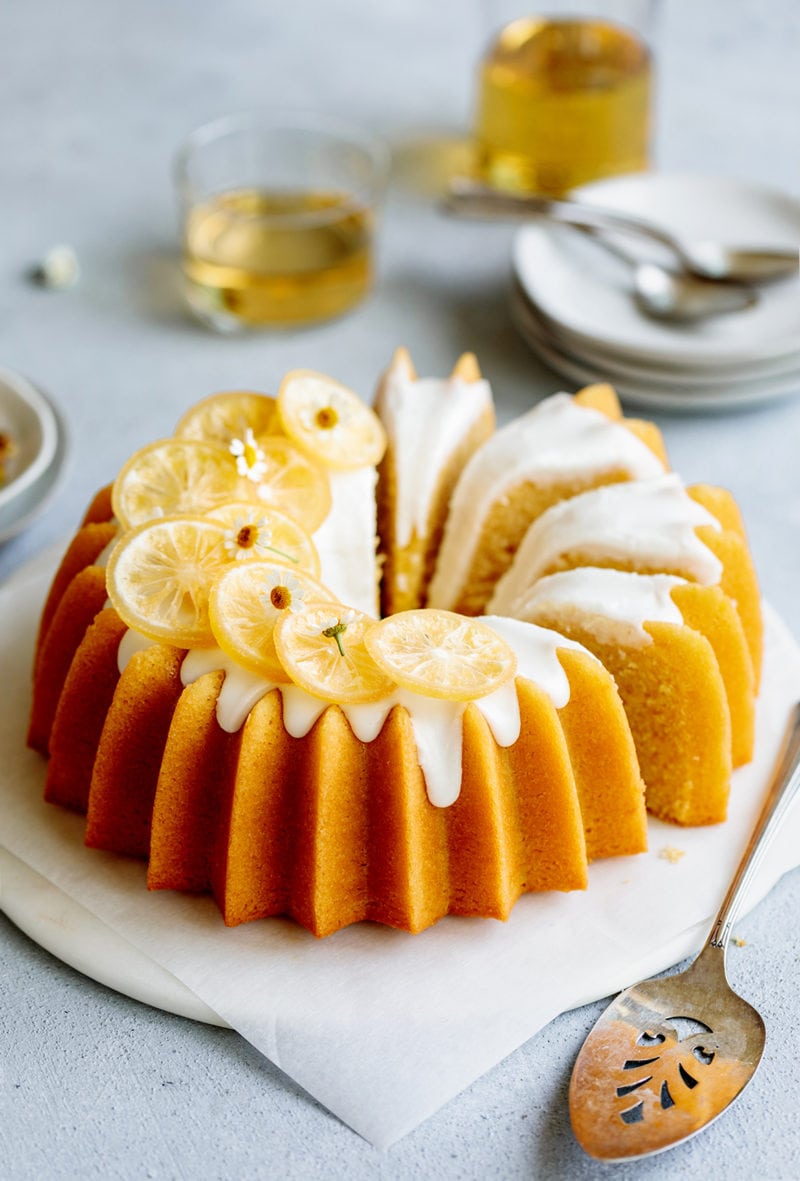 So many of you loved my Strawberry Tres Leches cake infused with CBD oil that I thought it would be great to bring you yet another recipe to add to your roster.
This Lemon Olive Oil Cake is perfect year round, but especially during the warm summer days. I've made it a couple of times already and after testing it 3 times, I can assure you you're going to LOVE it!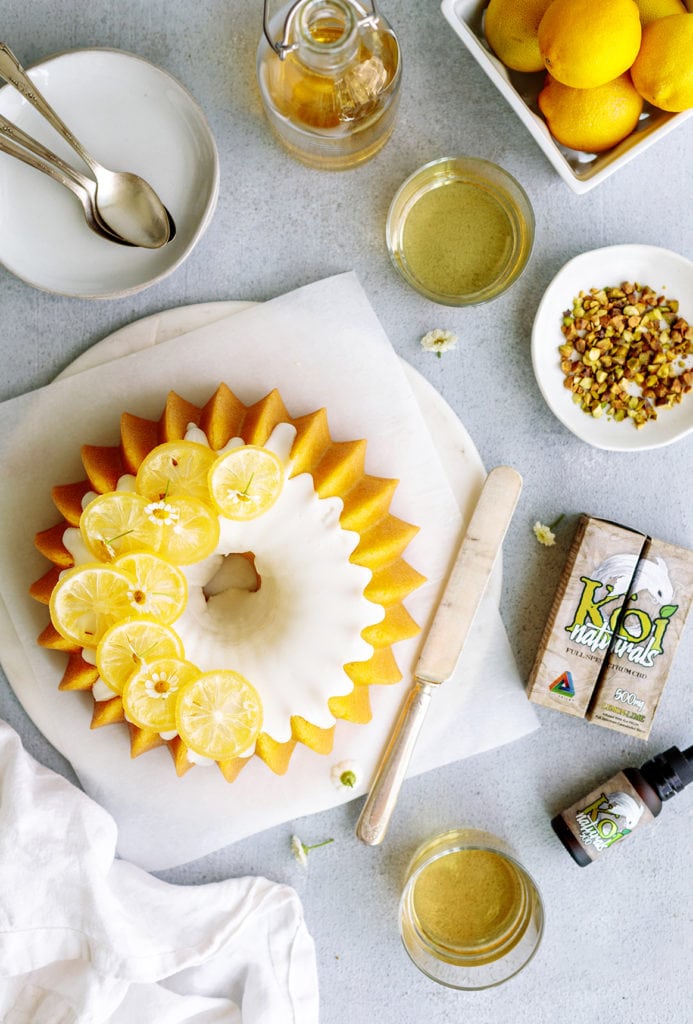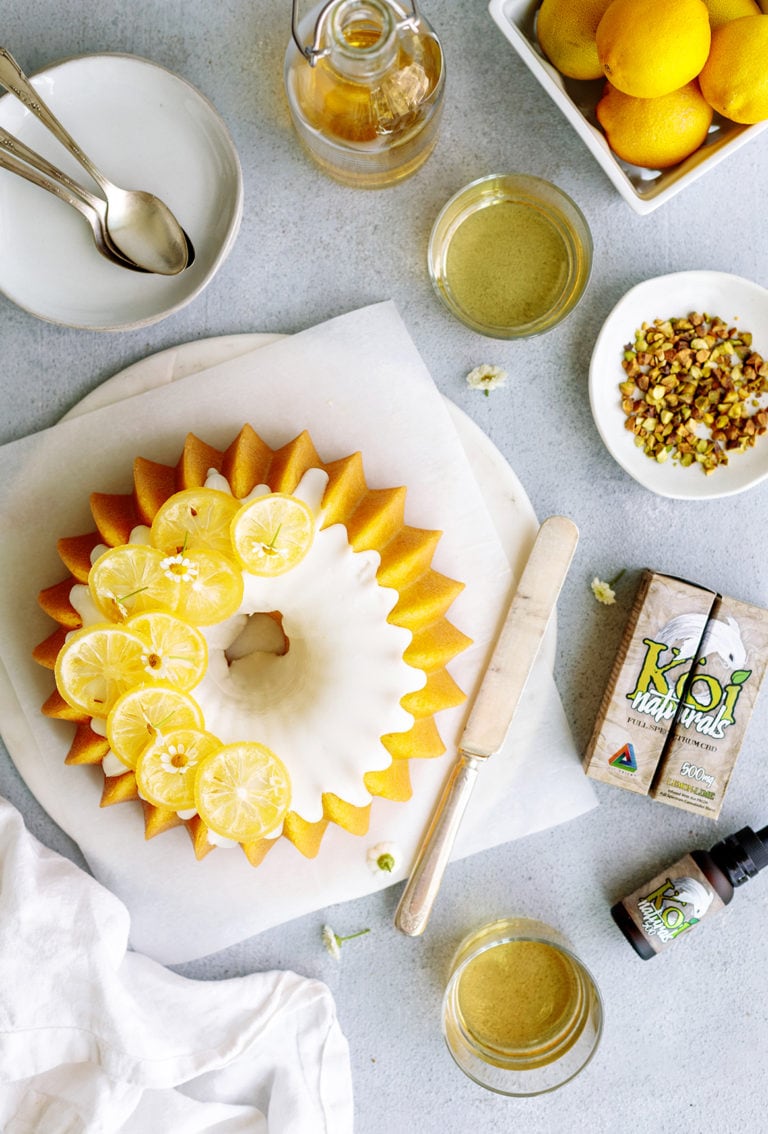 For this cake, I used KOI Naturals Lemon-Lime CBD Tincture. If it's your first time baking with CBD, read below where I give you some tips. And also, if it's your first time taking CBD (of any kind), make sure to start with the smallest amount and to check with your doctor just in case.
a note on cbd oil:
Koi CBD is 100% Natural, 99%+ Pure CBD manufactured in an ISO Certified Lab and contains No THC (0%) – the stuff that makes you high. They use only the highest quality ingredients available, and Koi is Lab Tested for purity, consistency, and safety. Each batch of their CBD has full traceability from the start, to the finished product. Koi Naturals Strawberry provides the incredible benefits of cannabinoids and 13 distinct terpenes.
In short, CBD oil will not make you high, but it may help relieve symptoms of anxiety and pain (source: HuffPost). Please consult your doctor before using if you have any medical conditions or are simply concerned.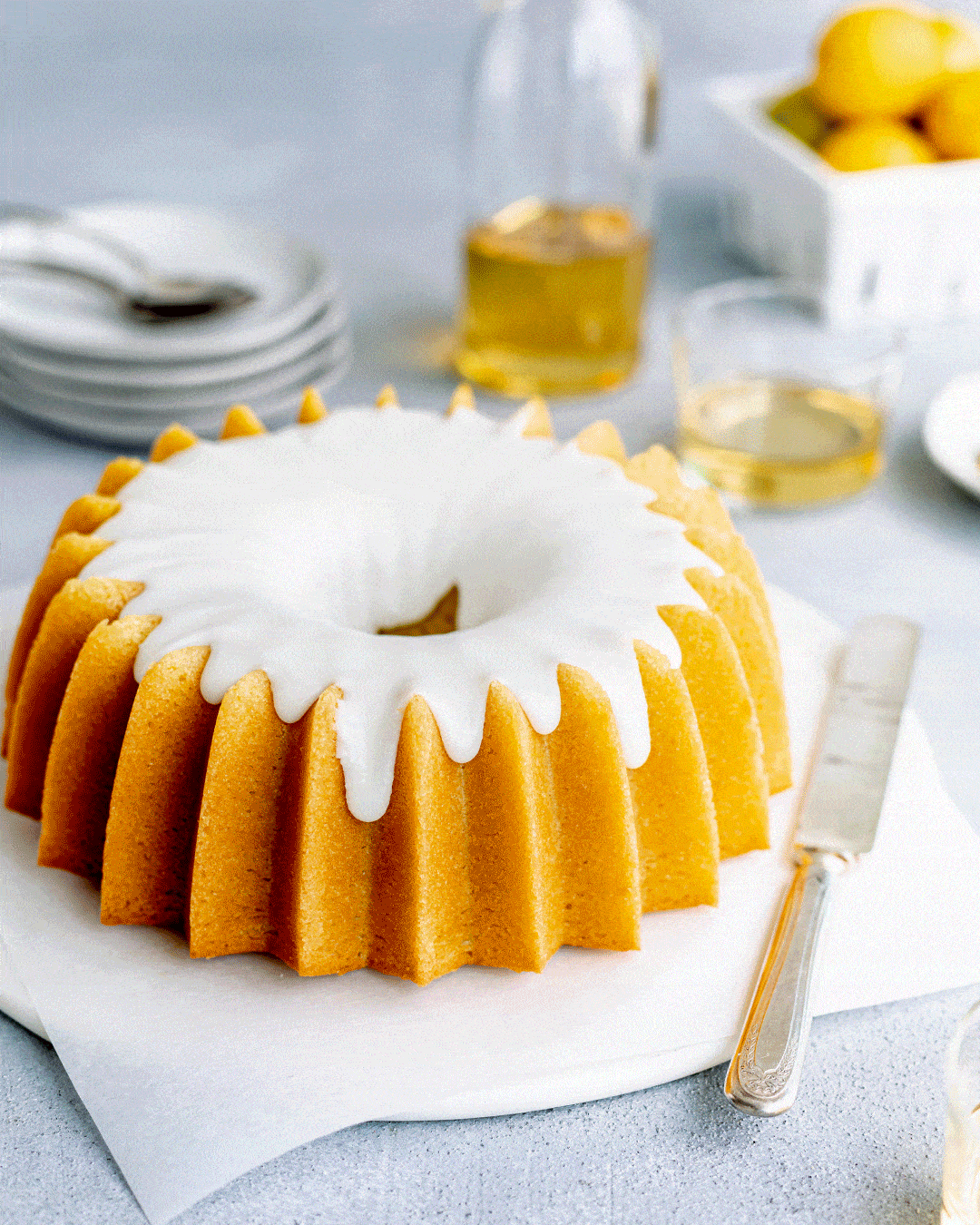 Tips for baking with cbd oil
Baking with CBD oil can be very easy. To bake with CBD, it needs to be extracted into a fat, which is why KOI tinctures are perfect for baking. They have been infused with coconut oil, and come in a variety of flavors – including natural.
How much you add to your baked goods depends on the amount or dosage per serving. If it's your first time, I'd suggest adding the smallest suggested amount. For this Lemon Olive Oil Cake, I added 1 full dropper (the suggested amount per person is 1-3 full droppers a day). I wanted to keep it simple, but you can add up to 4 full droppers for the whole cake and it'd still be considered safe.
If you add more than 1 dropper, I'd suggest only using 2 lemons instead of 2 1/2. Just so that it's not overpowering and you can still taste the richness of the olive oil.
Also, the cake is baked at 350F which doesn't increase it's potency or adds any after taste to the cake. The boiling point for cannabidiol is between 320 degrees F to 356 degrees F, so make sure not to go over 356.
How to make a Lemon Olive Oil Cake
This is a no-fuss easy and quick recipe, that comes together in less than an hour. I like to start baking by first reading the recipe a couple of times, not only to make sure I have the ingredients but to get familiarized with all the steps. I also like to measure all the ingredients and have them lined up before I start (also known as mise en place). This way you don't forget anything!
For this recipe I used 2 1/2 lemons, lemon zest, high quality olive oil and orange flavor extract (enhances the citrusy flavor). And of course, the standard cake ingredients such as all purpose flour (sifted for a lighter batter!), 4 organic eggs, whole milk, sugar and light brown sugar (love!). You can also make this cake without the CBD oil, without changing it's flavor or texture.
I decorated this cake with a simple vanilla icing (recipe below), candied lemons and some chamomile flowers (my favorite). You can also serve with chopped pistachios (and some white wine). Perfect for brunch, too!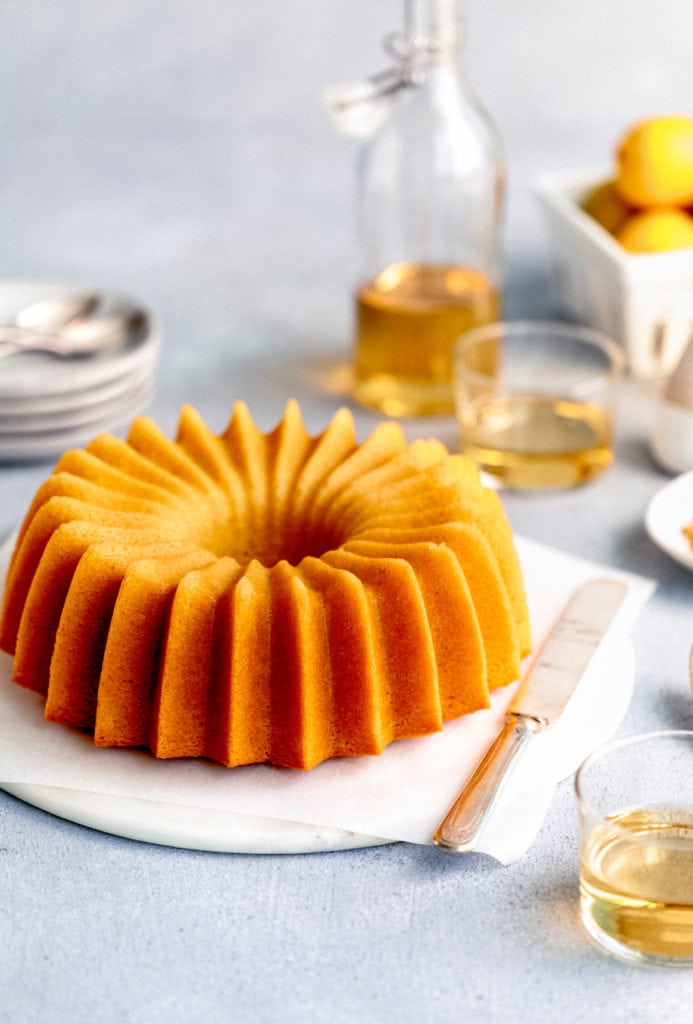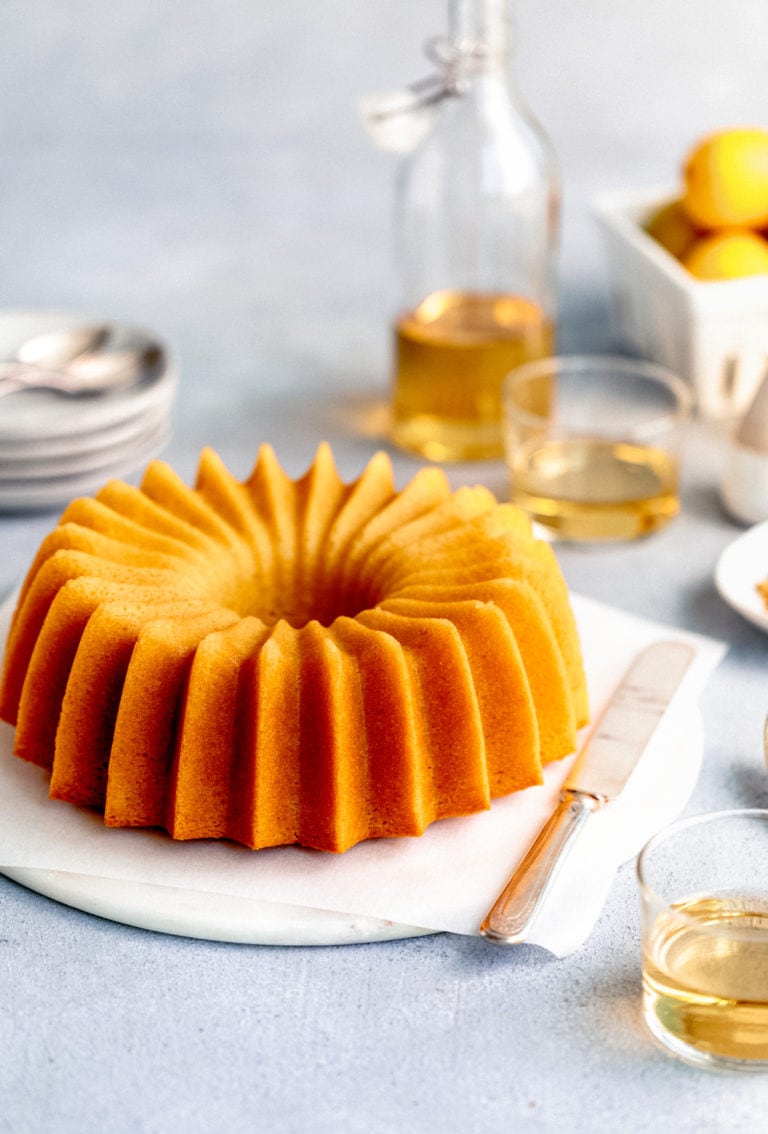 I'm so happy you're making one of my recipes, and would love to see how it turns out! Share it on Instagram using #yogaofcooking so I can see it, it always makes my day!
Happy Baking! xo
Print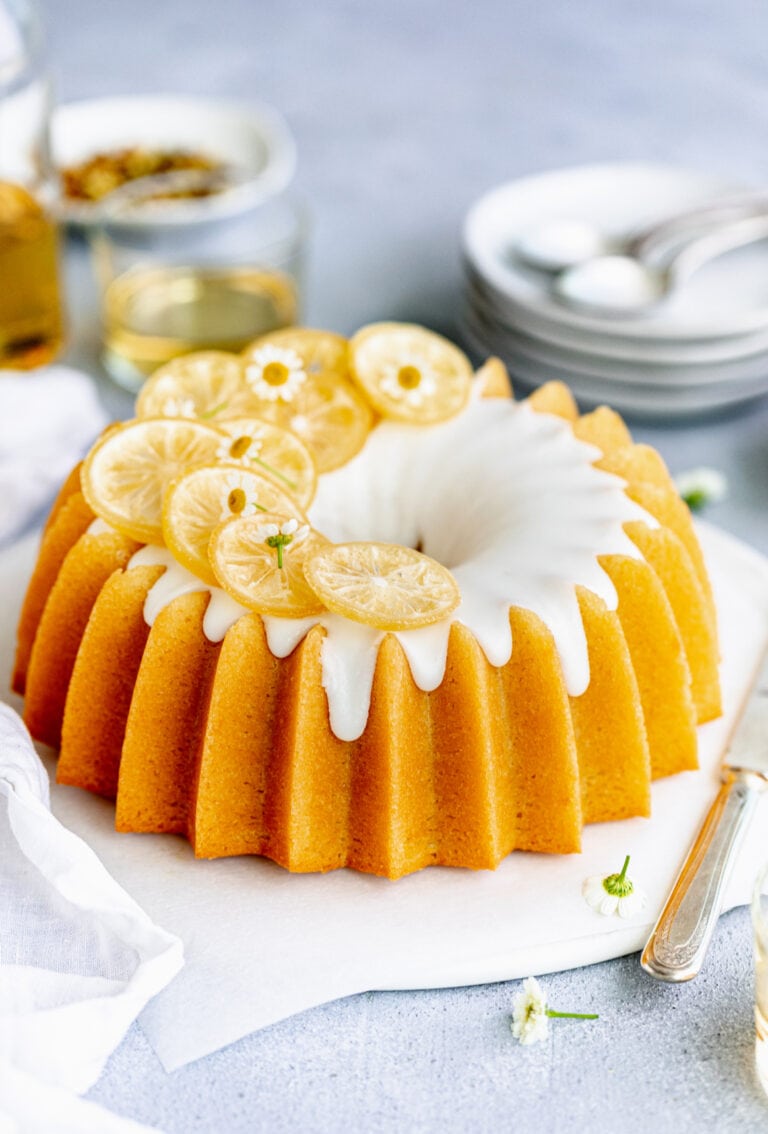 Lemon Olive Oil Cake with CBD oil
Easy and delicious lemon olive oil cake infused with CBD oil and decorated with a soft vanilla icing and candied lemons.
Total Time:

45 minutes

Yield:

1

cake, 8 servings

1

x
For the Lemon Olive Oil Cake
2 1/2

cup

all purpose flour, sifted

1 1/2

cup

granulated sugar

1/4

cup

light brown sugar

1/2 tsp

baking soda

1 tsp

baking powder

1/2 tsp

salt

1

cup

extra virgin olive oil

1

cup

whole milk

4

eggs, room temp

2 tbsp

lemon zest
Juice from

2 1/2

lemons

1 tsp

vanilla extract

1/2 tsp

orange flavor extract

1

dropper KOI Naturals Lemon-Lime Tincture, optional
For the Icing
3 1/2

cups

powdered sugar, sifted

2 tbsp

canola oil

3 tbsp

hot boiling water
splash of vanilla extract
Decorate with candied lemons and chamomile flowers
Instructions
For the Lemon Olive Oil Cake
Preheat the oven to 350F and spray a 10 cup bundt pan with baking spray.
In a large bowl, sift and whisk all the dry ingredients; flour, sugar, brown sugar, baking soda, baking powder, and salt.
In a separate bowl, whisk and combine all the wet ingredients; EVOO, milk, eggs, lemon juice and zest, vanilla and orange extracts, and the CBD tincture (if using).
Add the dry ingredients to the wet ingredients, one cup at a time. Whisk until fully incorporated but careful not to over mix.
Transfer to greased bundt pan.
Bake for 35-40 minutes or until a toothpick inserted in the center comes out clean.
Remove from the oven and allow to cool before serving or decorating.
For the Icing
In a large bowl, sift the powdered sugar. Add the oil and one tablespoon of hot water at a time. Add a splash of vanilla and whisk together until desired consistency.
Decorate with icing, candied lemons, and chamomile flowers. You can also serve as is or with chopped pistachios.
Keywords: lemon olive oil cake, cbd baking
looking for delicious recipes? check these out!
Dutch Baby Pancake with Caramelized Peaches
* This post is brought to you by KOI CBD. All content, including recipe, photos, and words are my own. Thank you for supporting the brands that keep Yoga of Cooking, mindful.
19