How to build an easy and impressive Winter Cheese Board featuring seasonal fruits, nuts, olives and a variety of cheese and charcuterie.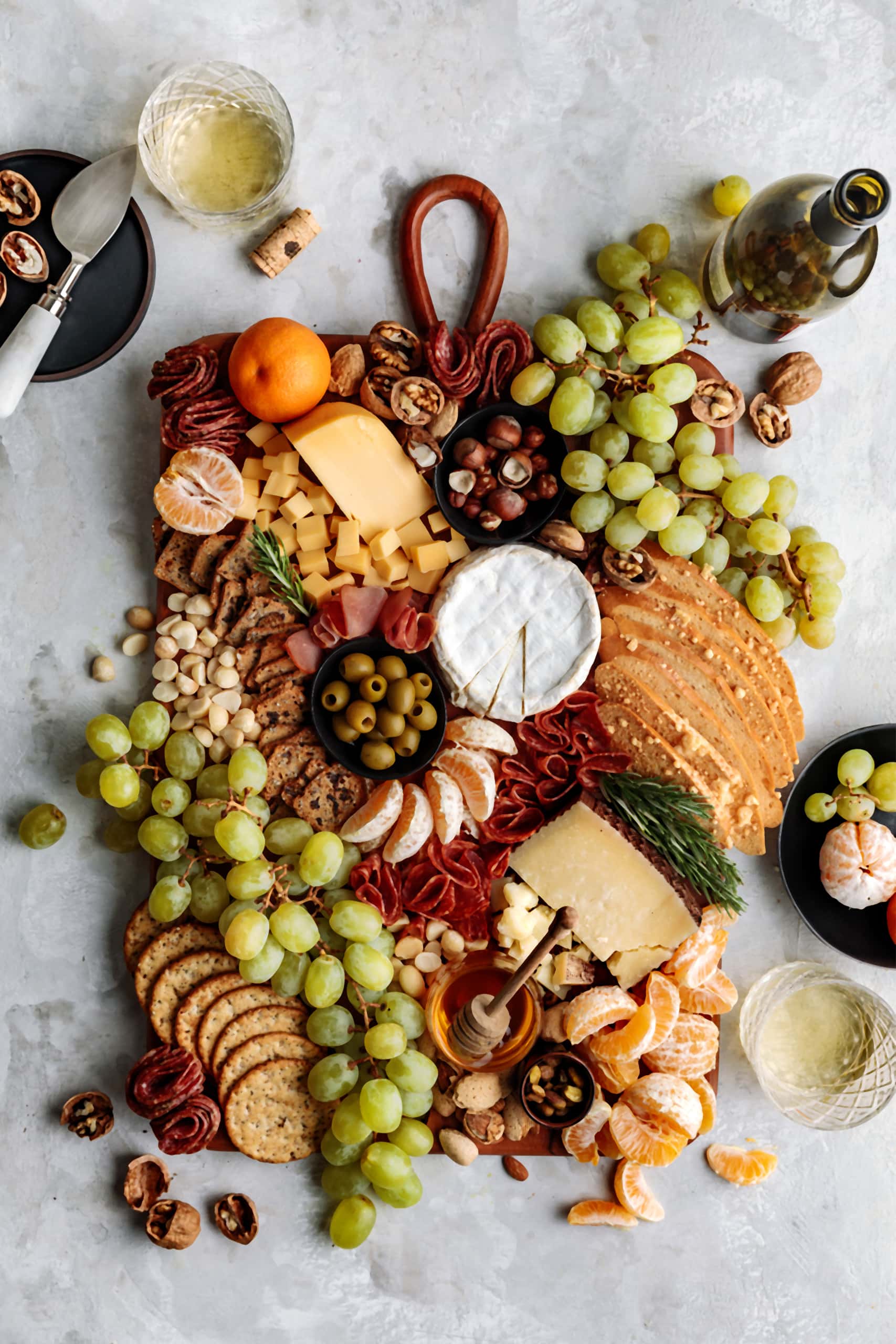 This post is sponsored by Darling Clementines® and Grapes. All opinions are my own.
Winter entertaining might look a little bit different this year, however this Winter Cheese Board is perfect for intimate family gatherings and holiday celebrations!
I teamed up with Darling Clementines® and Grapes, To bring this grazing board to life! I wanted to focus on seasonal fruits, nuts, a mix of soft and hard cheeses and our favorite meats.
Best Winter Cheese Board Tips
Cheese boards are a great way to entertain, they're easy to put together and require very minimal work!
A few key things to keep in mind when building a board:
Start with a large blank canvas, such as a rectangle or round wooden board. Make sure it's a food safe board! Another option is to use a large baking sheet, not as pretty but functional nonetheless.
Use gloves when arranging the items.
Provide plenty of serving utensils, appetizer plates, toothpicks and napkins.
Cut and slice the cheeses and meats so that they're easy to grab or serve.
Focus on a variety of textures and color, from soft to hard cheeses, seasonal fruits and nuts and crackers.
Serve cheese room temperature instead of cold. You can arrange the board an hour before guests arrive for optimal temp!
Include food that you LOVE! The options I'm showing you are some of my favorites, but feel free to pick and choose what you know your guests (and you!) are going to love.
Remember to keep it simple! It should be fun and most importantly, easy!
Pair with red and white wine.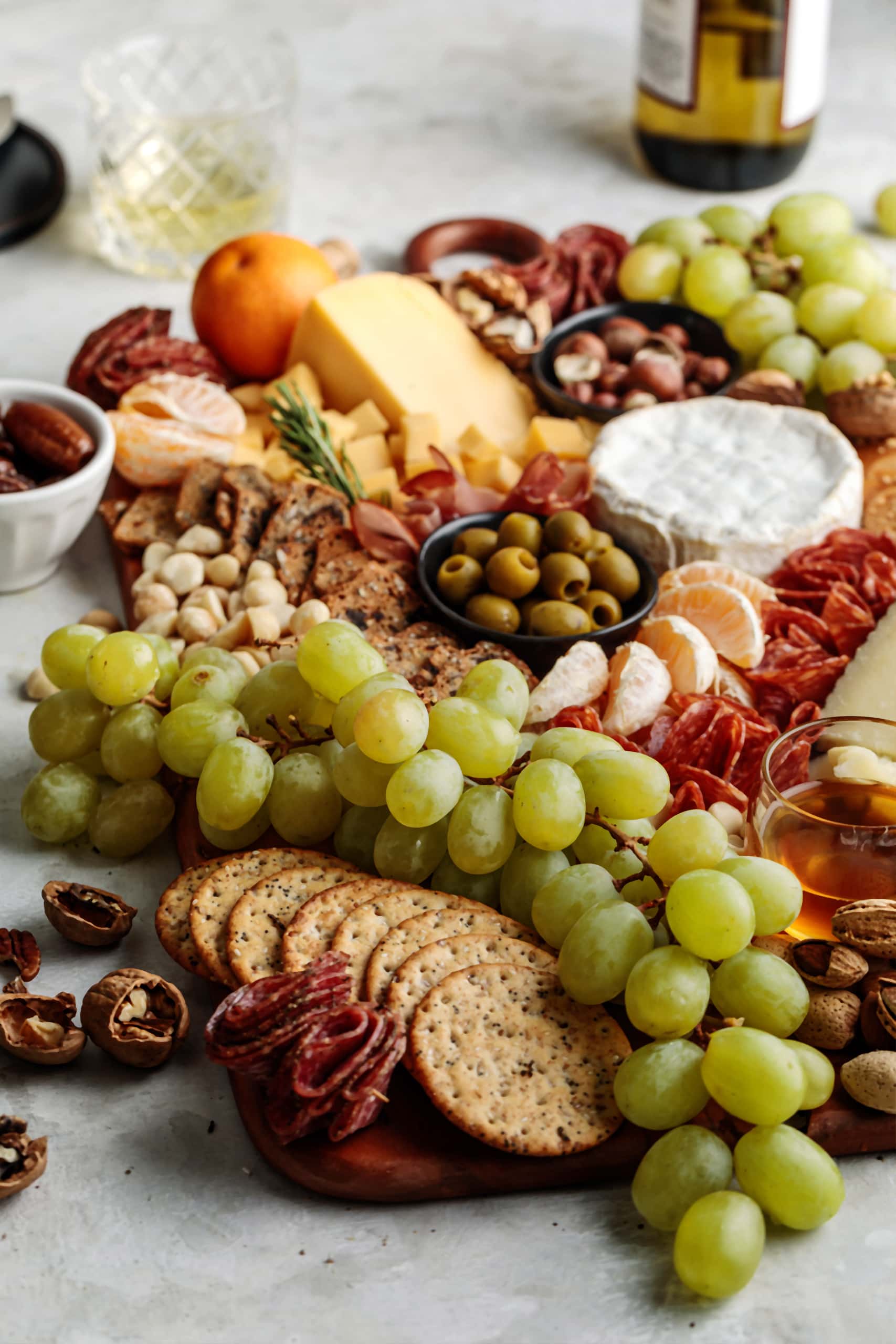 Choose Seasonal Fruits
For this winter platter, I focused on seasonal fruits like clementines and grapes. Fresh fruits pair well with cheeses and honey, and bring lots of color to the board. Darling Clementines® are packed with juicy sweetness from the best citrus groves around the world. They are are grown in the most fertile areas of Chile, Peru, Spain, Uruguay, and Morocco! Clementines pair well with a soft cheese like goat or brie.
LGS Grapes, are grown in some of the world's finest vineyards, and pair really well with creamy cheeses like camembert with crackers.
Focus on a variety of textures and colors
Cheese, meats and fruits are the building blocks of a cheese board, so I like to focus on a variety of options, textures and colors to make it impressive and delectable.
Cheeses
Cheeses are the anchor of any cheese board, so I like to place them first and pick the accompanying items based on my choices. Go for 3 to 4 different variety of cheeses; a mix of soft, hard and aged. I look for soft cheeses like Brie or Camembert because they pair well with fruits and nuts. Aged cheeses like Manchego are always at the top of my list! It goes really well with wine and nuts, and since it's made from sheep's milk is a great option for sensitive tummies.
I also included some Gouda because you really can't go wrong with gouda and salami!
Charcuterie
Select two to three types of meats, depending on number of guests and of course, preference. Since I had a Spanish theme in mind, I went for Jamón Serrano which is my go-to option, or a good Prosciutto or Capicola if you prefer Italian cured meats. Other options include uncured and/or peppered salami.
Arrange meats on opposite sides of the board, roll, fold or thinly slice for an interesting presentation.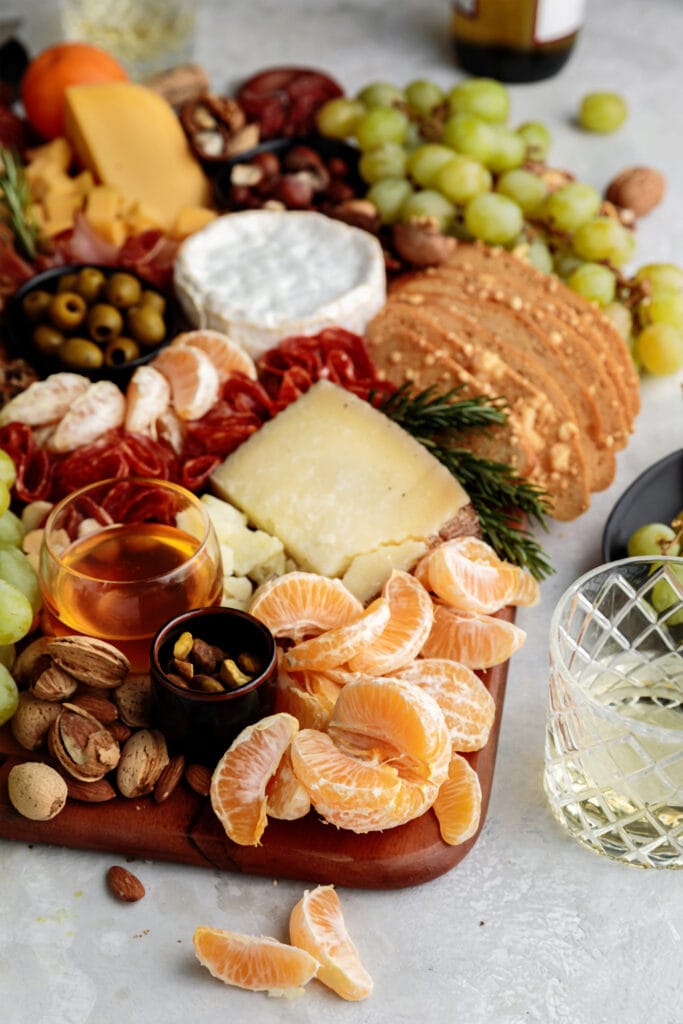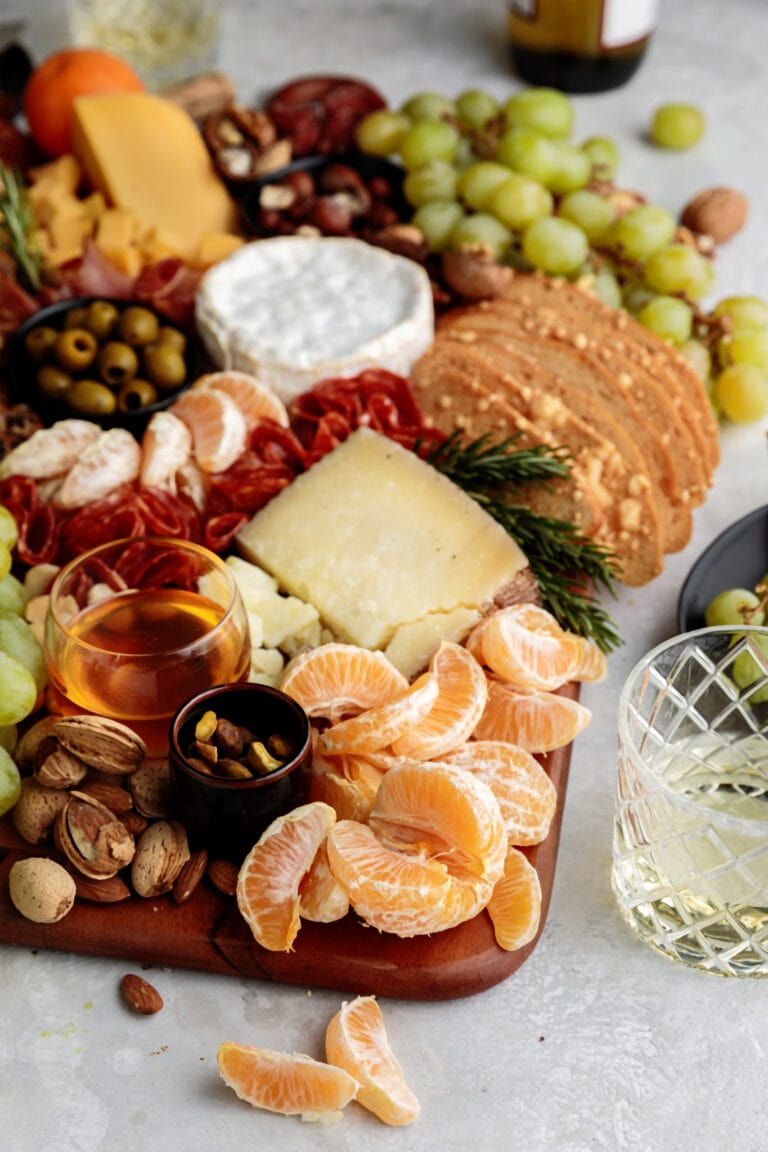 A variety of Nuts
I like to include nuts, especially seasonal nuts, to add a crunchy and hearty option. Options include: chestnuts, walnuts, pecans, hazelnuts, pistachios and Marcona almonds. Toast for an even crunchier option!
I like to serve some in bowls to fill in some gaps. I also love including them in the shell, and if you do too, make sure to provide a nutcracker.
Don't forget Crackers!
No board is complete without crackers! Pick between 2-3 options such as nut and fruit crisps, rustic flatbreads and multigrain crackers.
Finishing Touches
Include bowls with dates, olives or fruit spreads. For this Winter Cheese Board, I opted for pitted green olives, but you can go for Castelvetrano olives or black olives, marinated artichokes or pickles. Spreads like fig preserves or cranberry sauce (great with brie!) and of course, honey!
Decorate with rosemary and thyme sprigs for an extra finishing touch.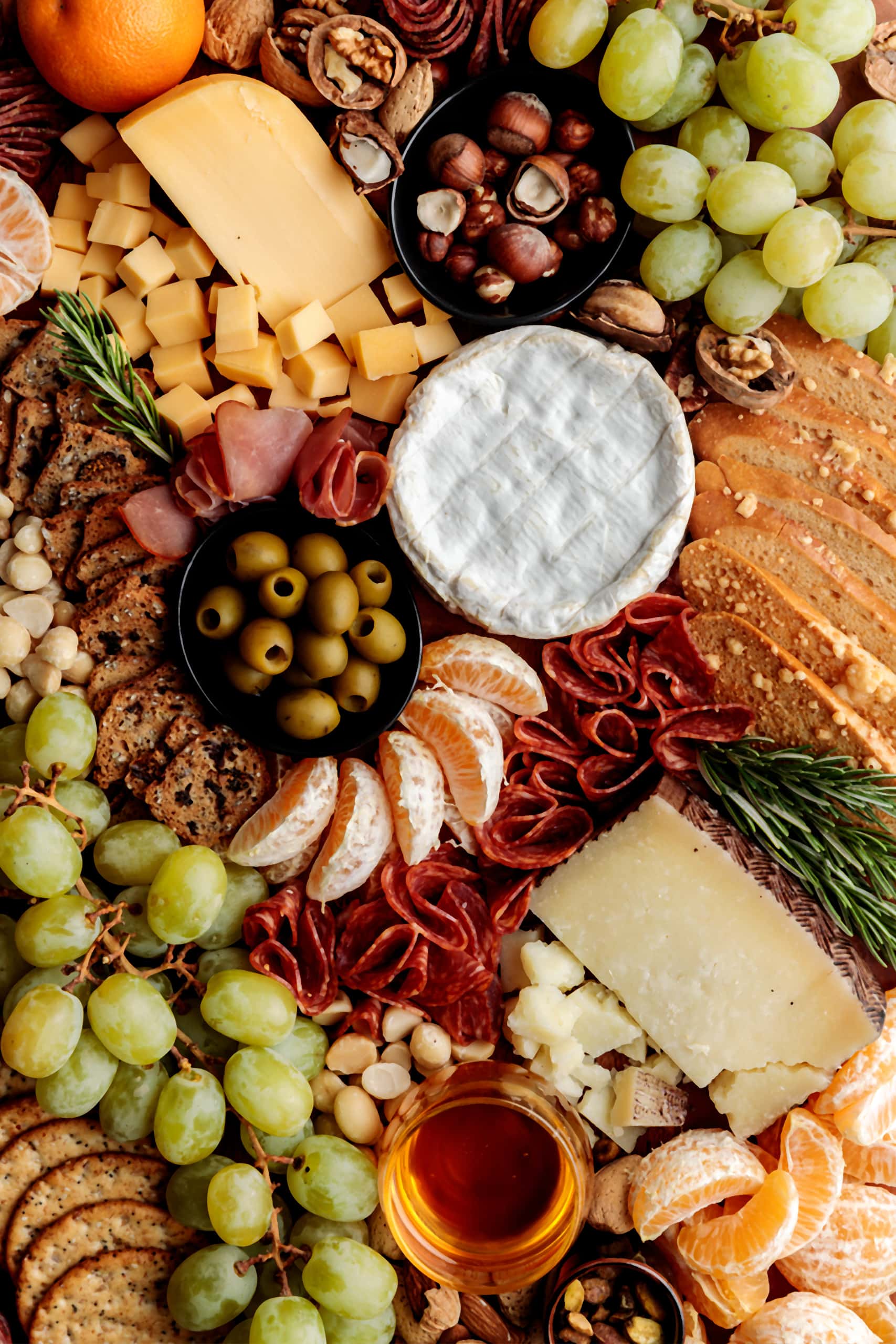 Other Board Ideas
If you make this Winter Cheese Board make sure to leave a comment below and tag me on Instagram so I can see it and share with others!
Print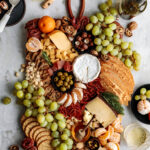 Winter Cheese Board
---
Description
How to build an easy and impressive Winter Cheese Board featuring seasonal fruits, nuts, olives and a variety of cheese and charcuterie.
---
3

–

4

cheese options, such as Camembert, Gouda, Manchego, Goat
Assorted meats, such as Jamón Serrano, Prosciutto, Salami
Variety of nuts, such as walnuts, pecans, chestnuts, Marcona almonds
Seasonal fruits, such as Darling Clementines® and Grapes
Variety of crackers and crisps
Green and black olives
Dried fruits, such as dates
Honey
Rosemary and thyme, for decoration
---
Instructions
Arrange cheeses on a large board first (cubed or sliced), followed by the grapes and clementines. Thinly slice and/or fold meats. Fill gaps with nuts either placed directly on board or in bowls. 
Fill the board with honey and crackers.
Serve with red and white wine.
Keywords: winter cheese board, cheese and charcuterie board, holiday cheese board