How to make a Mezze Platter
An easy guide on how to make a Mezze Platter, with hummus, tzatziki, tabbouleh, pita, and so much more!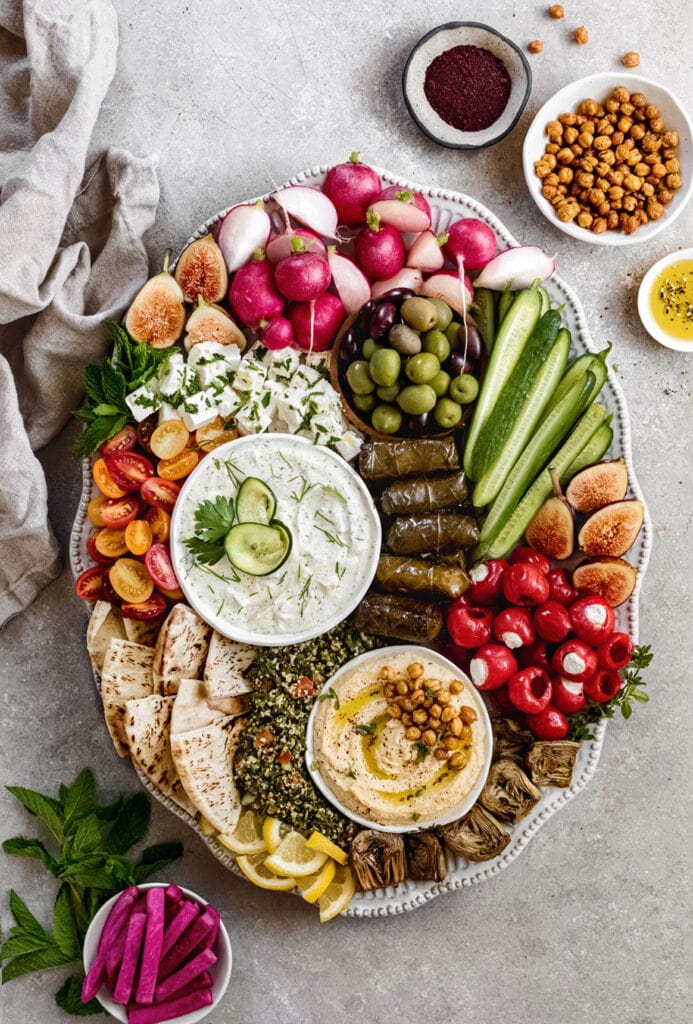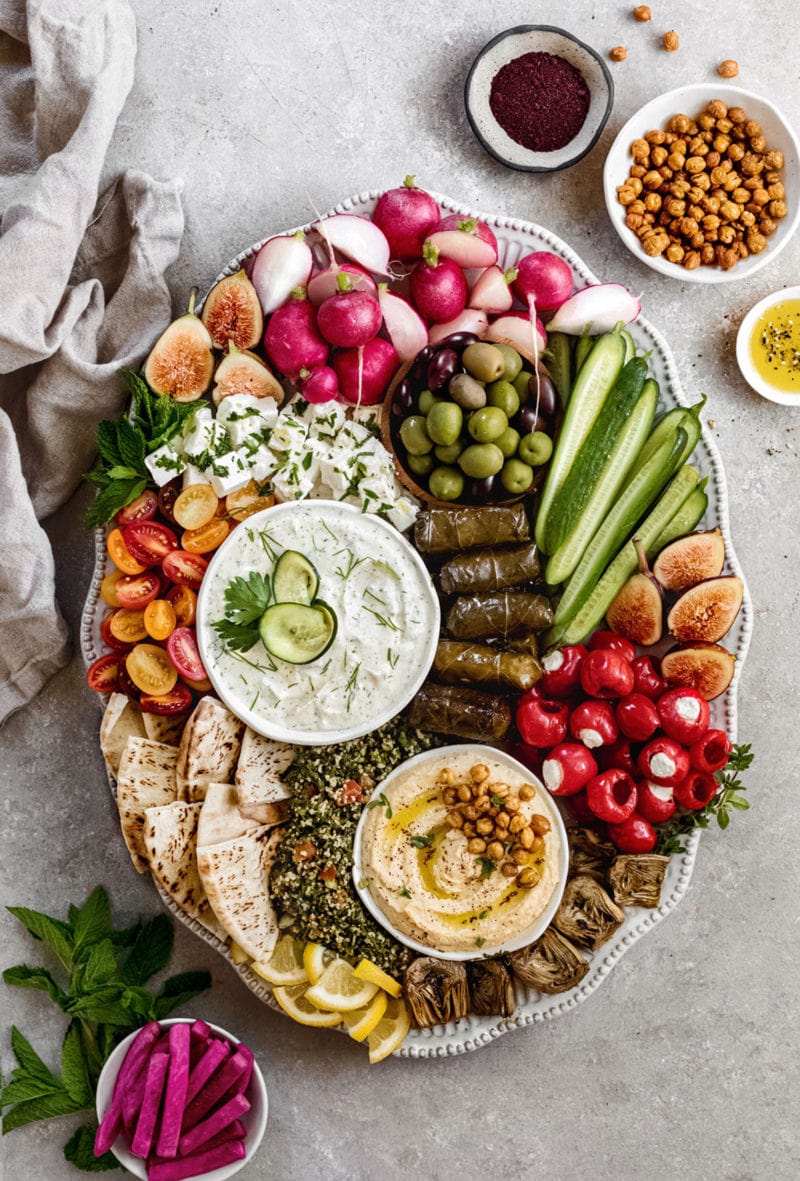 What is a Mezze Platter?
A Mezze Platter is a traditional Mediterranean spread, made from a selection of small dishes such as hummus, tzatziki, dolmas, and tabbouleh. Mezze means 'sharing' in Arabic, so inherently, this platter is made for entertaining at home, and encourages everyone to share and stay a while. It's popular in Greece, Turkey, across the Middle East and North Africa.
This Middle Eastern-inspired Mezze Platter makes up an entire meal. Made with all store bought ingredients and take-out options, this no fuss guide will help you create the best platter ever.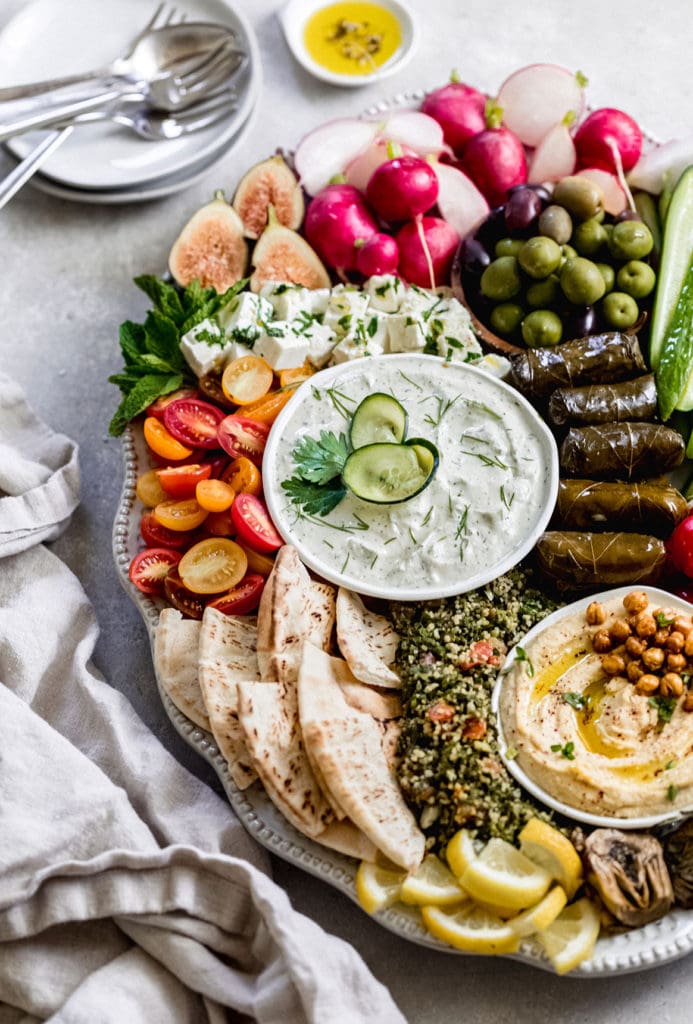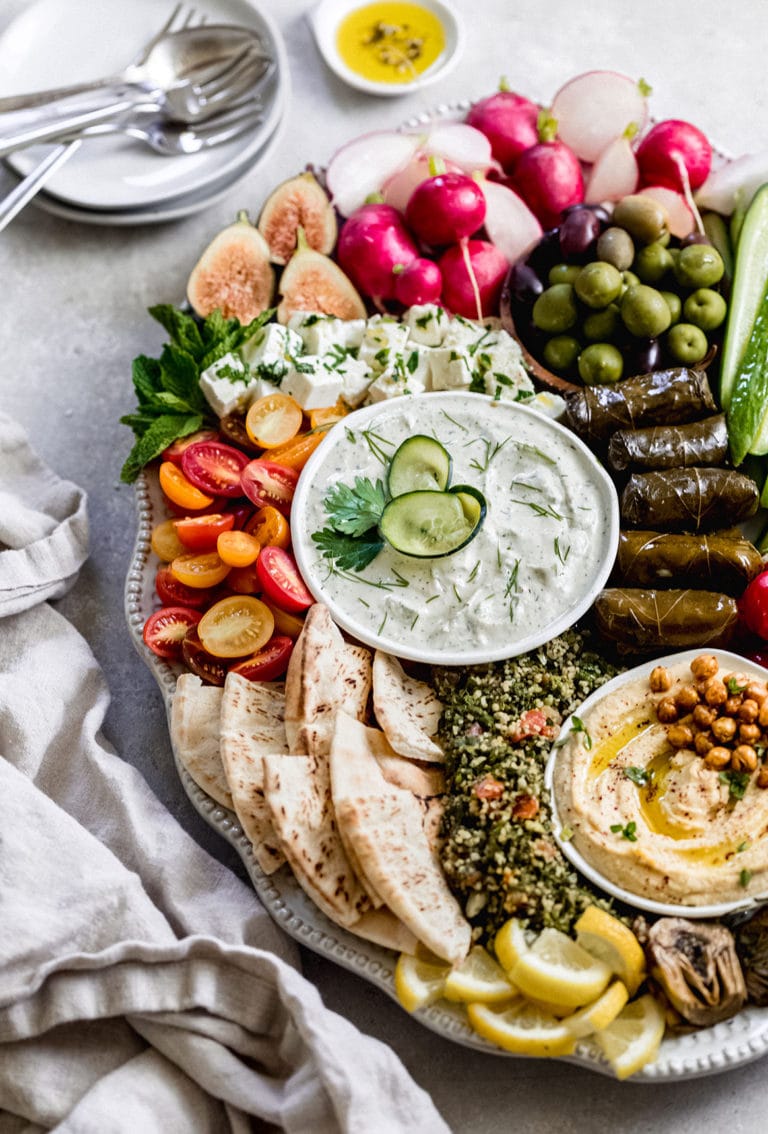 Step One: Dips
For this platter, I picked two main dips: hummus and tzatziki. Both are traditional and easy to find at your local store. If you haven't heard of tzatziki, you're missing out! It's a yogurt based dip mixed with cucumbers, olive oil, lemon, and herbs like dill and mint.
Hummus is simply delicious and also a great option for vegans. To serve, I roasted some chickpeas (for an extra crunch), drizzled some olive oil, sprinkled some paprika on top.
Other great Middle Eastern options include baba ghanoush – a smoky roasted eggplant dip with tahini (YUM), muhammara – a dip made with roasted red peppers, walnuts, and pomegranate molasses, Mutabbal and Labneh (strained yogurt).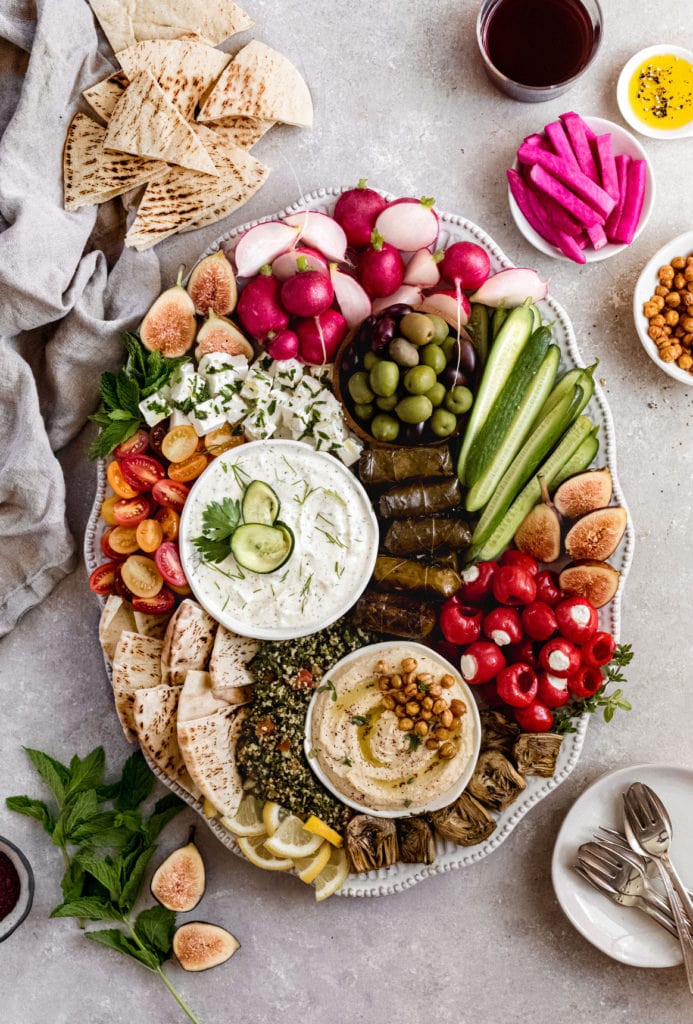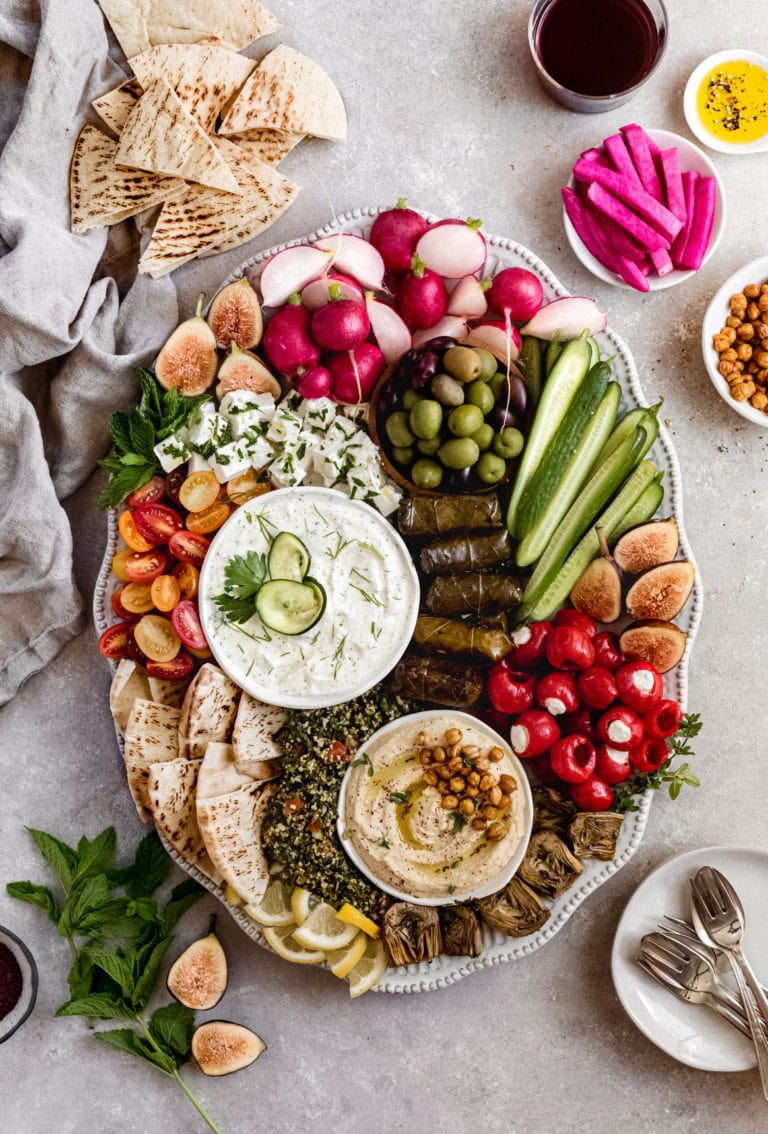 Step Two: Dipping Options
The dipping options are simply a mixed of your favorite ingredients. I chose sliced Persian cucumbers, pita (lavash and naan are great options, too), fresh radishes, cherry tomatoes and pickled radishes.
Other delicious options include fried cauliflower, sun-dried tomatoes, fruits such as figs, lemon wedges, assorted berries and apricots, and nuts like Marcona almonds and walnuts.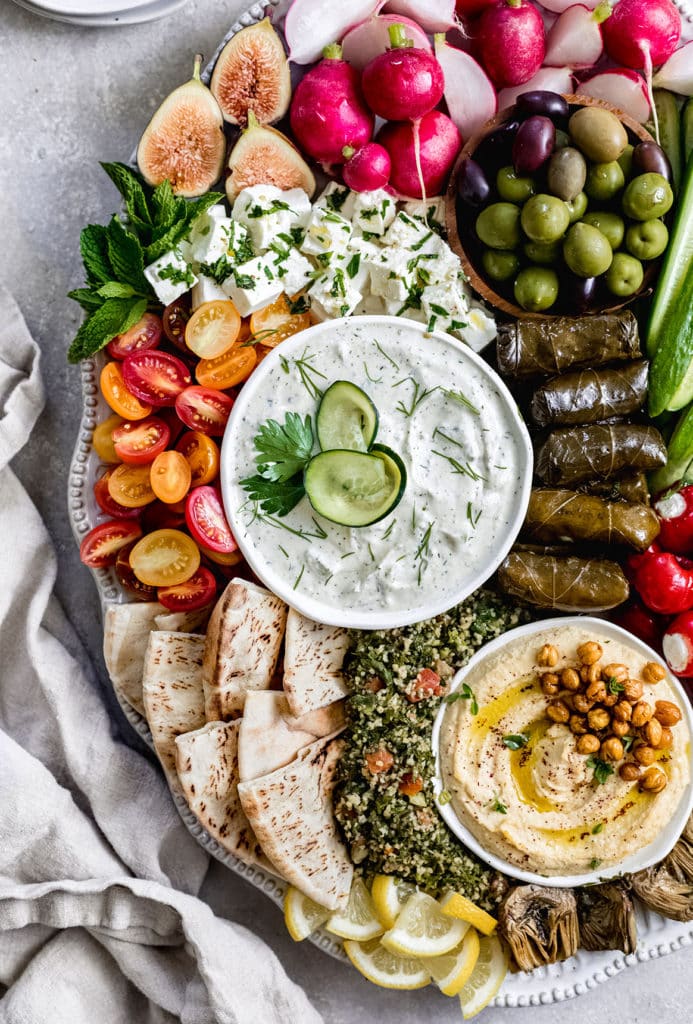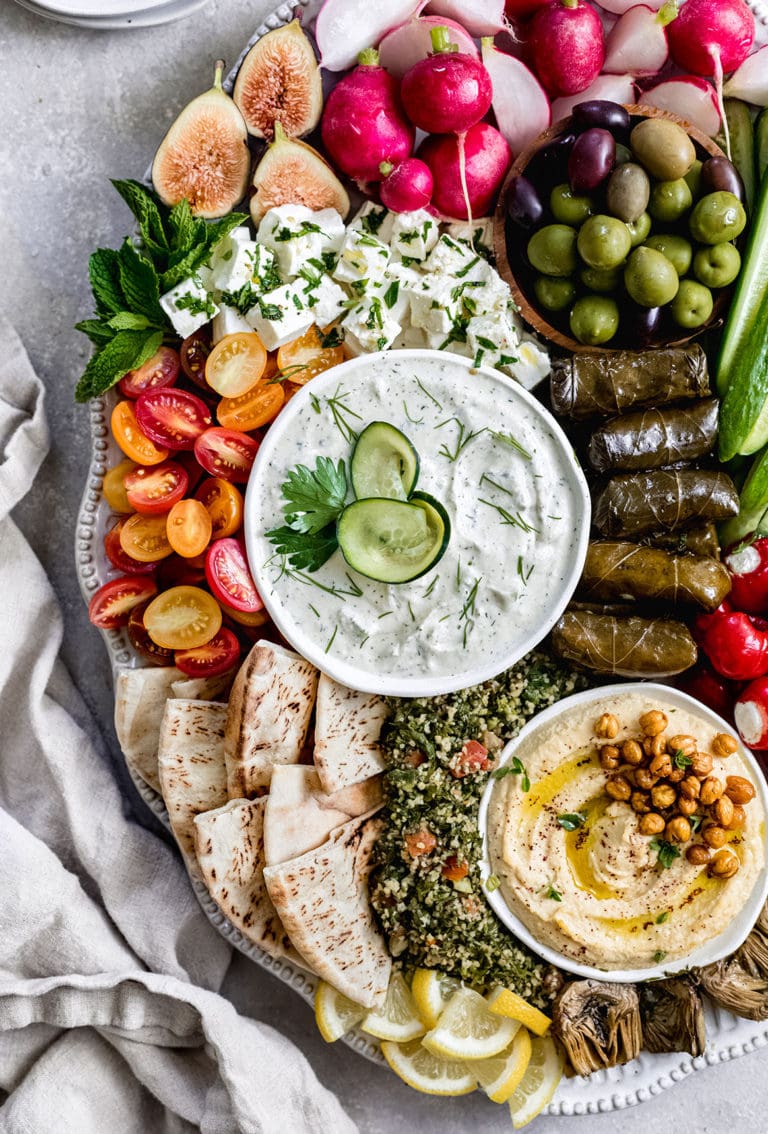 Step Three: Add Traditional Options
For this board, I chose grape leaves (called dolmas), tabbouleh, mixed Greek olives, marinated artichokes, cubed herbed feta cheese and goat cheese stuffed peppercorns.
Other traditional dishes include fattoush, kibbeh, sausages, halloumi, and my favorite, falafel.
Step Four: Drinks
We always serve with red wine, probably not the most traditional way, but it works! If you want a traditional try Raki, an anise flavored drink.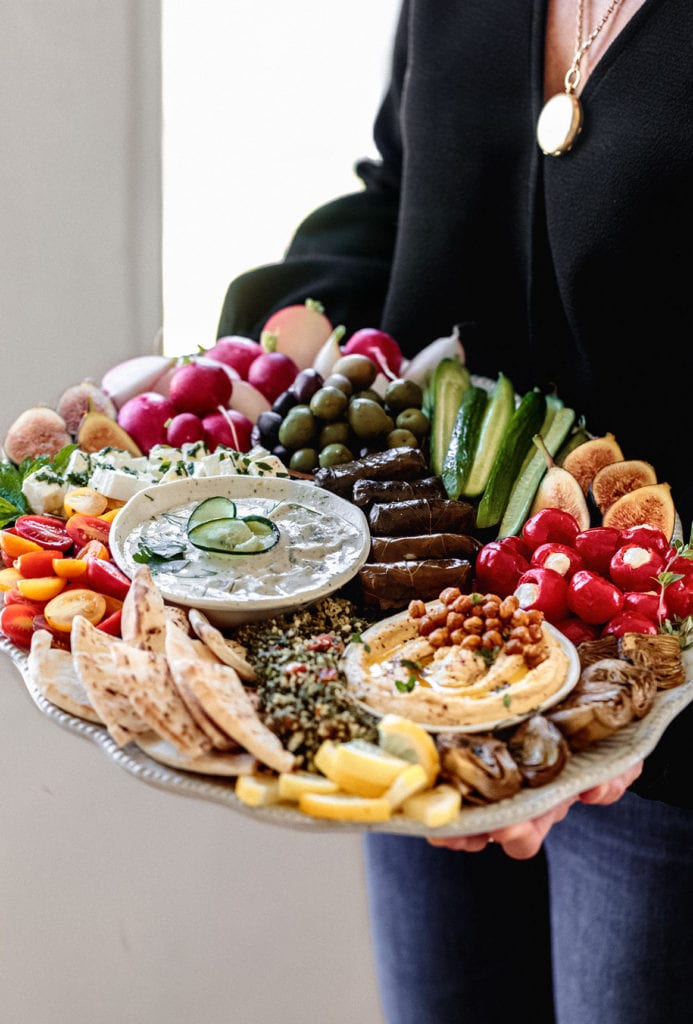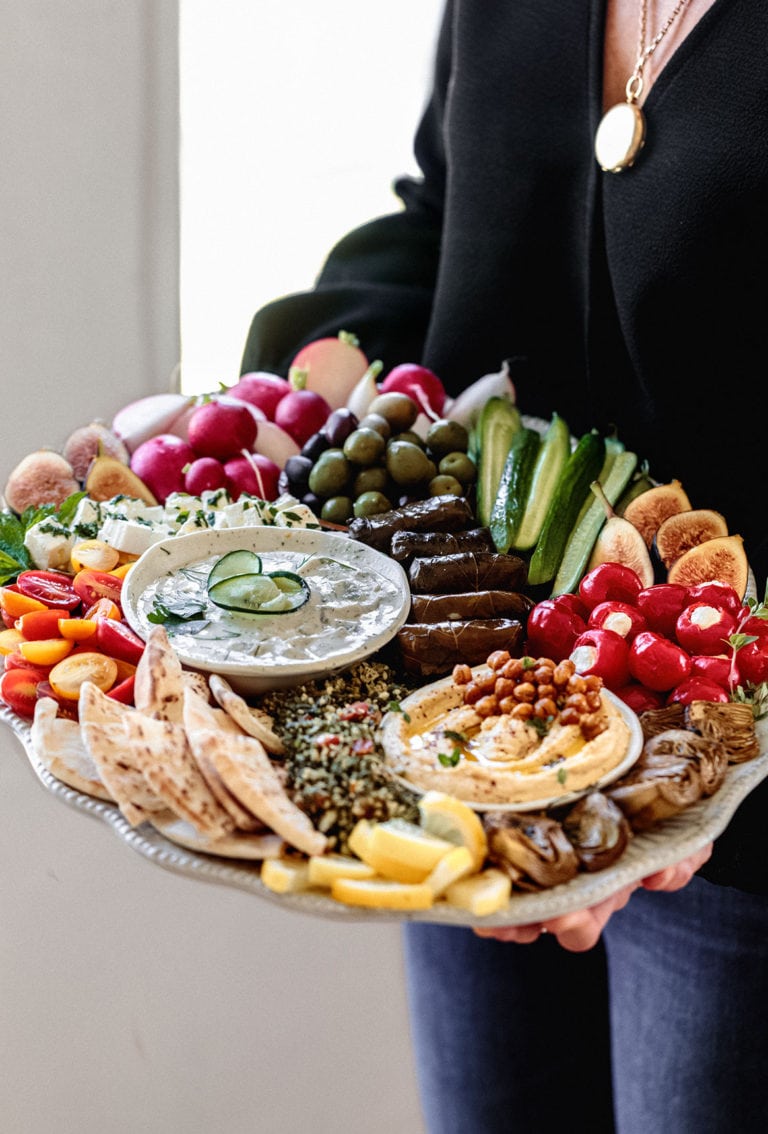 How to Arrange a Mezze Platter
Start with a very large platter or wood board. Place your dips in small bowls, and arrange them on the platter creating an "S" shape.
Slice the Persian cucumbers and cut the pita bread into triangles. Place each on opposite sides of the platter, in a hand fan-like way.
Arrange the cherry tomatoes, radishes and peppercorns opposite each other, as they have similar colors. The idea is that the eye travels around the platter and there aren't huge colored blobs on one side.
Place the dolmas, artichokes and tabbouleh, creating a subtle inner "S" shape again, hugging the dip bowls.
Fill any holes with the cubed feta, figs (or assorted fruits/nuts) lemon wedges, and mint leaves.
Mezze make for the perfect family style dinner. Everything is eaten with your hands, or it can be scooped with pita, but the point is to enjoy the food (with your right hand) and share!
As always, if you loved this recipe, leave a comment and rate! Don't forget to share your creations with me on Instagram using the hashtag #yogaofcooking. It always makes my day!
Happy Sharing!
Looking for more ideas? check these out!
Styled by: Meg Quinn @ainttooproudtomeg