This authentic Tres Leches cake is light, spongy and absolutely delicious. Soaked in a sweet milk mixture, this easy Hispanic recipe will be one of your favorites!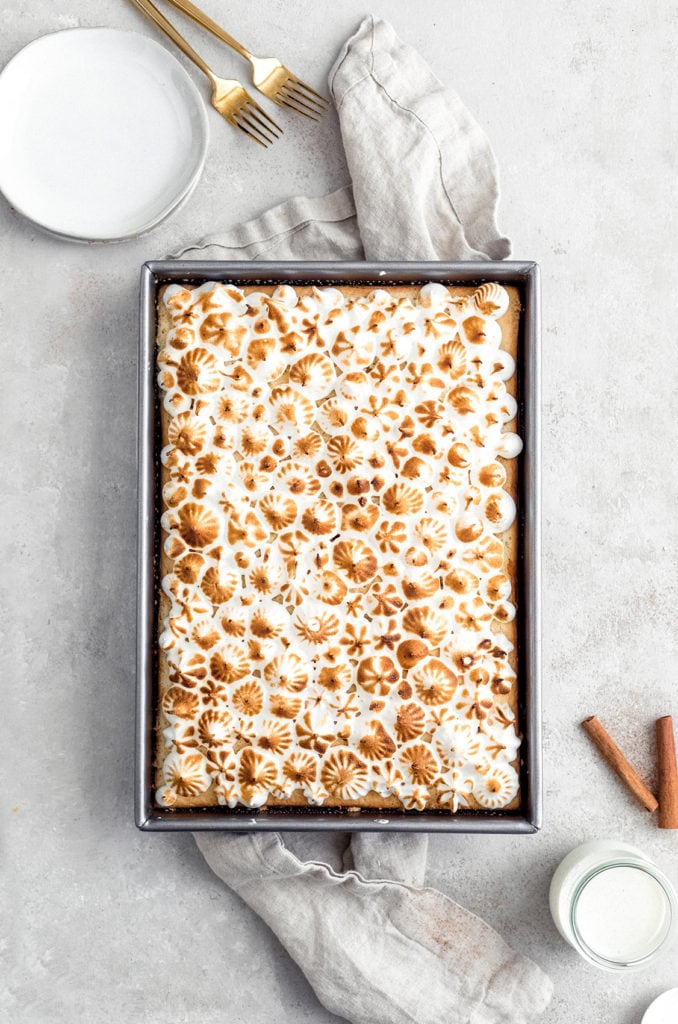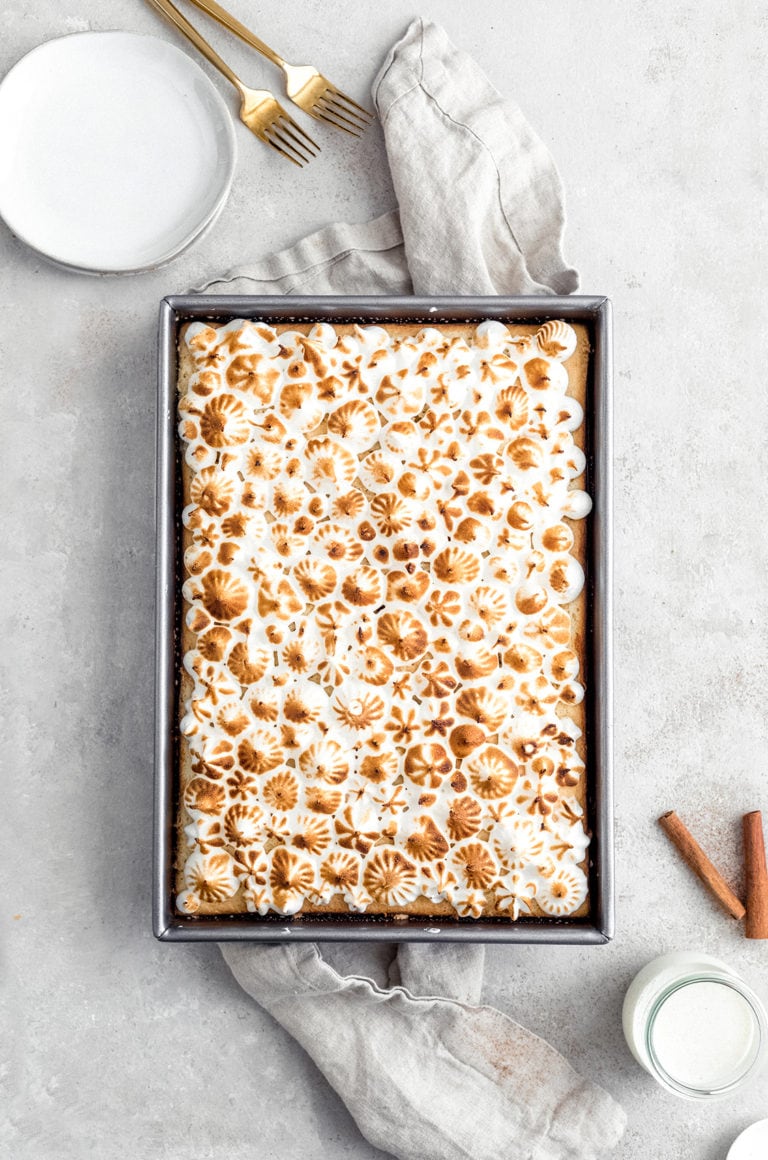 I'm so excited to share this recipe with you! A lot of you have been messaging me about it and, as promised, here it is. I wanted to share a little backstory, too. This cake is very special to me for a few reasons. First, the bizcocho (cake base) recipe is from my grandma, who lived most of her young years in Spain and moved, with her husband and kids, to Venezuela in the late 40s or 50s. My mom, who's also a very good cook, knows all of her recipes by memory since she grew up making them with her mom. So this Tres Leches has 2 origins; Spanish & Venezuelan!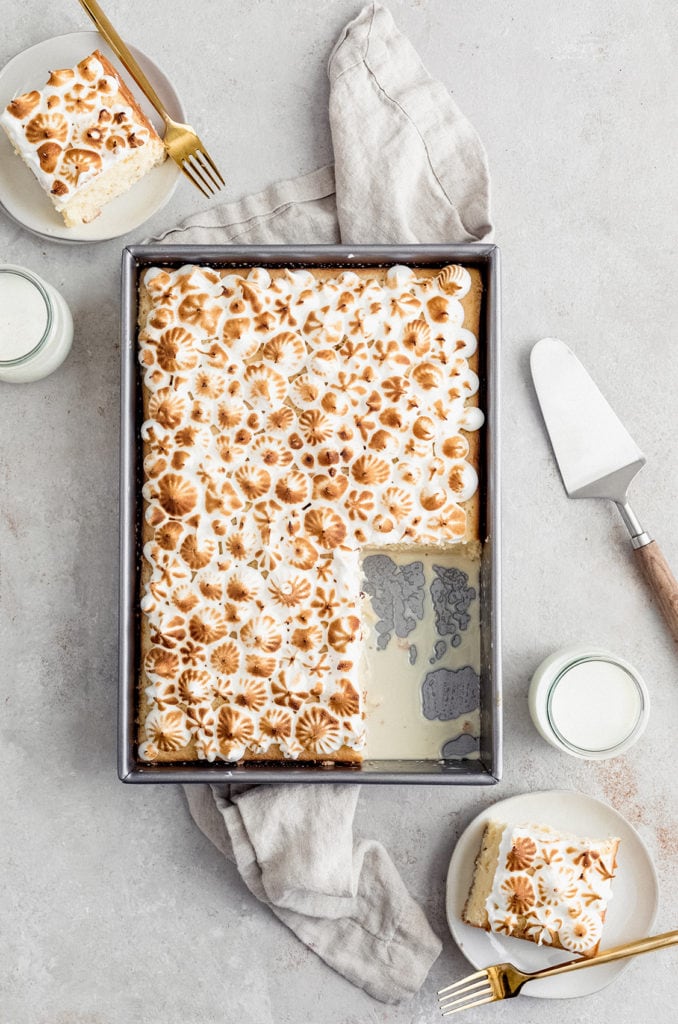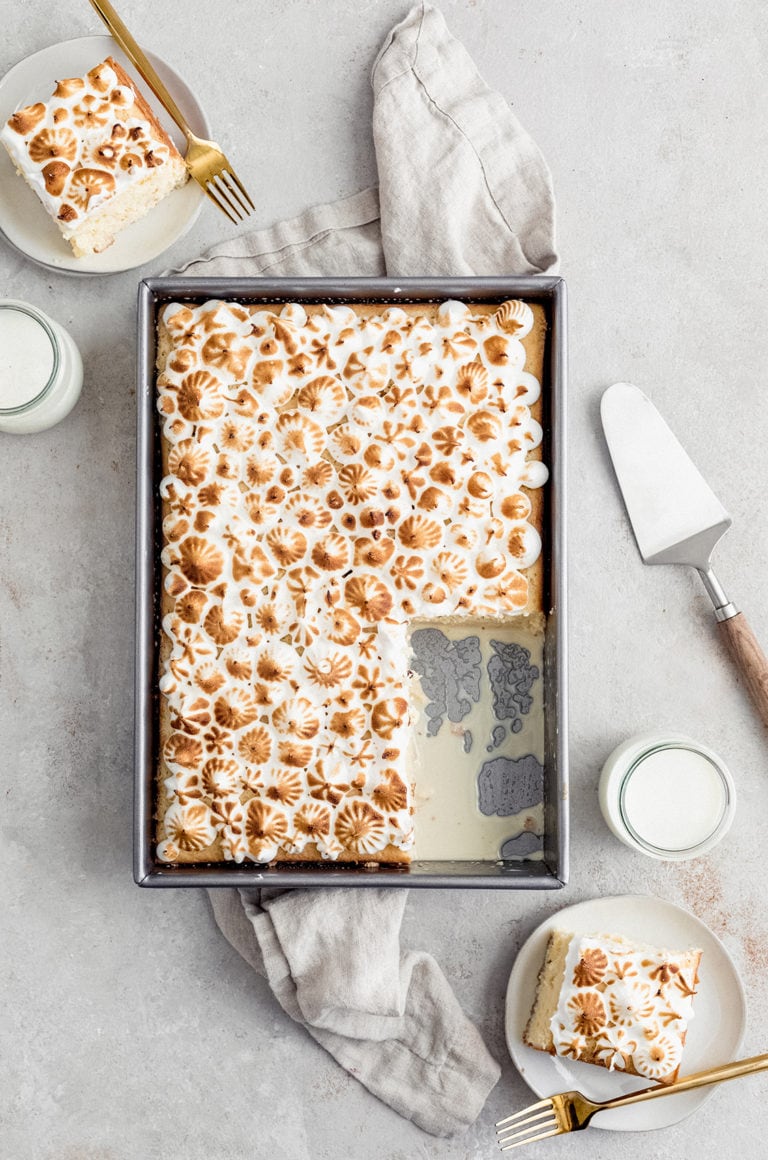 I've been starting to share a little bit of my roots here on the blog. I think the holiday season makes me long for the good old days, when life (in Venezuela) was a lot simpler and in some ways, fuller. Like good traditional Latinos, Christmas was a time for family and indulgence; which means finding any excuse to get together, drink and be part of 5 conversations at the same time!
I remember trying to help my mom out in the kitchen. She would be upset when no one would help, and even more upset when you tried to actually do something (ha!). But, I think she liked when I baked, and I definitely get my baking skills from her.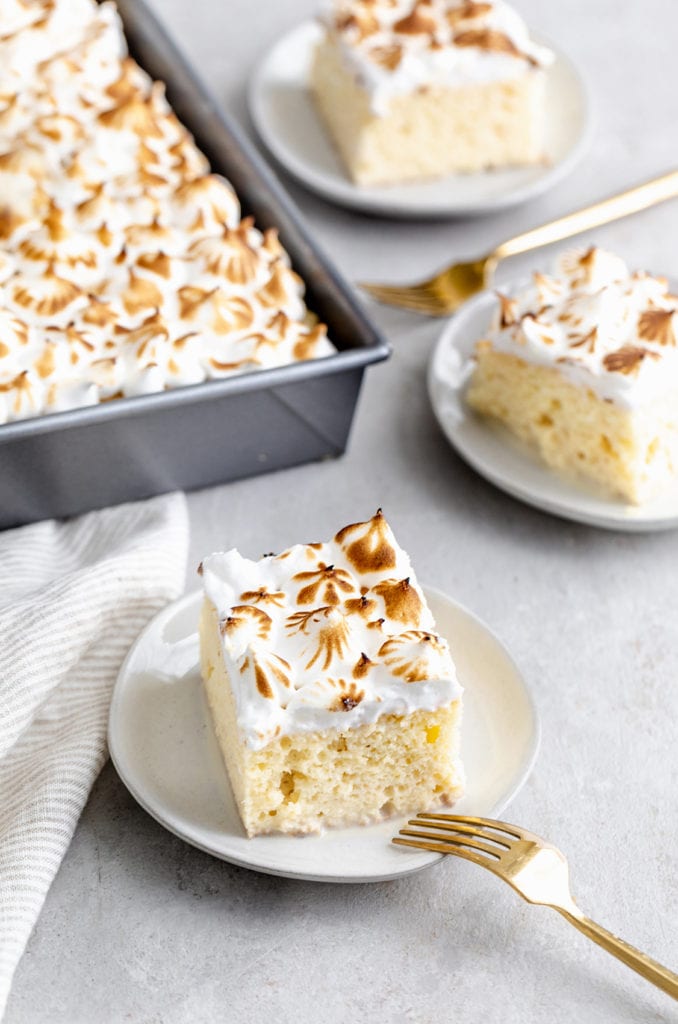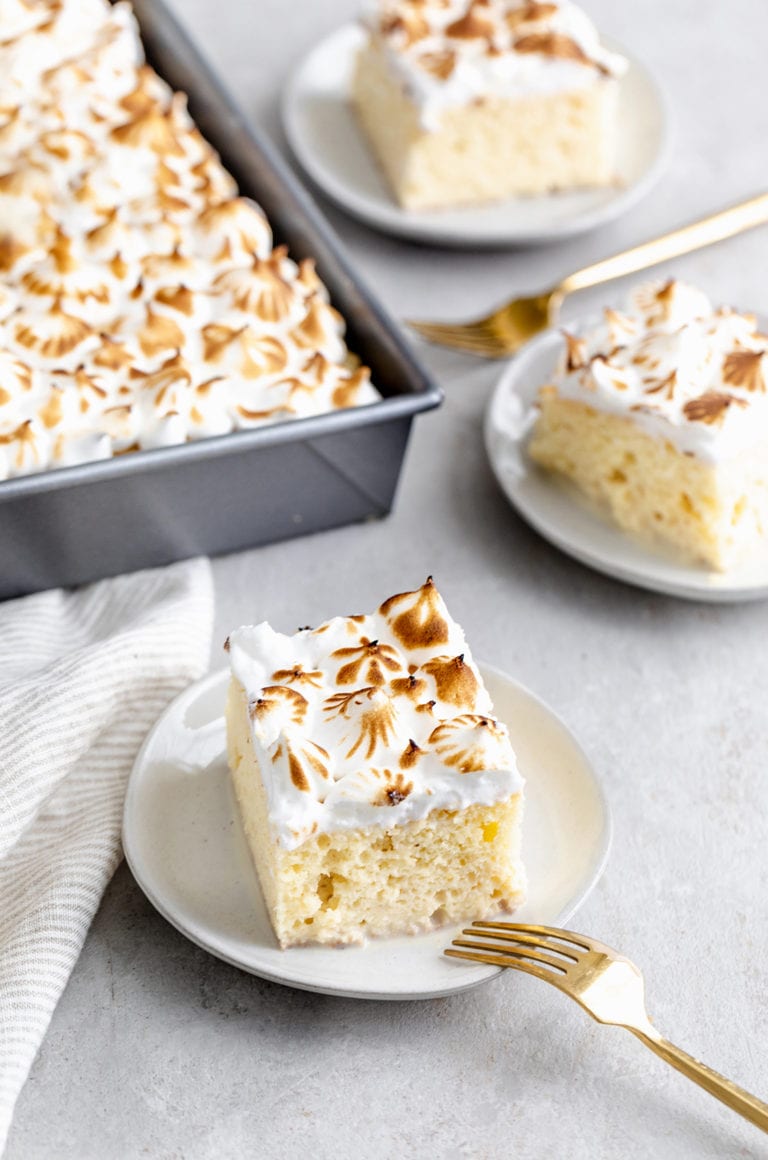 So, back to the cake. This Tres Leches cake is very light and spongy, mainly because there's no butter or any kind of fat involved. And, by whipping the eggs for a while you add a lot of air into the batter (similar to an Angel food cake), which later will soak the sweet milk mixture. For those of you non-Spanish speakers, Tres Leches means three milks – condensed, evaporated and whole milk (although some recipes call for heavy cream instead of whole).
The trick to any Tres Leches is to poke a TON of little wholes all over the cake so that it soaks up all that milk gloriousness. It will also taste better a day after you make it!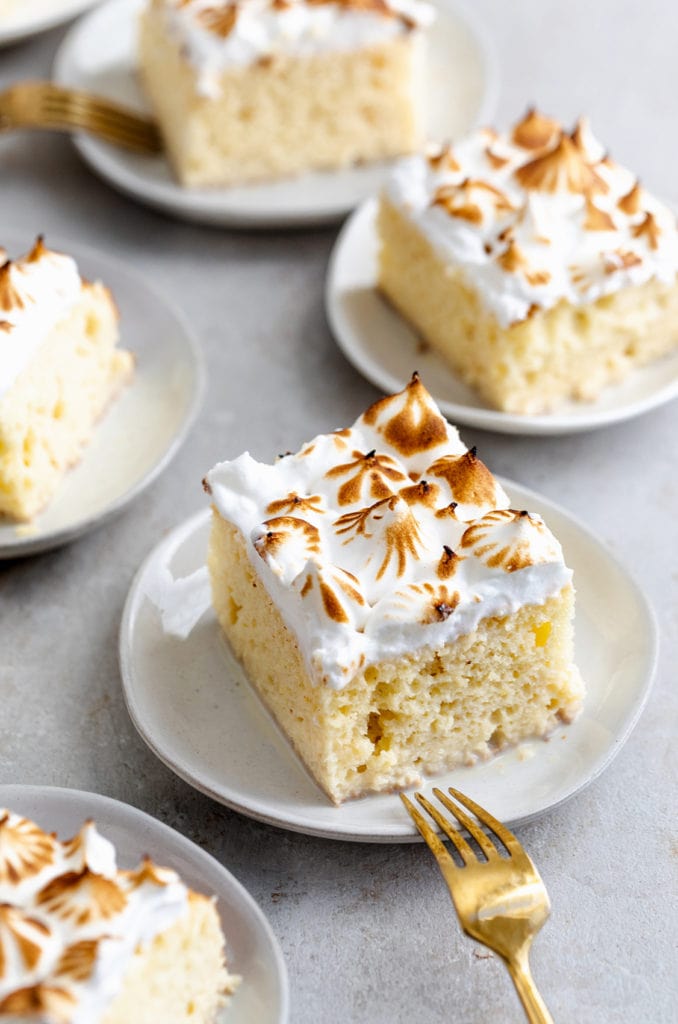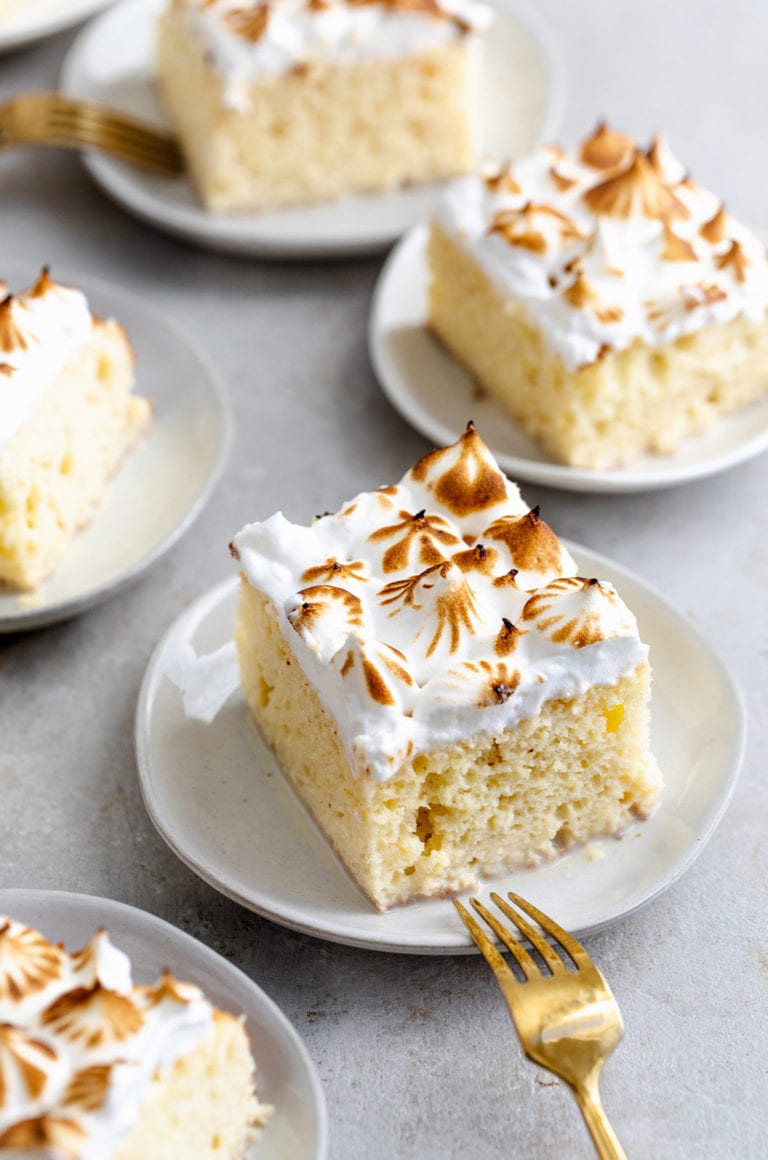 MERINGUE & PIPING TECHNIQUE
A traditional Tres Leches cake comes with a generous share of meringue. Generally, you'd whip up the meringue and spread it on top of your cake, making swirls with an angled spatula or the back of a spoon.
But, I wanted to do something more creative. This is, of course, optional but I encourage you to give it a shot because it is fairly simple. After whipping up the meringue following the instructions below, grab a piping bag and 3 different size and shape piping tips. (Or, you can divide the meringue among 3 bags).
I used the following:
Fill your piping bag with tip #1 and pipe deliberately onto the cake. Grab tip #2 and fill in some of the gaps, leaving some space for tip #3. It's fairly simple since I didn't follow a pattern. I simply moved around the cake and filled any gaps or holes.
Once finished, grab a kitchen torch and carefully brown the meringue tips all over the cake. You can also put the cake in the oven for a few minutes, until the tips brown, but be very careful! It happens very fast.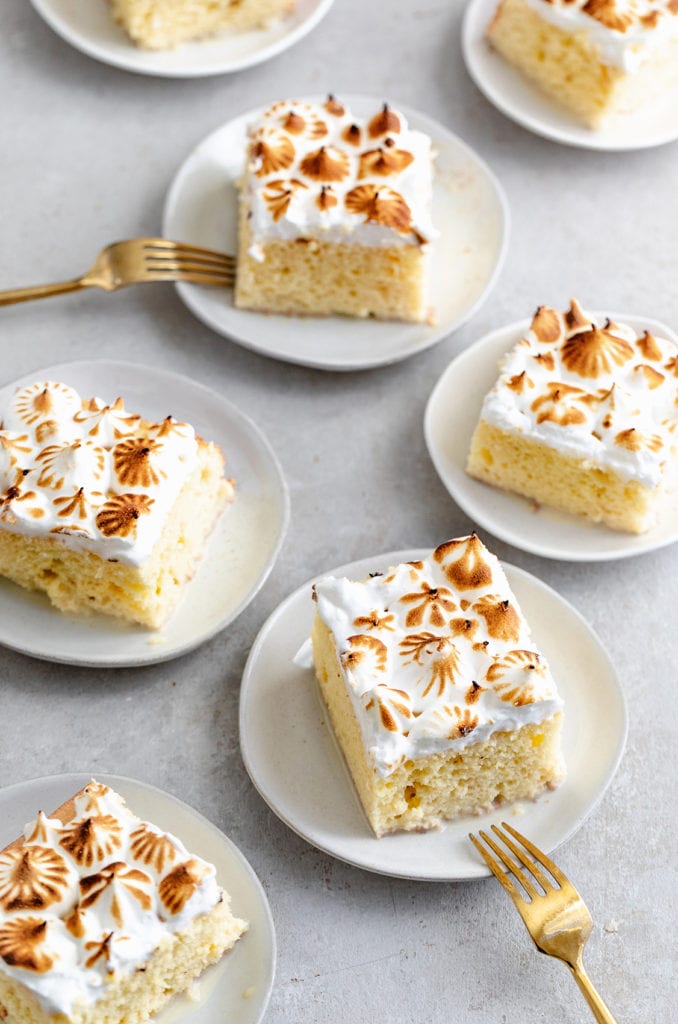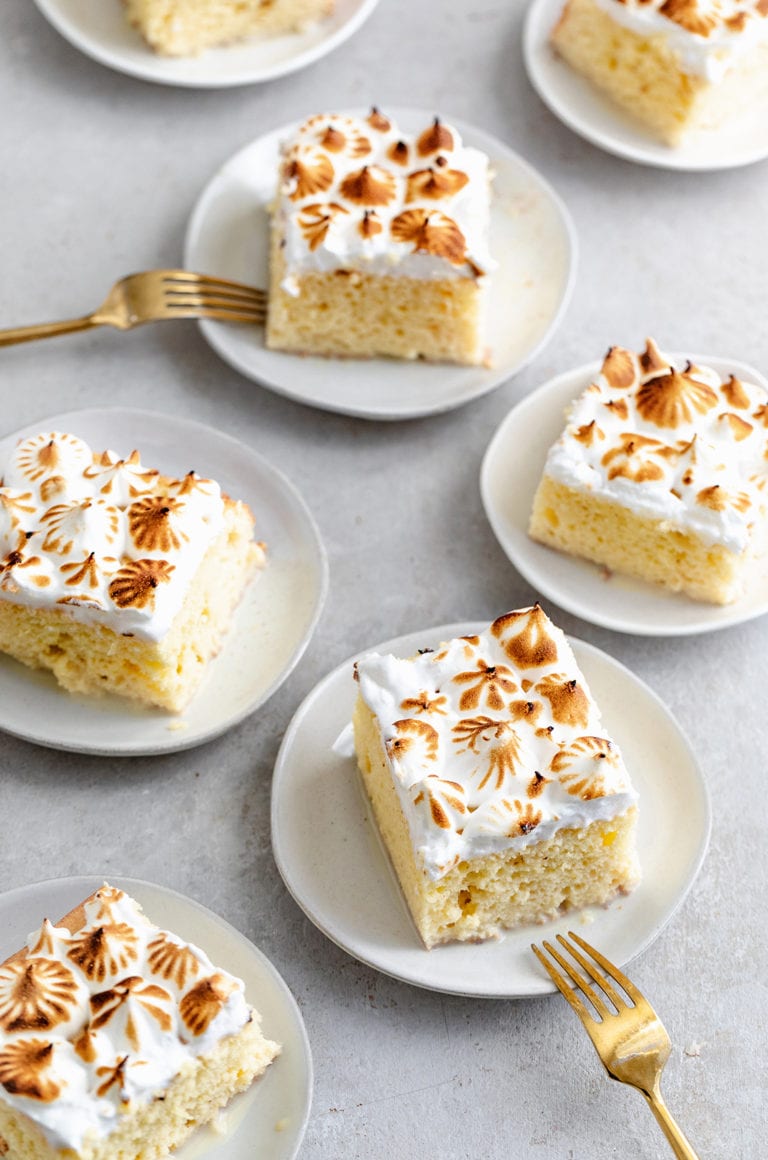 There it is! My all time favorite dessert: my grandma's Tres Leches!
Want more Hispanic inspired recipes? Check this one out!
I truly hope you make it, and when you do, please share it with me on instagram using @yogaofcooking and #yogaofcooking (or just email me and tell me you loved it!).
Happy Baking!
Print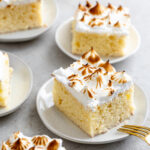 Traditional Tres Leches
---
Total Time:

30 minutes

Yield:

15
Description
This authentic Tres Leches cake is light, spongy and absolutely delicious. Soaked in a sweet milk mixture, this easy Hispanic recipe will be one of your favorites!
---
For the Cake:
5

eggs (divided)

150

gr sugar (

3/4 cup

)

1 tsp

vanilla extract

125

gr flour (

1 cup

) (sifted)

1 tsp

baking powder

1/8 tsp

salt
For the Milk Mixture
1

can evaporated milk (

12oz

)

1

can sweetened condensed milk (

14oz

)

1 1/4 cup

whole milk
For the Meringue Topping
---
Instructions
For the Cake:
Preheat the oven to 350F. Grease and flour an 9×13 inch sheet pan or pyrex.
In the bowl of a stand mixer fitted with the paddle attachment, beat the egg yolks, vanilla and sugar until smooth and double in volume. Transfer the mixture to a separate bowl.
Fold in the flour (a little bit at a time), salt and baking powder into the egg yolk mixture. Do not over mix. 
Clean and dry the egg yolk bowl. Using the whisk attachment, whisk the egg whites on high, until stiff peaks form and the mixture is glossy. About 4-5 minutes.
Fold in the egg whites into the egg yolk and flour mixture.
Pour the batter onto prepared pan and bake for 18-20 minutes. Let cool completely before proceeding with the milk mixture.
For the Milk Mixture:
In a large bowl or jar, combine the evaporated, condensed and whole milks. Refrigerate until ready to use.
To Assemble:
Using a skewer, poke holes into the top of the cake. For the milk mixture, one cup at a time, until it begins to soak. Refrigerate covered for at least 2 hours (but preferably overnight) before serving to allow the mixture to absorb completely. 
Meringue Topping:
In the bowl of a stand mixer fitted with the whisk, beat the egg whites and sugar until combined. 
Place the bowl over a small saucepan on simmering water. Cook for 2-3 minutes, until the sugar dissolves, whisking constantly. 
Return the bowl to the stand mixer, and beat at medium-high speed until stiff peaks form. About 5-8 minutes.
Scrape the meringue into a large piping bag. Alternating between 3 different tips (see notes), pipe meringue onto cake.
Before serving, use a kitchen torch to carefully brown the meringue tips all over the cake.
Slice and serve!
Notes
For the meringue tips, I used 3 different star shaped tips from Wilton – 8B, 6B and 4B. 
Prep Time:

15 minutes

Cook Time:

15 minutes

Category:

Dessert

Cuisine:

Hispanic, latin, Spanish