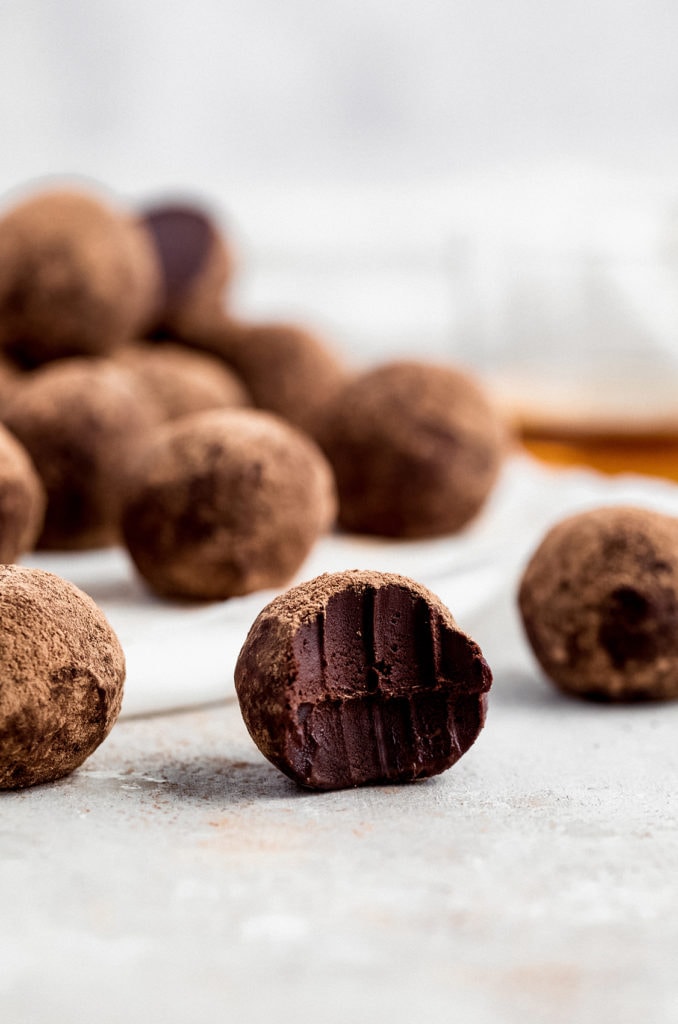 Spiked with rum, these decadent dark chocolate truffles make for the best holiday party dessert. They are decadent, luxurious and delicious!
Ohh the holiday season is upon us once again. And with it comes your annual dose of pressure to show up and pretend everything in your life is as great as it looks on instagram. Am I right? It's ok, no judgements here. That curated little feed sometimes looks nothing like it does IRL.
Holidays also mean tons of parties and family gatherings that, well, are not exactly fun. So, without further ado I present to you this year's life saving treat. Whether you want to bring it or keep it for yourself, boozy chocolate truffles will make your life so.much.better. this time of year.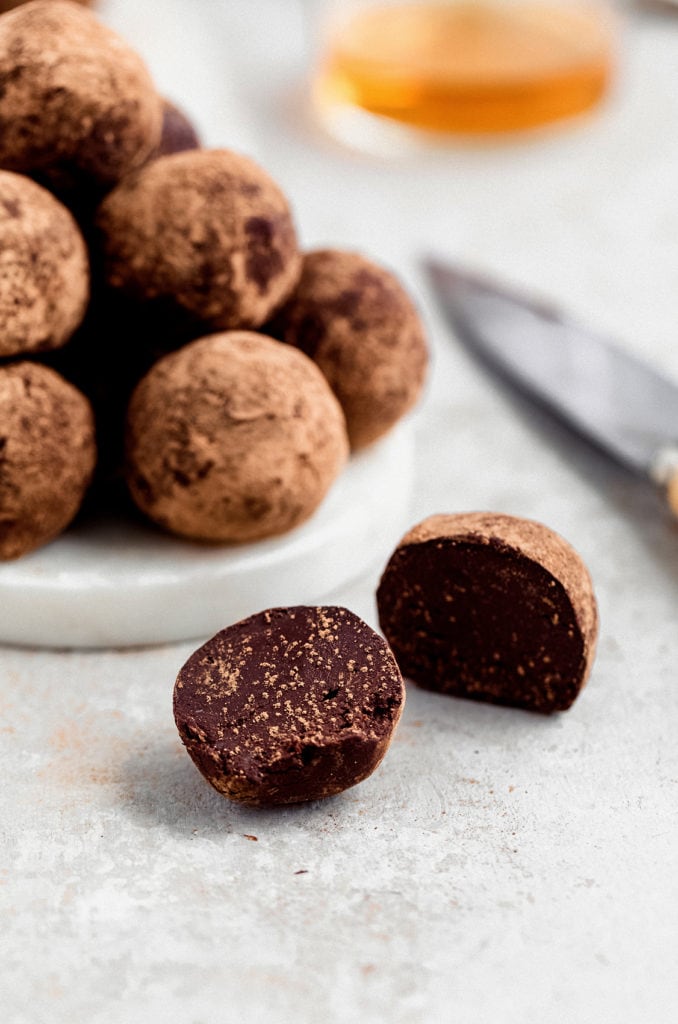 Why you ask? Well, for starters they're spiked with rum. But not just ANY rum. This rum from Venezuela, is THE best you'll ever try (trust us, we're experts). Venezuelans like to add liquor to desserts, because we like to find any excuse to have alcohol in our system. I actually don't drink anymore (but do enjoy spiked desserts) but that's a whole 'nother story.
There's also chocolate. And chocolate just makes you feel alive. So combining the two was a no brainer. Raise your endorphins and get your booze on, and enjoy the side of the family you don't get to see very often. Ok, I'm kidding!
All jokes aside – Holidays can be hard sometimes. They bring up tons of emotional stuff, whether you get to spend it with loved ones or not. I moved to the US over 10 years ago and haven't been to my home country since. So, every year I try my best to remember my traditions because they make me feel all cozy inside. So this year, with my brand new blog, I'm sharing them with you!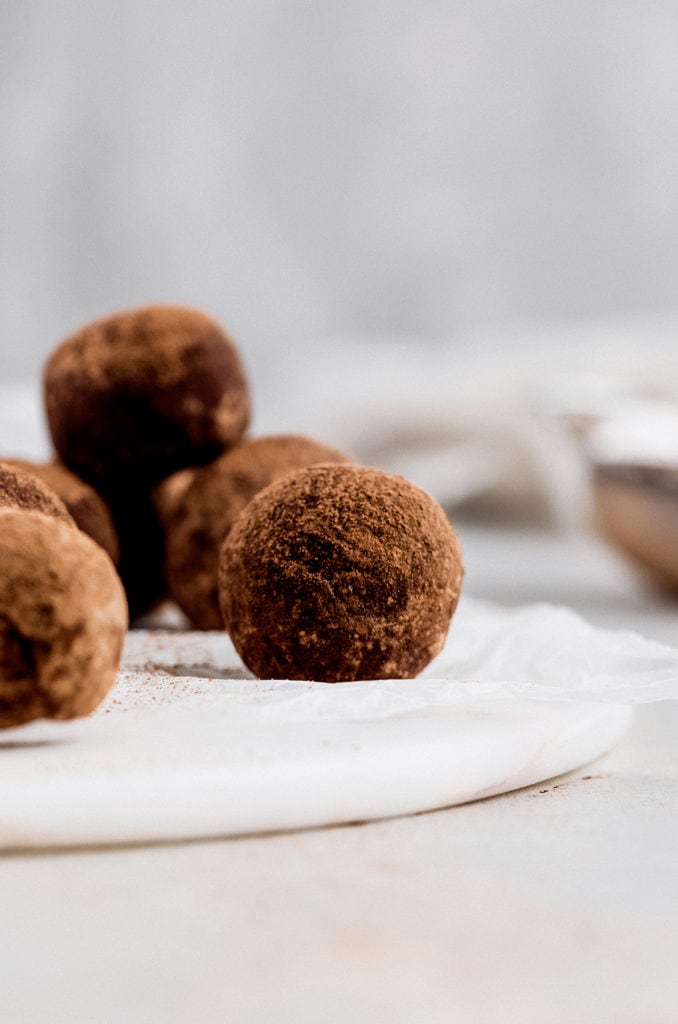 HOW TO MAKE BOOZY CHOCOLATE TRUFFLES
These truffles are actually super easy to make and they come together in no time. You do need to refrigerate them for 4+ hours or preferably overnight, so keep that in mind. The good thing is you can make a big batch and they keep well for a few days refrigerated.
You only need 6 simple ingredients; heavy cream, rum (if using), chocolate (of course!), butter, brown sugar and cacao powder (optional). Traditional truffles like this one are very similar to making ganache. First you warm up the heavy cream and rum in a saucepan, not letting it get to a boil. Next, you add the chocolate, followed by the butter and brown sugar. Whisk, whisk, whisk. Keep whisking to prevent the chocolate from seizing. Transfer to a bowl and chill.
Once it's solid, all you need to do is grab a cookie scoop or spoon and make balls, coat them with cacao powder and enjoy! Easy right?
If you don't like rum or there are kids in the family, you can make them without rum. Or split the batch in two! Adding rum intensifies the chocolate flavor.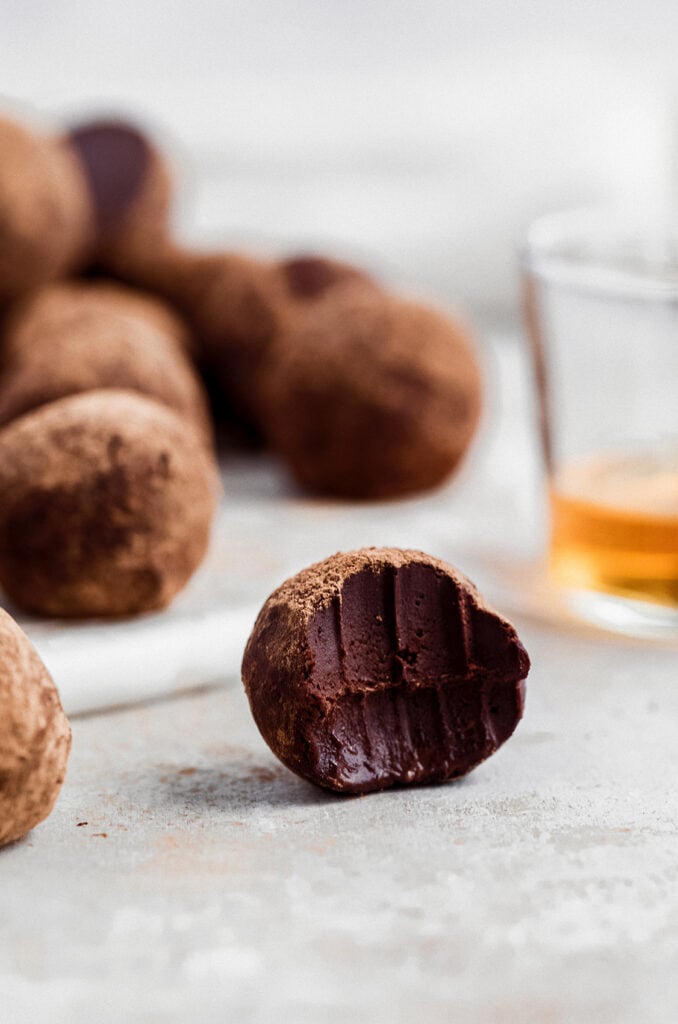 THE BEST INGREDIENTS
As with any recipe, using high quality ingredients makes a huge difference. For this recipe, I recommend using really good chocolate since it's the star of the dessert.
Here are my favorites:
As far as rum, below are my 2 favorites. You can find them at your local Total Wine store (or similar).
More chocolate recipes? Check out my favorites below!
If you try these boozy chocolate truffles make sure to tag me and share them on Instagram using @yogaofcooking and #yogaofcooking so I can see your creations!
Enjoy!
Print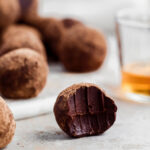 Boozy Chocolate Truffles
---
Author:

Rosana

Total Time:

10 minutes

Yield:

12
Description
Spiked with rum, these decadent dark chocolate truffles make for the best holiday party dessert. They are easy, luxurious and delicious!
---
1 cup

heavy cream

2 tbsp

rum

315

gr dark chocolate

4 tbsp

butter (chilled, diced)

1/4 cup

light brown sugar

1/2 cup

cacao powder
---
Instructions
In a small saucepan heat the heavy cream and rum until warm to touch, but not boiling. Remove from heat.
Stir in chopped dark chocolate and butter, and stir until smooth. Stir in brown sugar and whisk until combined.
Transfer to a bowl and allow to cool. Cover with plastic wrap and chill for at least 4 hours, preferably overnight. 
Once cool and solid, using a cookie scoop or tablespoon, portion the ganache into 1oz portions. Roll the balls between your hands and place on a baking sheet lined with parchment or wax paper. This process can get a little messy. 
Next, pour the cacao powder into a small bowl and dip and roll the truffles in the coating.
These truffles keep best in the refrigerator. Remove from fridge until ready to serve.  
Prep Time:

5 minutes

Cook Time:

5 minutes

Category:

Dessert

Cuisine:

American, French, latin