Easy, simple and delicious tahini espresso banana bread perfect for breakfast or snack! Serve warm with a drizzle of honey.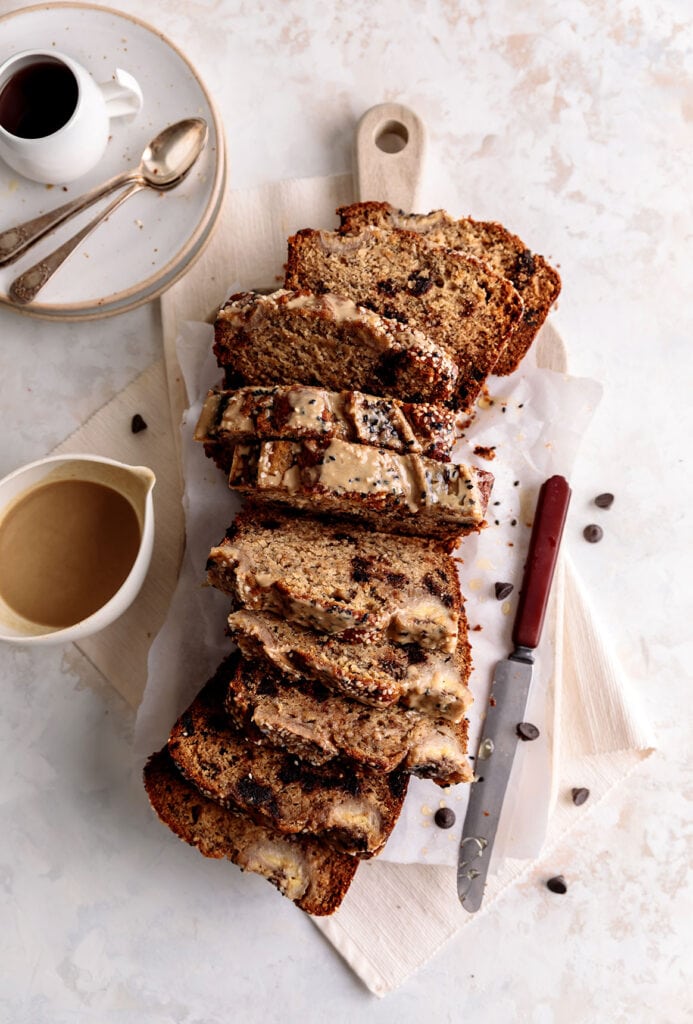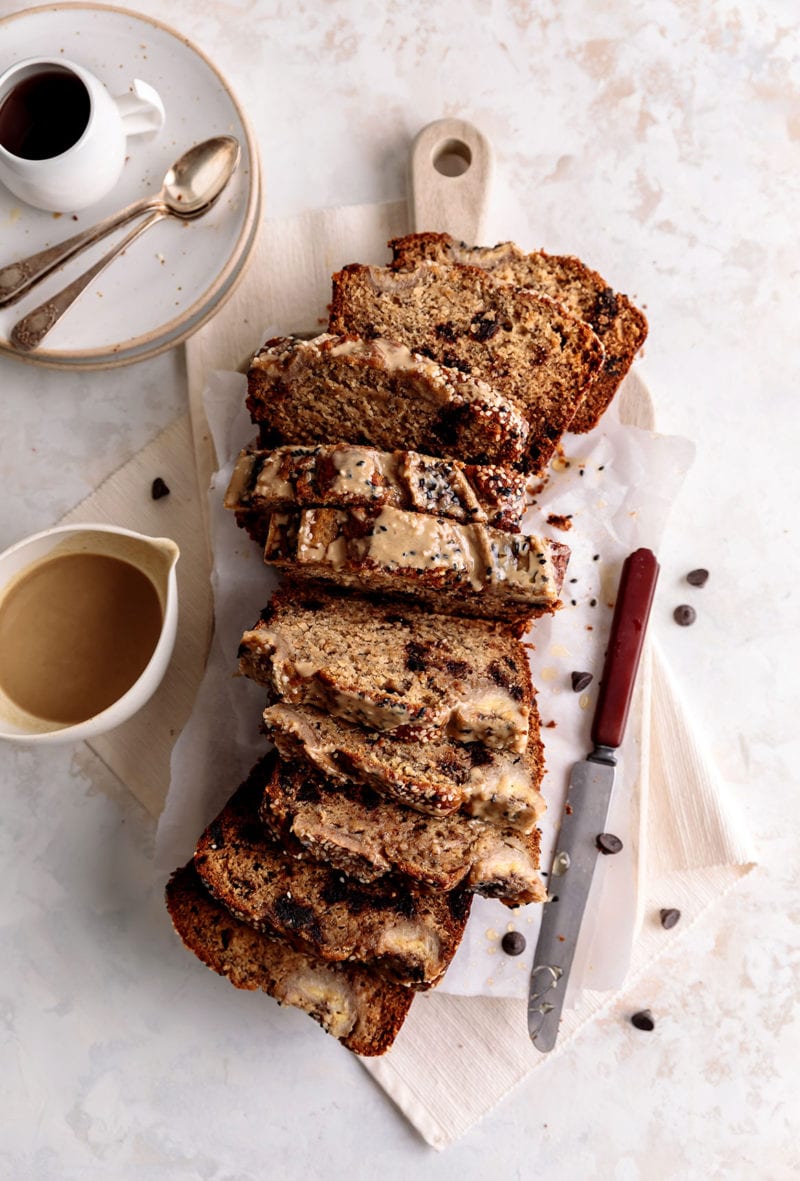 Before you roll your eyes at yet 'another banana bread recipe' let me just say that not all banana breads are created equal. This Tahini Espresso Banana Bread is here to change your mind.
There's 4 other banana bread recipes on the blog. This being the first one. Can we take a moment and compare the photos? Shooting food every day sure does make a difference. Btw, these photos were shot on artificial light (if you're into that kind of stuff, there's a highlight on my Instagram).
Now onto this Tahini Espresso Banana Bread.
This recipe is different from the other ones, cause it's made with espresso chips which adds a rich and complex flavor that's perfectly balanced with the sweetness of the bananas and the nuttiness of the tahini.
In short, this Tahini Espresso Banana Bread is:
Super moist but firm
Nutty
Rich & complex
Easy & delicious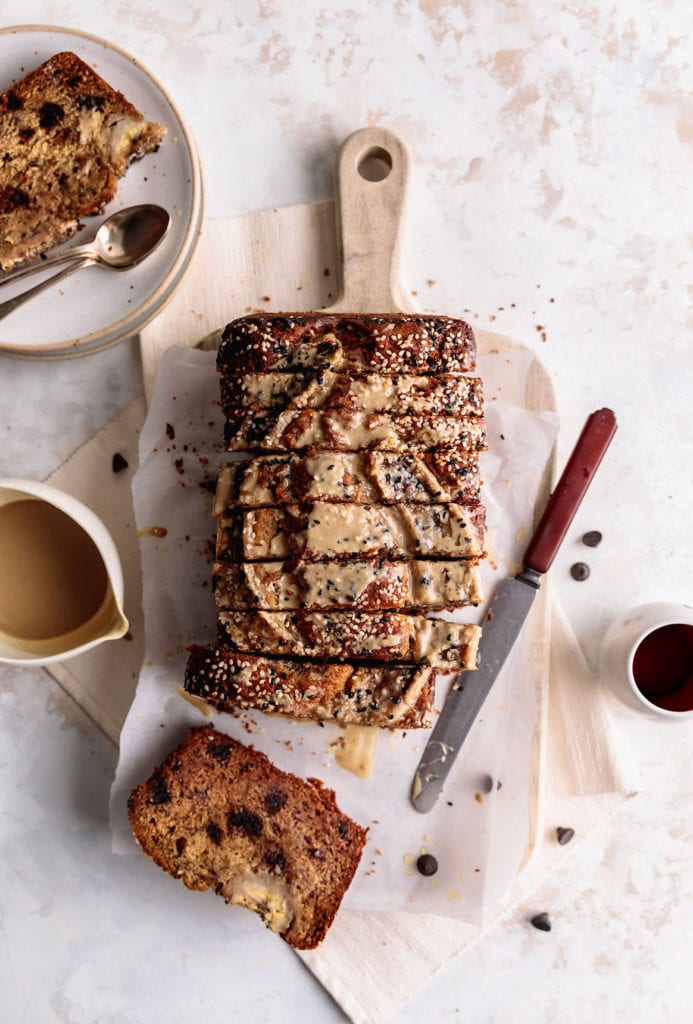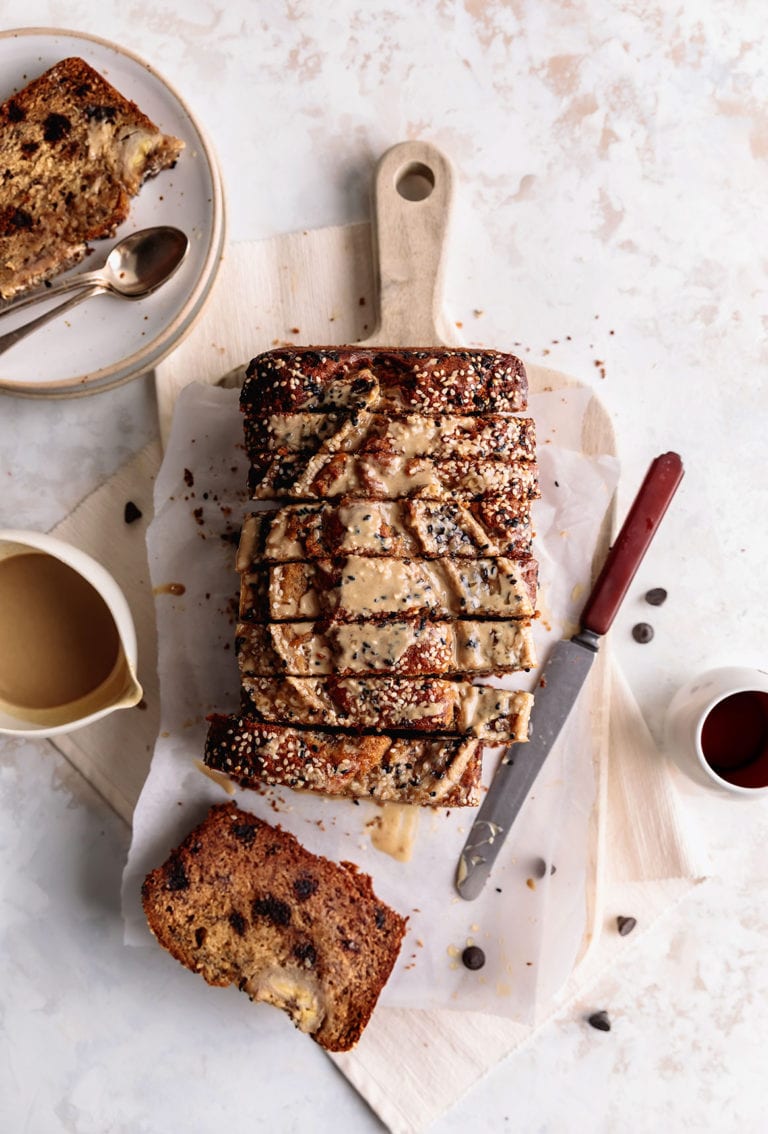 What is Tahini?
And why is everyone obsessed with it? Long before I became a food blogger/photographer, I discovered Tahini at Trader Joes and never looked back. They used to have it in dip form, and it was delicious.
Tahini is made from ground sesame seeds, and has a nutty and toasty taste to it, with a rich and silky texture similar to natural almond butter (as in runny but thick). I use it on savory dishes and sweets, as a dressing or dip. It's so versatile and adds an interesting layer to any recipe.
What's the best Tahini brand?
My favorite Tahini is from Whole Foods, the 365 everyday value brand. It's soft and runny, and doesn't clump up. It's also pretty affordable. Also, love the brands Soom and Seed + Mill.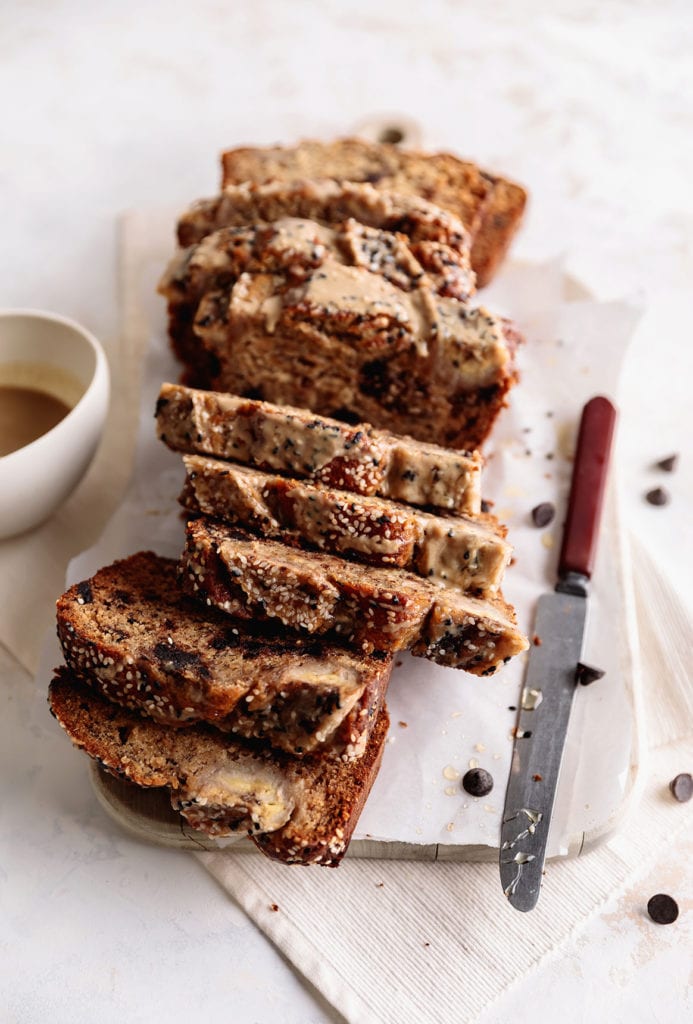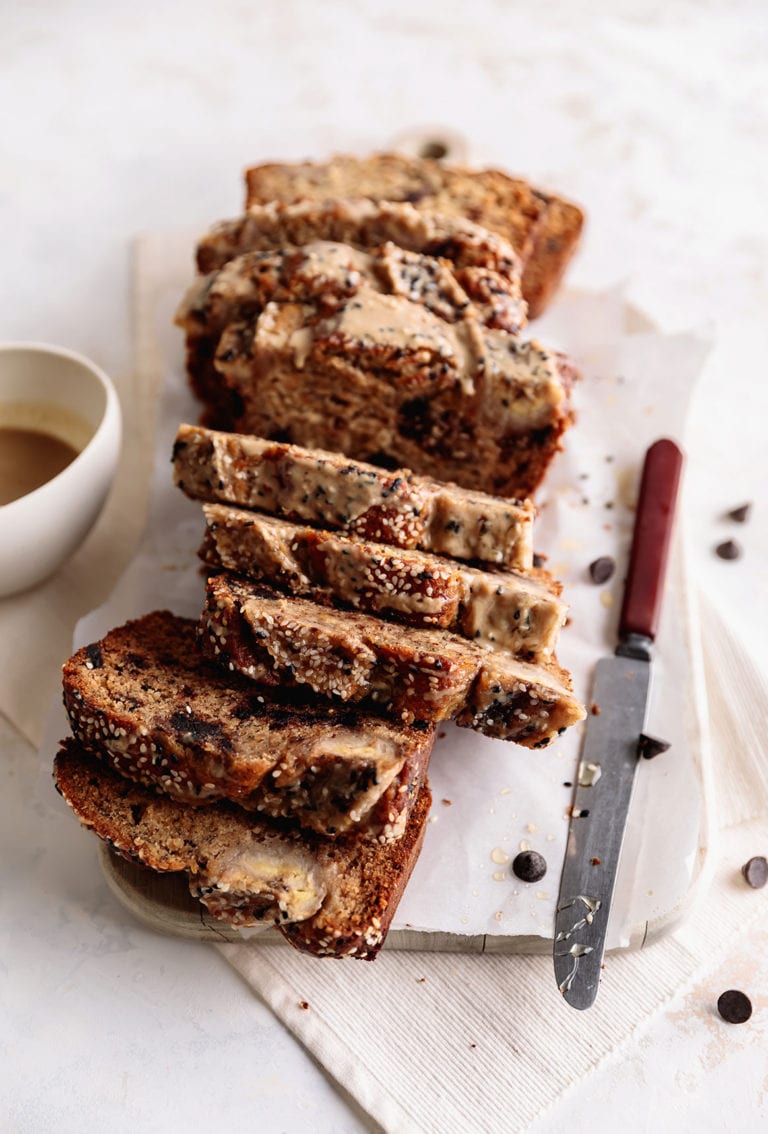 How to Make a Tahini Espresso Banana Bread
For this recipe you're going to need very ripe bananas, like almost rotten. I know you have a few sitting on the counter, so let's get to it. (in case you don't, scroll down to the best way to ripen bananas).
Make sure your tahini is runny and not clumpy! If it's too thick do not use it for this recipe! I wanna say you can sub for a natural nut butter, but then it wouldn't be a tahini banana bread (but technically you can).
You're also going to need espresso chips which I recently discovered at Target. These are rich and taste like chocolate covered espresso beans, so if you're into that, you're going to LOVE them. If you're not so sure, or can't find them, sub for dark chocolate chips.
The remaining ingredients are kitchen staples, such as flour, baking soda, salt, light brown sugar, sugar, butter, eggs and vanilla.
To make, combine the dry ingredients. Cream the butter with the brown sugar and sugar, add in the eggs, tahini, bananas, and vanilla. Fold into the dry mixture, add the espresso chips and transfer to 9x5inch pan.
I like to add a sliced banana on top (cut lengthwise) and a few sesame seeds for texture/visual interest.
Bake for 60 minutes at 350F. I like to serve warm or toasted with a drizzle of honey. Drooling already!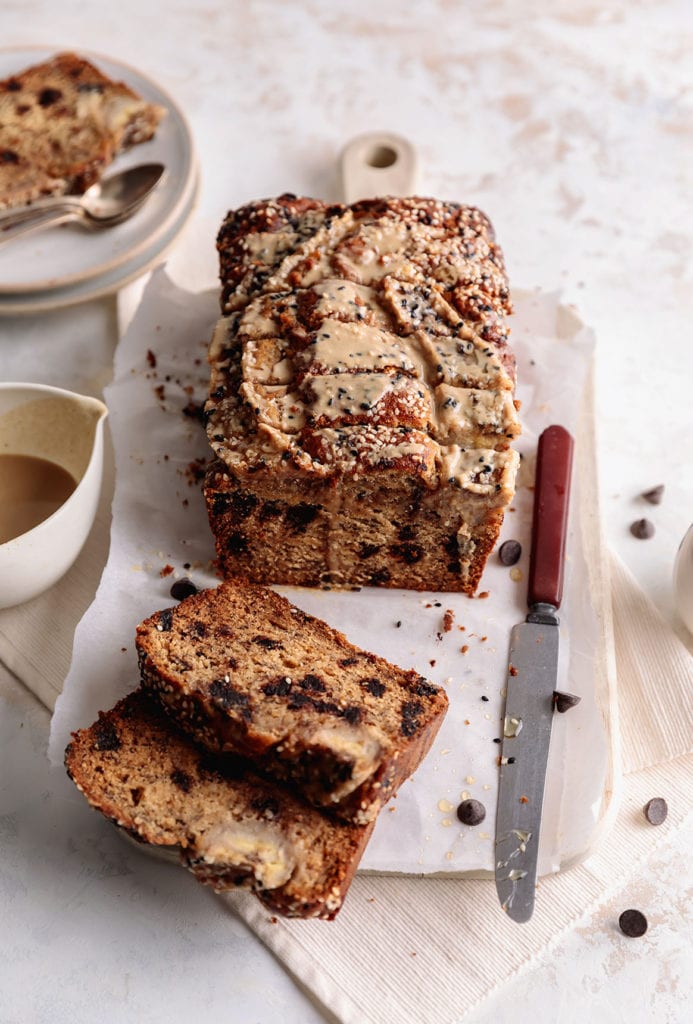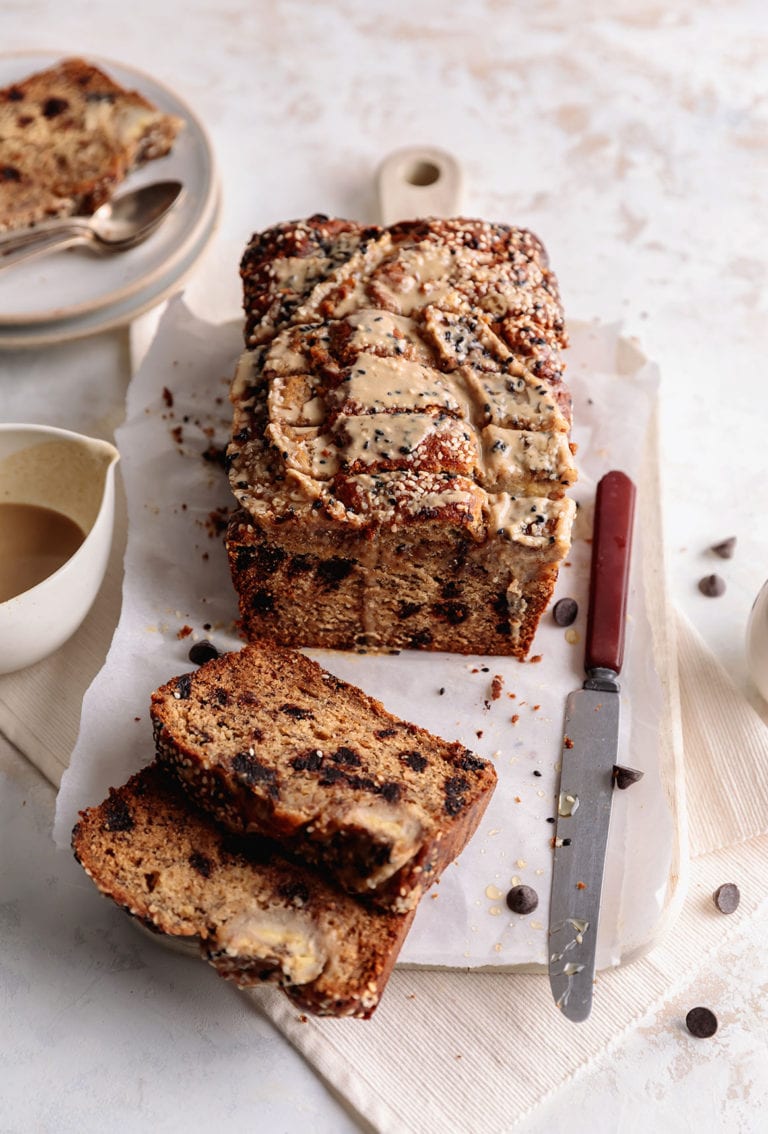 Best way to ripen bananas at home
If you're craving banana bread but your bananas are nowhere near ripe, here are 3 tricks that might help.
Place in a paper bag: place your bananas in a a brown bag and close it loosely. There's some science behind it that I don't quite get, but what I know for sure is that it makes them ripe faster. You can also place a ripe fruit in the bag for even faster ripening.
The Oven Method: place unpeeled (not green) bananas on a baking sheet and cook for 15-20 min at 350F. But make sure to check often, they are ready when they turn black and shiny.
The Microwave Method: place unpeeled (not green) bananas in the microwave and heat in 30 second intervals until they turn soft.
How long does banana bread last?
When properly stored in an air tight container, freshly baked banana bread can last for about 1 to 2 days at room temp. It'll keep well in the fridge for uptown 1 week!
For more banana bread recipes, check out my:
I'm so happy you're making one of my recipes, and would love to see how it turns out! Share it on Instagram using #yogaofcooking so I can see it, it always makes my day! Or leave a comment below!
Happy Baking! x
Print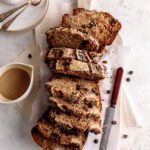 Tahini Espresso Banana Bread
---
Author:

Rosana

Total Time:

1 hour 15 minutes

Yield:

8 servings
Description
easy, simple and delicious tahini espresso banana bread perfect for breakfast or snack! serve warm with a drizzle of honey.
---
2 cups

all purpose flour

1 tsp

baking soda

1/2 tsp

salt

1/2 cup

unsalted butter, softened

1/2 cup

light brown sugar

1/4 cup

granulated sugar

4

ripe bananas, about

2 cups

, mashed

2

eggs

1 tsp

vanilla extract

1/3 cup

tahini

3/4 cup

espresso chips (or dark chocolate chips)
Topping:
1

banana, sliced in half lengthwise, optional
Black and white sesame seeds
Serve with a drizzle of honey
---
Instructions
Preheat the oven to 350F. Lightly grease and line a 9×5-inch pan with parchment paper.
In a large bowl, combine the flour, baking soda and salt.
In the bowl of a stand mixer with the paddle attachment (or hand held mixer), cream the butter, light brown sugar and sugar until soft and creamy.
Add in eggs, mashed bananas, vanilla and tahini, mixing on low as you go.
Add the wet mixture to the dry ingredients, mix using a spatula until fully incorporated. Fold in espresso chips (or chocolate chips, if you prefer).
Transfer to prepared pan and add the sliced banana on top (optional).
Bake for 60-65 minutes. Allow to cool in the pan for 10-15 minutes before  transferring to cooling rack. Enjoy!
Prep Time:

15 minutes

Cook Time:

60 minutes

Category:

breakfast, snack

Cuisine:

American
Keywords: tahini espresso banana bread, tahini banana bread, easy breakfast
looking for breakfast recipes? check these out!