A creamy, custard-like layered dessert with a hint of dark rum and a warm, salted caramel topping. The perfect make-ahead dessert for four!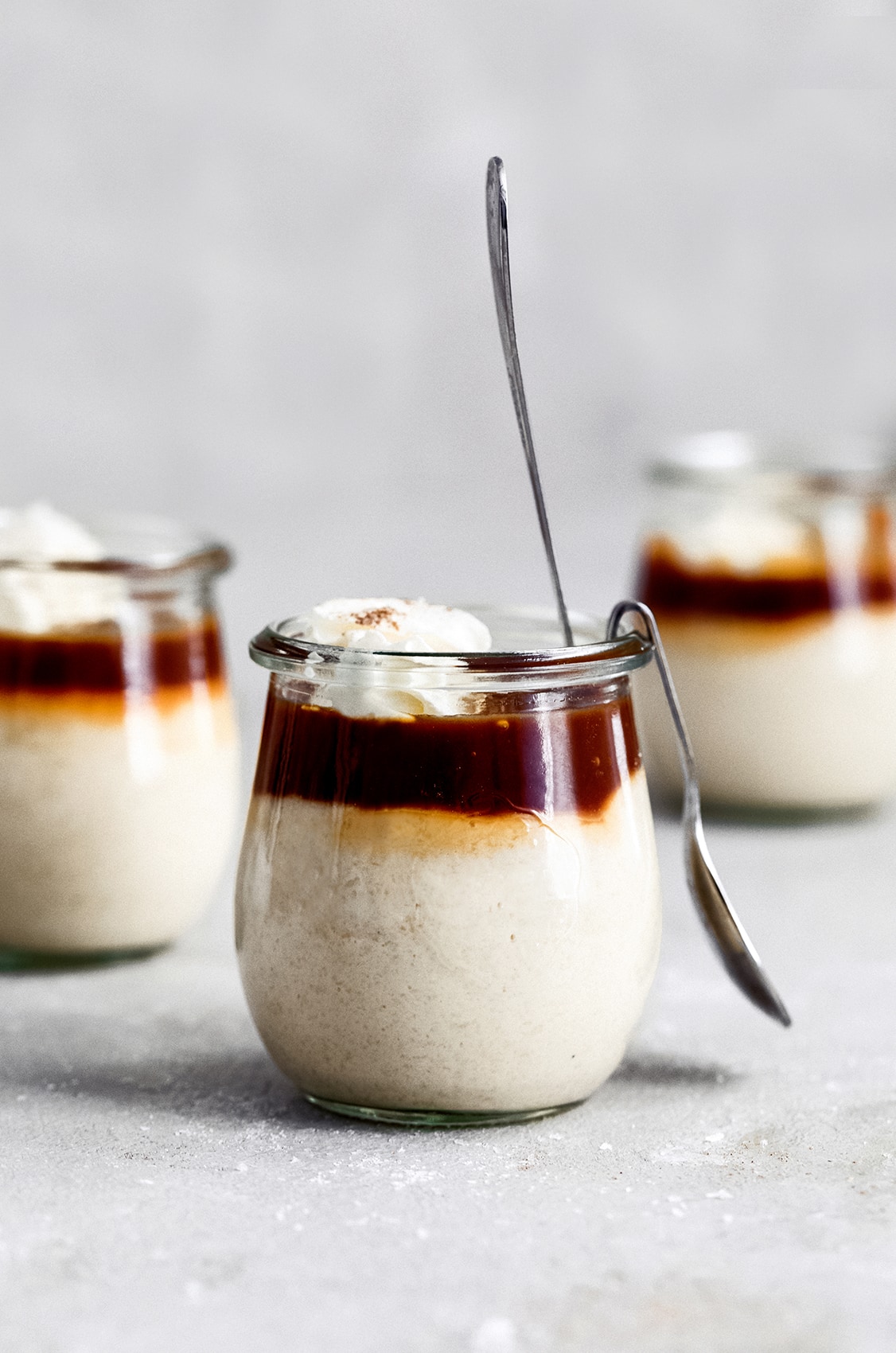 This is one of those desserts you'd find at fancy Italian restaurants here in LA. I found out about the world of budinos at Pizzeria Mozza – if you're in town you should definitely check it out. See, before budinos, it was all custard this, pudding that. Now there's no going back. Yes, they are similar in texture, and technically "budino" is Italian for pudding. But not pudding in the American sense, it's more like an eggy European pudding thickened with a little bit of cornstarch.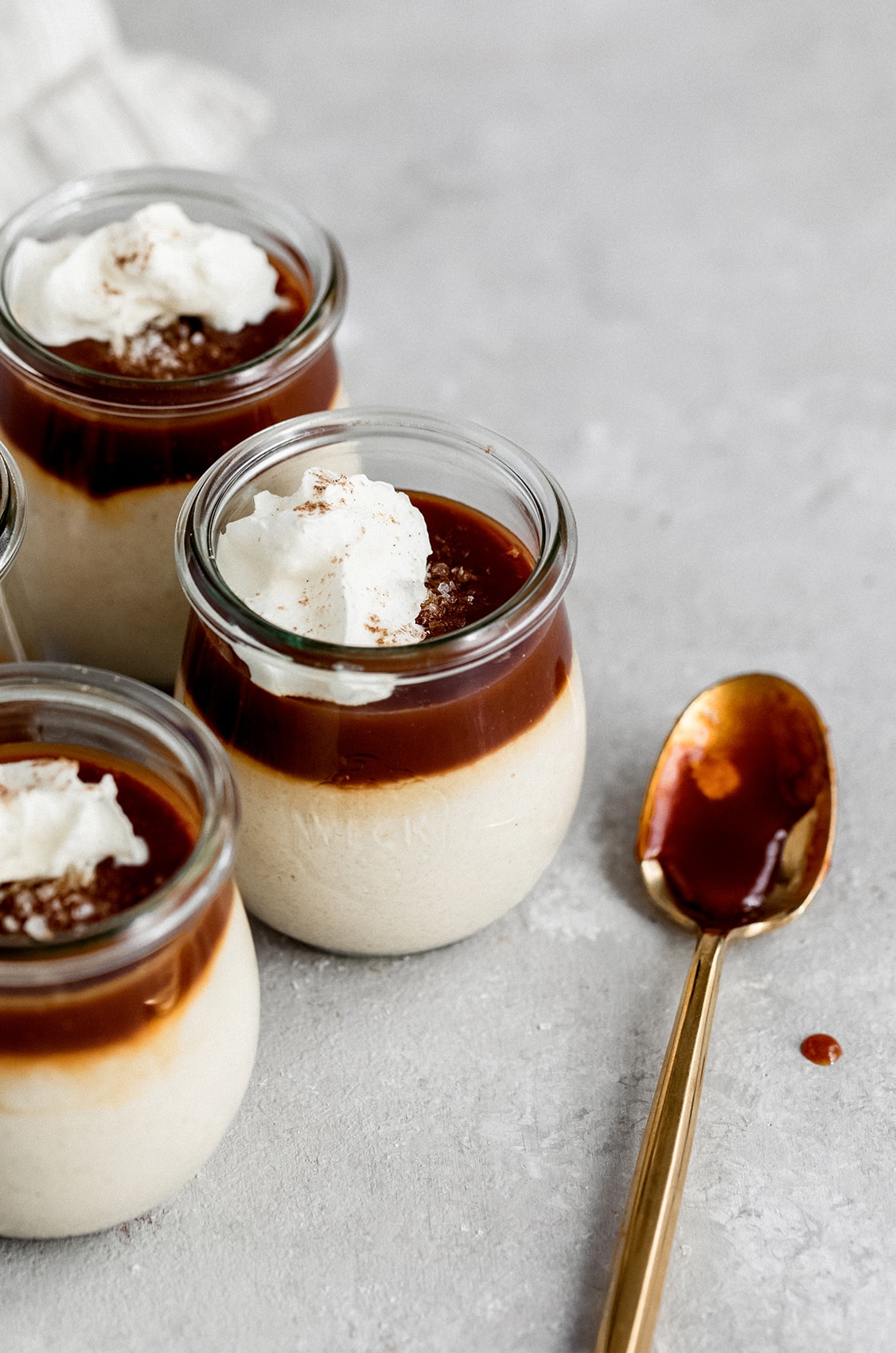 I may have gone overboard with the caramel sauce but it's just SO good. The combination of the butterscotch custard with the saltiness of the caramel is perfection. I love using Maldon sea salt flakes, it really makes a difference when you open your money on high quality ingredients. Please refrain from using Kosher salt here!
Although it is served with whipped cream, in all honesty, I could do without. It works for styling and presentation purposes, but it takes away from the Italian experience IMO.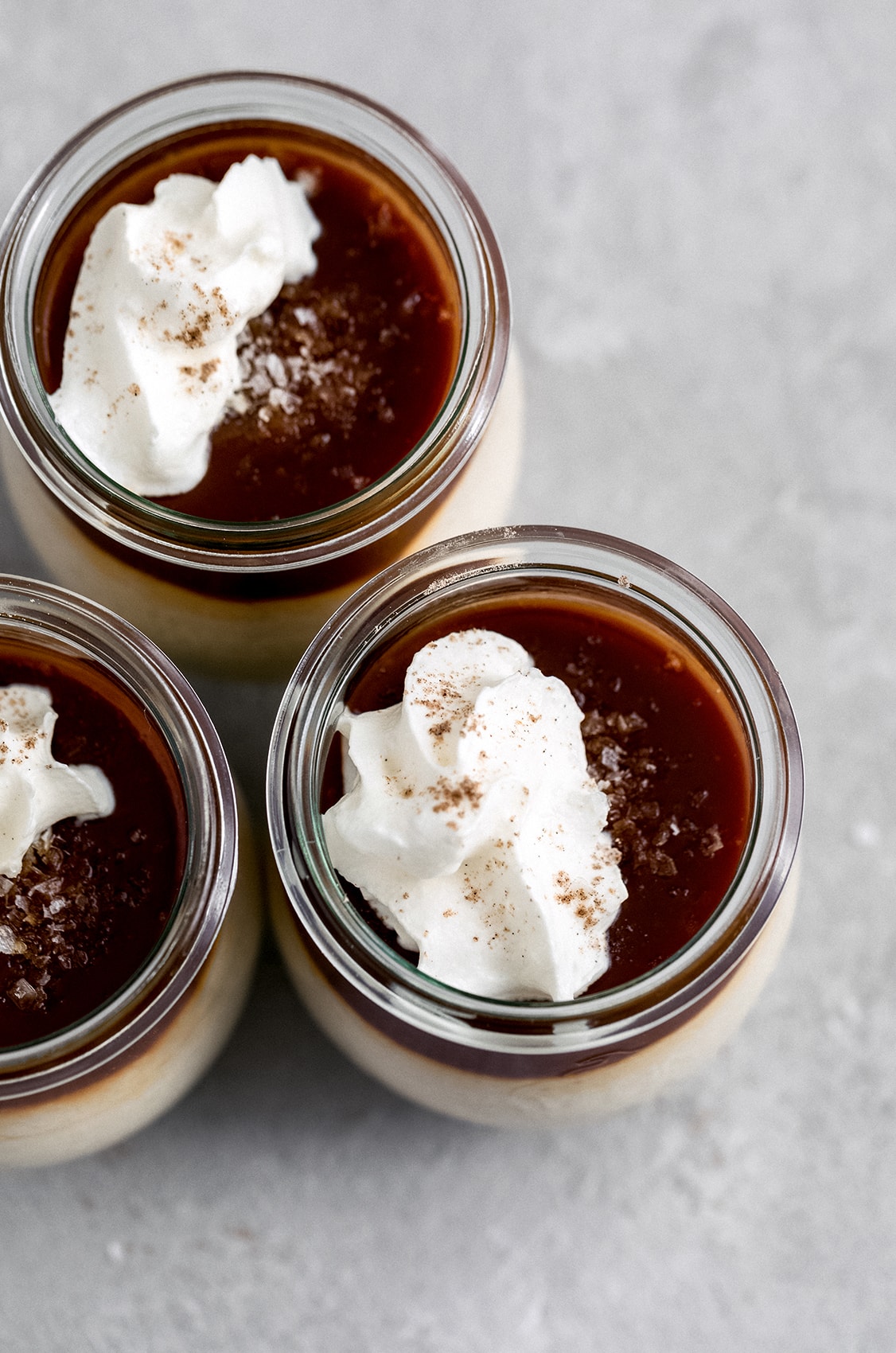 It's all about presentation
They say that you eat with your eyes first, that's why I always make it a point to decorate and style my desserts in a particular way. Of course food should taste GREAT, but think about how you serve it, what bowls/plates you use, what kind of spoon, what layers can you add to it to make it look even better. It really makes people feel extra special, and to me that's the whole point of making desserts.
Some of my favorite places to buy bakeware and props are Target and Homegoods. Seriously, half of my stuff is from there. I visit stores almost weekly to check out what's new. More expensive ones include Sur La Table and Williams Sonoma, but even then they have some very affordable options. I also got tons of questions about this funky little spoon. Isn't it cute? My mom got it for me in Amsterdam and I'm kinda sad I only got one!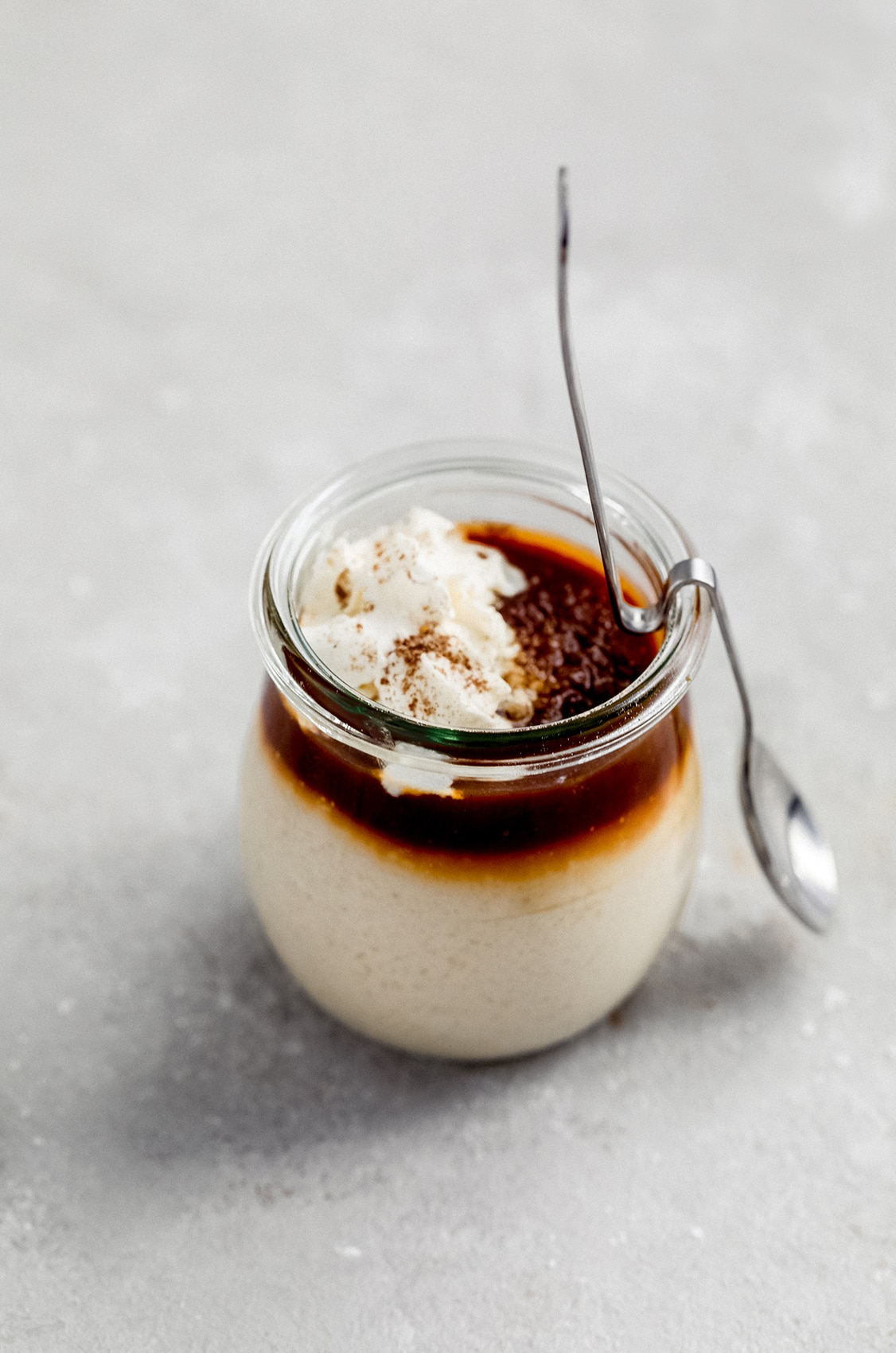 Make it count
Individual servings are always great when you're having people over. Again, it's all about the experience. Some recipes can be split up into ramekins or glass cups and people absolutely love it. Individual portions are also perfect for when you're trying to be "good" with your diet. No leftover budino calling your name at 9pm on a Tuesday (I see you!).
These budinos can last up to 3 days refrigerated (good luck with that). So make a batch and enjoy!
Make sure to tag me on instagram @yogaofcooking if you make the budinos. I love seeing what you create at home for your loved ones. Happy baking!
xRosana
Print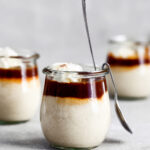 Butterscotch Budino
---
Author:

Rosana

Total Time:

25 minutes

Yield:

4
Description
A creamy custard-like layered dessert with a hint of dark rum and a salted caramel topping. The perfect make-ahead dessert for two!
---
For the budino
3 cup

heavy cream

1 cup

whole milk

3/4 cup

brown sugar

3/4 cup

water

3/4 tsp

salt

1/3 cup

water

1

egg, plus 2 egg yolks

6 tbsp

cornstarch

6 tbsp

unsalted butter

1 tbsp

dark rum
Flaky sea salt (for serving)
For the caramel sauce
1⁄2 cup

brown sugar

2 tbsp

unsalted butter

3/4 cup

heavy cream

1 tbsp

tsp vanilla extract
Topping:
---
Instructions
For the Budino:
In a small bowl, combine the milk and heavy cream. In a medium pot over medium heat, mix in the brown sugar, water and salt.
Cook until sugar is melted and smells caramelized (color should be dark brown), around 10-12 minutes. Next, add in the cream mixture and whisk until it begins to boil.
In a separate bowl, whisk the egg and cornstarch. Slowly, add one cup at a time of the butterscotch mix. Continue whisking and adding the rest of the mix until you get a thick custard-like texture.
If using rum, remove the mixture from the heat and whisk it in. Strain the custard using a mesh strainer and divide among 4 serving cups (glass preferred). Cover with lid and refrigerate.
For the Caramel Sauce:
In a medium saucepan over medium-low heat, combine the heavy cream and vanilla and bring to a simmer. Add in the butter and turn off the heat while it melts. Set aside.
Combine the brown sugar, heavy cream and butter in a small sauce pan over medium heat. Whisk until it thickens, about 5-7 minutes. Whisk in the vanilla and cook for another 2 minutes. Allow to cool and refrigerate until ready to use.
Assembly:
Top each budino with 2 tablespoons of caramel sauce, whipped cream, and a pinch of sea salt flakes.
Notes
This recipe is slightly adapted from Food52 Genius Desserts, from Pizzeria Mozza
Prep Time:

10 minutes

Cook Time:

15 minutes

Category:

Dessert

Cuisine:

Italian
Keywords: butterscotch budino
Recipe adapted from Saveur.
Check out more recipes below:
Chocolate Hazelnut Mousse for Two