Black-bottom Pecan Pie – A creamy and fudgy chocolate layer snug between a buttery, flaky crust and a caramelized pecan topping.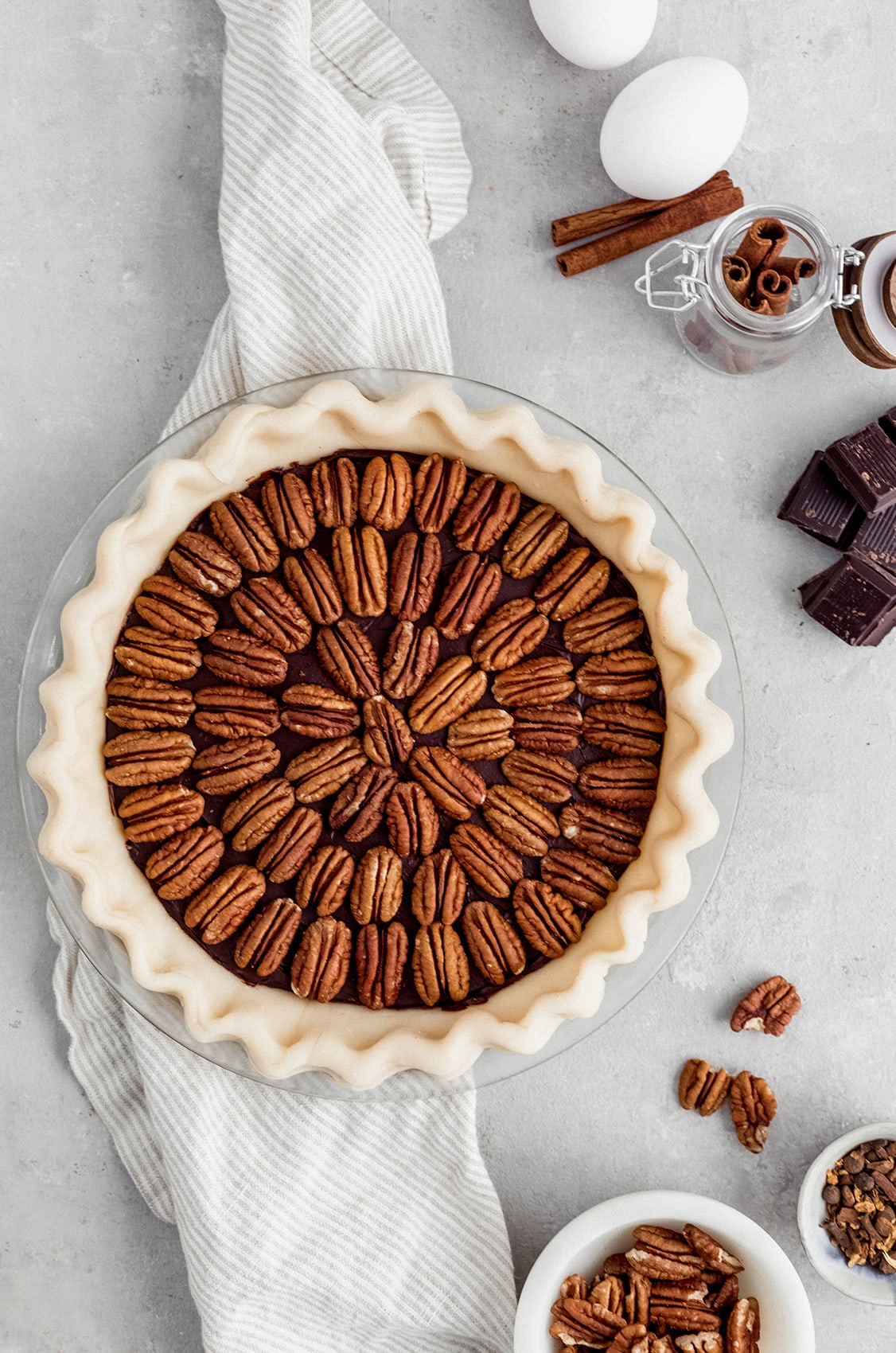 Thanksgiving is only a week away, so I wanted to share this one with you quick! I'm not usually a traditional person, but a great pecan pie recipe is a must. I wanted to give it a little twist, so after a lot research and testing I decided to go with this Southern version. It really is the best of both worlds.
The best part about this pie is the chocolate filling. A mix of chocolate ganache meets brownie batter made with chopped dark chocolate and brown sugar, poured on top of an easy, homemade pie crust.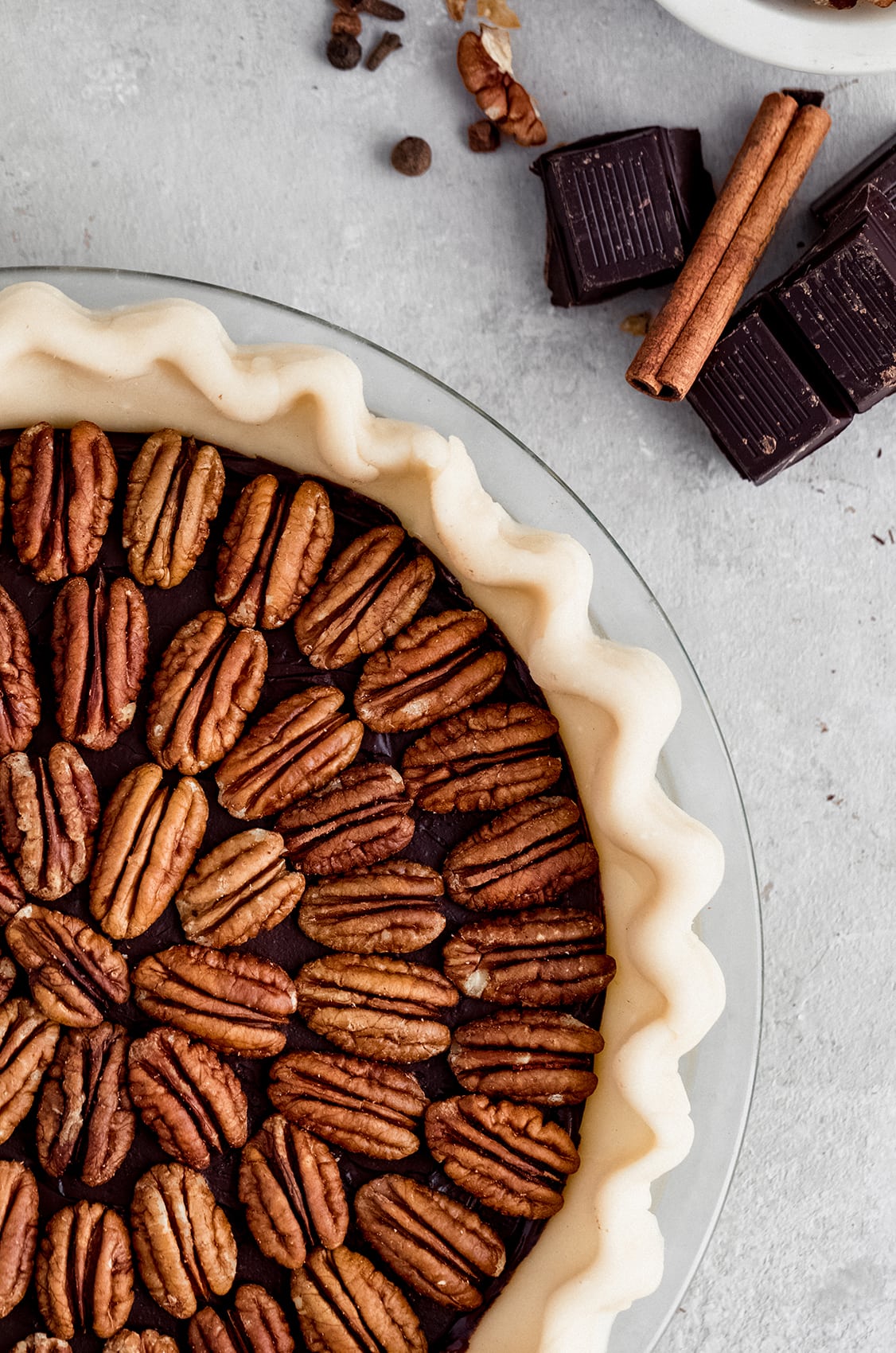 A few tips on making pie crust:
– Always weigh out your dry ingredients, especially when making a pie crust. But if you still prefer using measuring cups or simply don't have a scale, then make sure you level it off by using the back of a knife.
– Mae sure your ingredients are cold. Use frozen butter (life changing) and ice cold water. Also, use the least amount of water possible, add one tablespoon at a time until the dough comes together. 
– This life changing tip comes from A Cozy Kitchen – use a box grater to cut up the frozen butter. 
– This way it's easier to handle the flour mixture and always results in a tender crust. Also use your fingertips when working the dough.
– Let the dough rest in the fridge, ideally overnight. If you're in a rush, refrigerate for at least 30 minutes. When ready to roll out the dough, flour the countertop and allow it to sit for about 10 minutes (it won't stick as much). Keep flouring as you go (including the rolling pin) to prevent it from sticking.
– Transfer the dough to the pie pan by rolling it onto the rolling pin and layering it over the pan.
– Use a glass pie pan like this Pyrex one.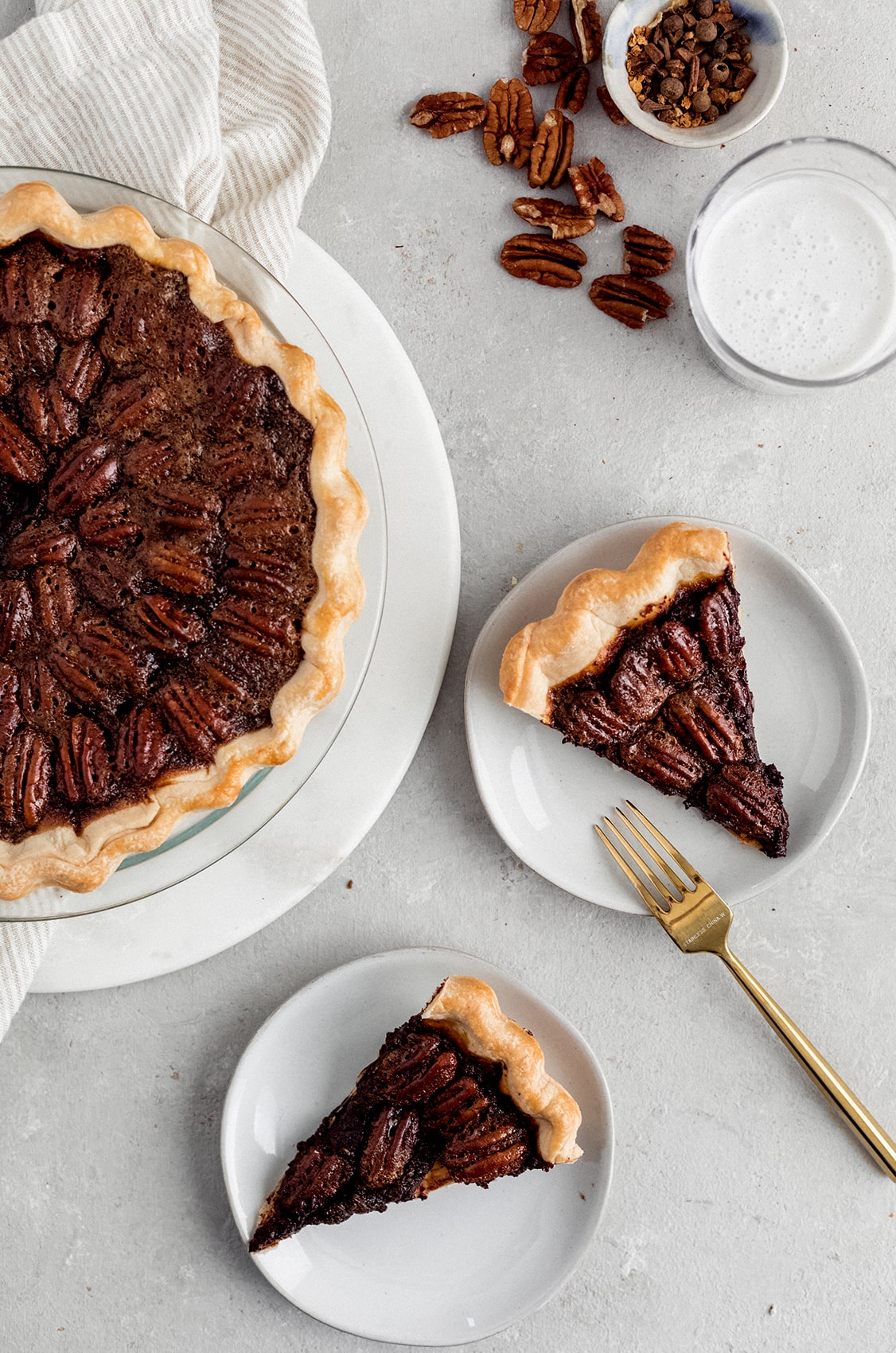 After the pie crust is done and you've poured the chocolate ganache, freeze it for around 15 minutes so that it hardens a bit. It'll make it easier to add the pecans on top. And if you're OCD like me, you'll be glad you did! I arranged the pecans by hand (patience!) to create a cool pattern but you don't have to.
Thanksgiving Tip:
Make the crust the night before (or use store bought – available at Target or Whole Foods). Keep refrigerated until ready to use.
One last thing – I LOVED eating it while still warm with a scoop of vanilla ice cream 😉
Happy Thanksgiving!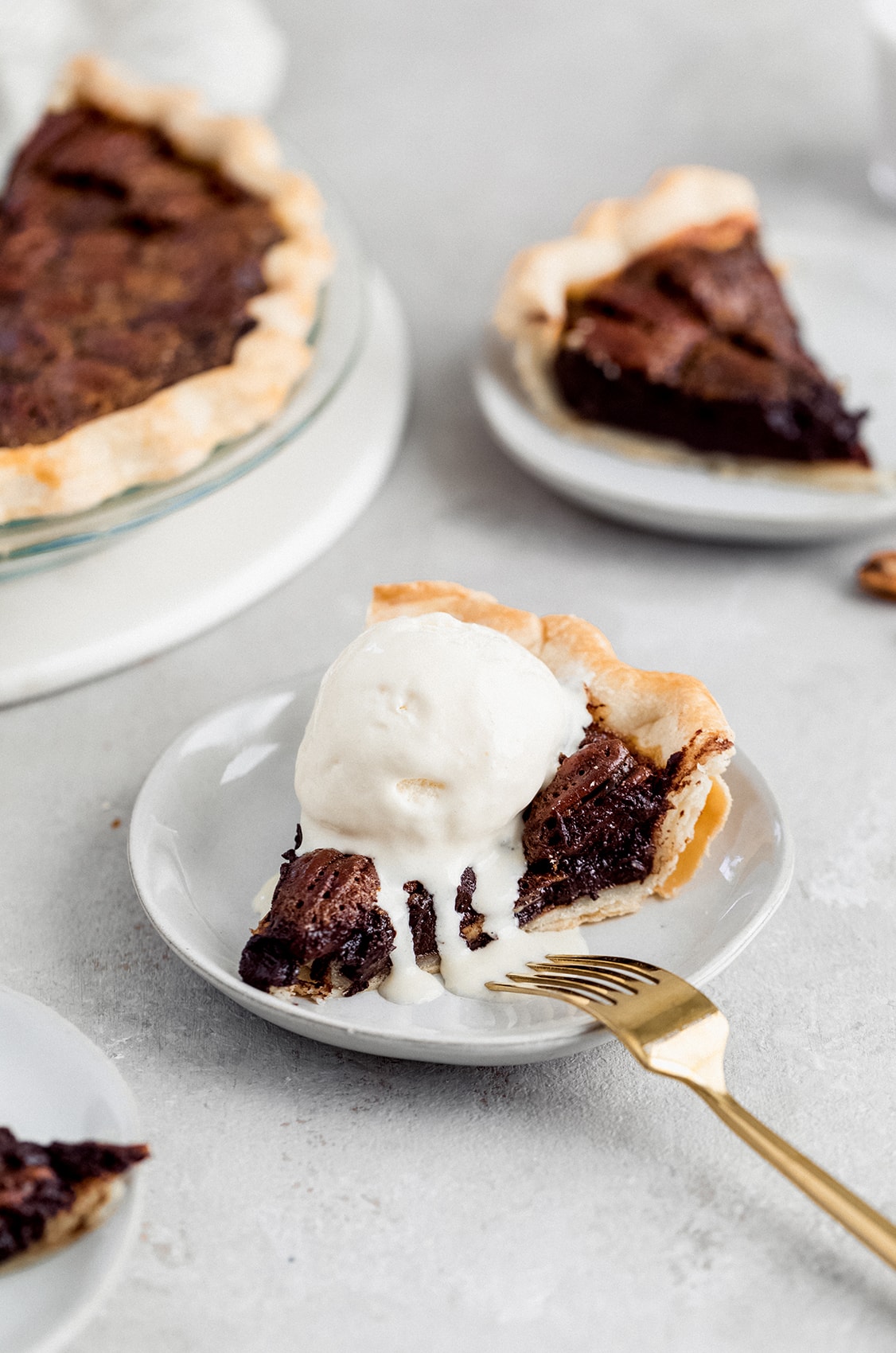 More Thanksgiving deliciousness:
Pumpkin Cheesecake with Maple Bourbon Meringue.
PS – tag me if you make it! @yogaofcooking
Print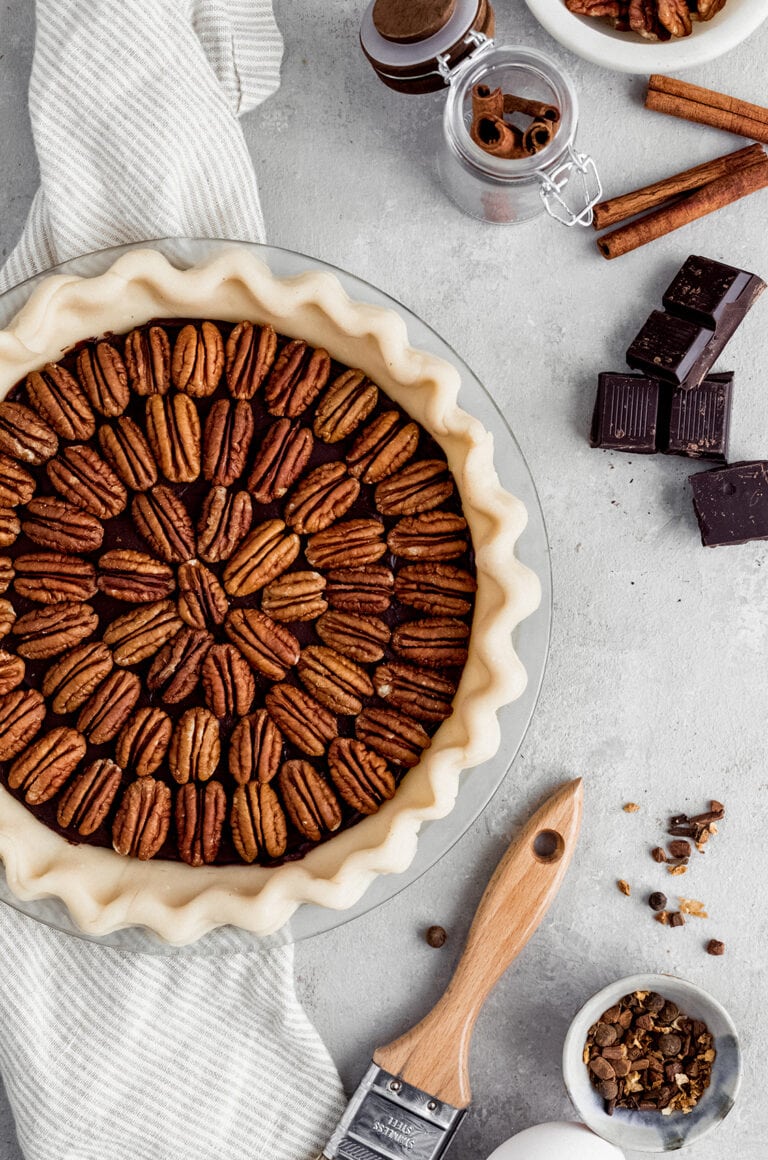 Chocolate Pecan Pie
A creamy and fudgy chocolate layer snug between a buttery, flaky crust and a caramelized pecan topping.
Total Time:

70 minutes

Yield:

1

2

1

x
Pie Crust:
1 1/4

cup

gluten free flour (or regular flour)

1 1/2 tbsp

sugar

1 tsp

sea salt

1/2 tsp

group cardamom (optional)

8 tbsp

butter (frozen)

3

–

5

tbsp ice cold water

1

egg
Chocolate Filling:
2/3

cup

heavy cream

5

oz

dark chocolate

1/3

cup

light brown sugar

1/2 tsp

vanilla extract

1/2 tsp

cinnamon
Pecan Topping:
3/4

cup

light brown sugar

5 tbsp

butter

1/3

cup

molasses

1 tbsp

maple syrup

1 tbsp

vanilla extract

1/2 tsp

salt

1/2 tsp

cinnamon

2

eggs

2

cups

whole pecans
Instructions
For the Pie Crust
In a large bowl, combine flour, sugar, salt and cardamom (if using). Remove the butter from the freezer and grate, using a box grater. Combine the butter with the flour mixture using your hands, breaking it into the flour until mixture resembles coarse crumbs.
Add 3 tablespoons of water and continue mixing until the dough comes together. Add more water if needed, one tablespoon at a time.
Form the mixture into a ball and wrap in plastic. Refrigerate for at least 30min but preferably overnight.
Remove the dough from the fridge and cool for 10 min. Flour your countertop and rolling pin. Roll the dough out to fit a 9″ pie pan, around a 12-inch round. Place the crust in pie plate by wrapping it around the rolling pin and unrolling over dish. Fit the dough into the bottom and sides. And tuck in excess dough.
To crimp the crust: with one hand on the inside and one hand on the outside edge of the pan, use the index finger of your inside hand to push the dough between the thumb and index finger of your outside hand to form a U shape. Then, continue around the pie.
For the Chocolate Filling:
Preheat to 350 degrees F.
Add the chopped chocolate to a small bowl. In a small saucepan, heat heavy cream until just before boiling. Pour the hot heavy cream over the chocolate and allow to sit for 5 minutes. Whisk until combined and smooth.
Pour the cooled melted chocolate into the pie crust and smooth it out using an angled spatula. Freeze for 20 minutes.
For the Pecan Topping
In a small saucepan, combine the brown sugar and butter and heat until sugar dissolves. Add the remaining ingredients and mix until well combined.
Remove the pie dish from the freezer and arrange the pecans over the mixture. See photo for reference.
Pour the filling over the arranged pecans.
Brush the edges of the crust with egg wash and cook for 50-55 minutes.
Let cool and serve with vanilla ice cream.
Author:

Rosana

Prep Time:

20 minutes

Cook Time:

50 minutes

Category:

Dessert

Cuisine:

American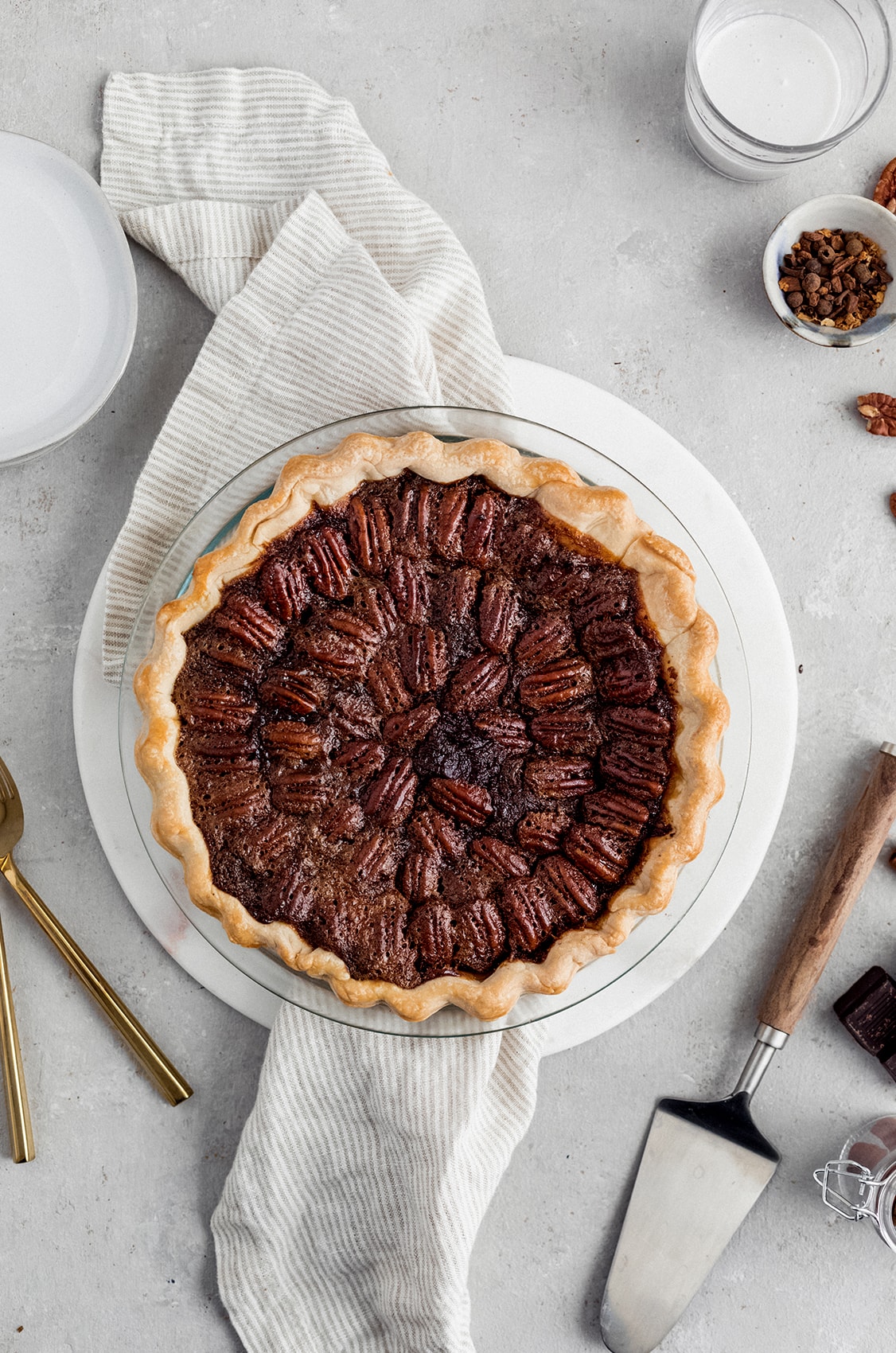 10