Creamy Tropical Tapioca pudding made with mango, coconut chips and blueberries. This recipe is quick, easy and gluten free – perfect for a quick breakfast or afternoon snack.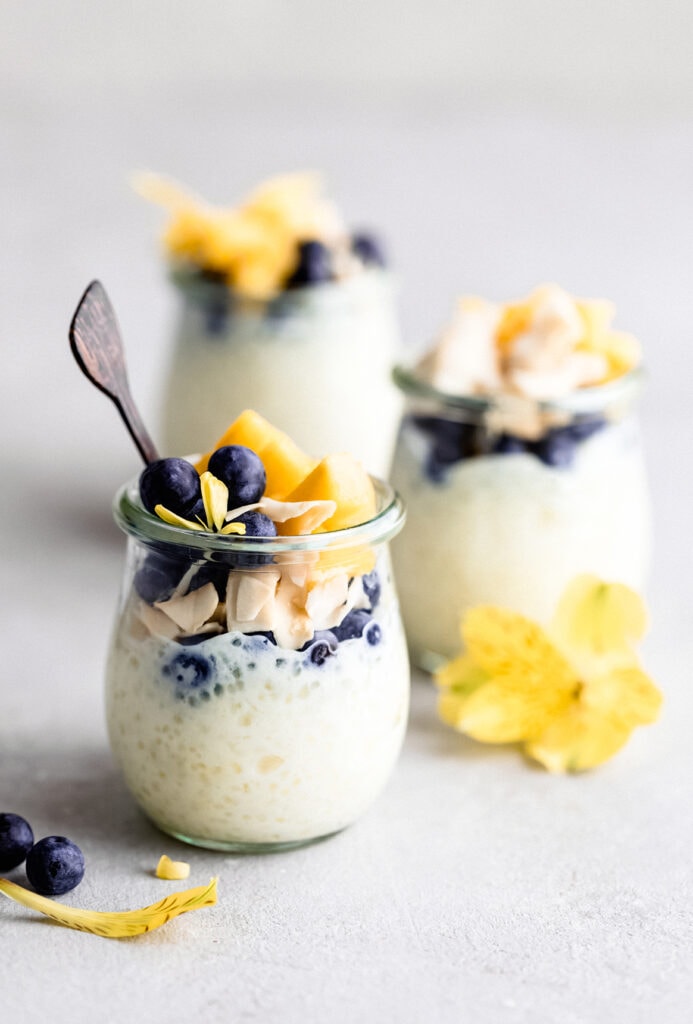 The best part of my job is sharing recipes with you, especially when I get so many of your messages on Instagram asking for them! This delicious Tropical Tapioca pudding is one of my boyfriend's favorite treats of all time. And, I love making it for him!
What is Tapioca?
If you've never heard of tapioca, you're truly missing out! It's extracted from cassava root (also known as Yucca in South America), and it's gluten free! It doesn't have a whole lot of nutrients but it does have some fiber. It's also a great alternative to chia puddings! Tapioca is usually added to gluten-free products and it is used to make Boba Teas (which I also love!)
For this recipe I used Kraft Minute Tapioca (not sponsored) because it's pretty accessible – you can find it at Walmart, Target or any local grocery store. It also is really quick to make, but it does contain soy for some reason. So if you're avoiding soy, I'd suggest getting Tapioca pearls and following the instructions on the package.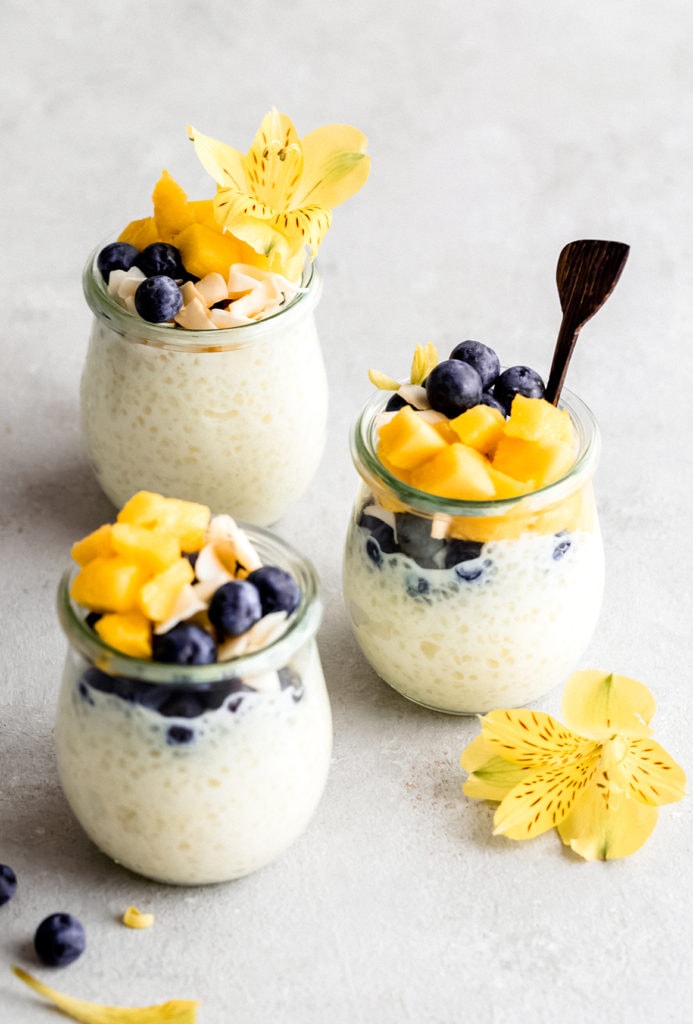 What I love about this Tropical Tapioca Pudding:
It's really easy to make: it takes less than 5 minutes to combine all ingredients. All you have to do is let the mixture come to a boil and allow it to rest for 20 minutes.
It's super versatile: I added tropical fruits as toppings – such as mango and blueberries, and coconut chips (unsweetened) for a crunchy bite. But, feel free to add your favorite fruits – banana and strawberries would work great too.
Great fro breakfast or snack: I like making a big batch for the week on Sunday nights. So if you're usually rushing out the door every morning, this works perfect for you. Grab a banana or some dried fruits and you're good to go. Also, my boyfriend loves to eat it after dinner while watching Game of Thrones!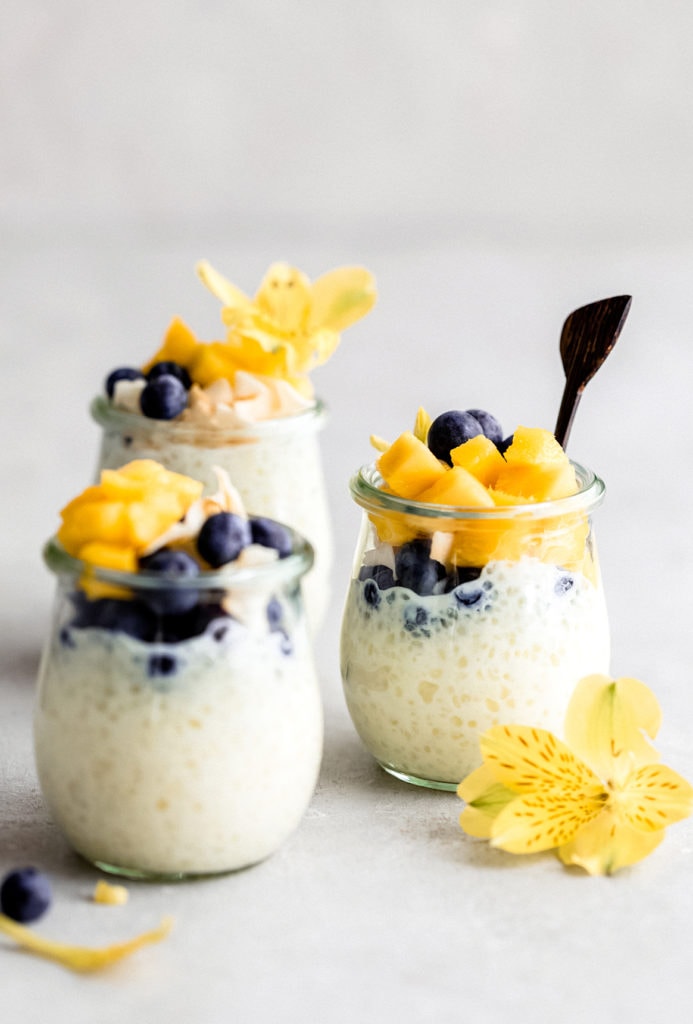 How to choose the perfect mango
When buying a mango there's 3 things I tend to look for:
Texture: similar to avocados, mangos ripe slow at first. Once you feel they're nice and soft, they'll ripe really fast. So, use your experience with avos (or peaches), and go for a smooth and kinda soft texture if you want to eat them within a day (refrigerate to stop the ripening process). Squeeze them gently, they should give a bit once ready to eat.
Color: color is not a good indicator since there are a few different varieties (so go by feel instead). The most common in the US are the Tommy Adkins variety, which turn that traditional orange mango color. They're sweet & firm.
Smell: mangos that are ready to eat will get fragrant and ooze sap. Look for the sugary sap that oozes out of the stem, this means they'll be sweet! But, to be safe, I tend to prefer the texture trick.
If you don't know how to cut a mango, here's a quick video.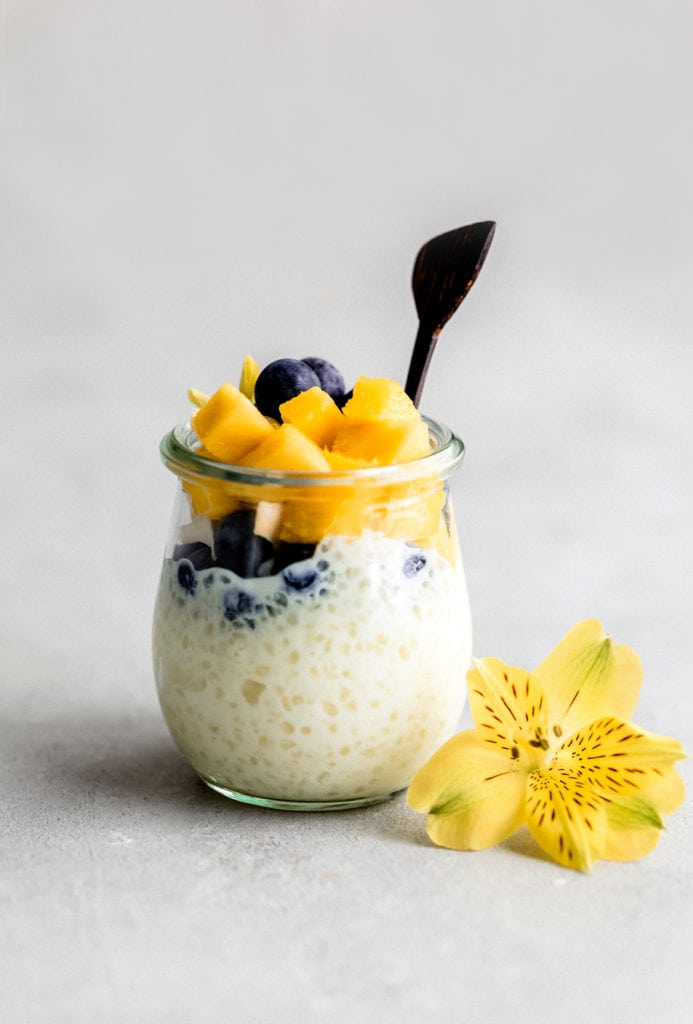 And there you have it friends, a quick & easy treat that's also good for you. As always, let me know if you make it by sharing it on Instagram using the hashtag #yogaofcooking! I love seeing your creations. Pin this recipe and save for later by using the button on the recipe card or at the bottom of the post.
Happy Baking! x
Print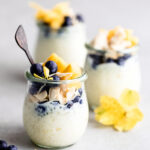 Tropical Tapioca Pudding
---
Description
Creamy Tropical Tapioca pudding made with mango, coconut chips and blueberries. This recipe is quick, easy and gluten free – perfect for a quick breakfast or afternoon snack.
---
1

egg

2 3/4 cup

whole milk

1/2 cup

granulated sugar

3 tbsp

tapioca, I used Kraft Minute Tapioca

1 tsp

vanilla
Toppings:
1

mango, diced

1/4 cup

organic blueberries

1/4 cup

, coconut chips unsweetened
---
Instructions
In a medium saucepan, whisk egg and milk until blended. Stir sugar and tapioca, and let sit for about 5 minutes.
Bring to a full boil* over medium heat, while whisking constantly. This should take about 5-10 minutes.
Remove from head and whisk in vanilla.
Let sit for 20 minutes before serving.
Add your favorite toppings when ready to eat. Enjoy!
Notes
A full boil means that you should see big bubbles and lots of roiling action that doesn't stop when stirred.
Prep Time:

5 minutes

Cook Time:

10 minutes

Category:

breakfast, snack

Cuisine:

American, Thai
Disclosure: some of the links in this post are affiliate links, meaning I will get a small commission (at no extra cost to you!) if you click through and make a purchase.
Looking for quick treats? Check these out!