Chocolate & Caramel Swirled Meringues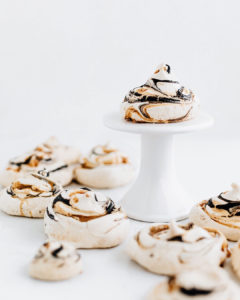 Easy, no fuzz recipes have been my go-to this summer and these meringues are no exception. The best part is they look like a ton of work! But in fact, these are simple and easy, and only a few ingredients. Traditional meringues are sheer perfection, but I decided to add chocolate and caramel because, why not? I live by the motto that chocolate fixes everything so I'm happy to add it wherever I can.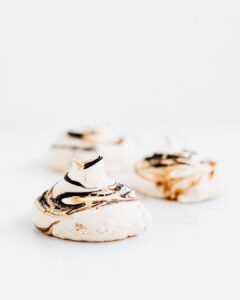 These meringues are my favorite because they are light and crisp, but chewy on the inside. The salted caramel gives it a little kick so they're not overly sweet. There's a couple tricks to making them though. First, make sure you have an oven thermometer. For the longest time, things would just burn and I couldn't figure out why. It turns out my oven is actually 50 degrees hotter than it's supposed to be.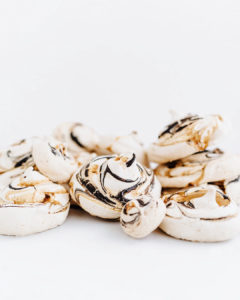 Another trick I like to use when making meringues to first separate the eggs while chilled. Then set the egg whites aside and use room temp. This way they'll whip up to a higher volume. For a strong meringue you need to add an acidic ingredient, such as cream of tartar. You can also use about 1/4 teaspoon of lemon juice per egg white, which is what I did. I find that most people to have cream of tartar readily available so lemon felt like an easy swap. Now, you're set!
Happy Baking!
Print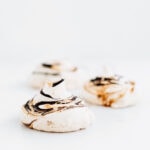 Chocolate & Caramel Swirled Meringues
---
Description
A simple twist to the classic cloud-like meringues cookies. These Chocolate & Caramel swirled meringues are light and crisp, with a slightly chewy center.
---
For the Meringues
4

egg whites (room temperature)

1 cup

sugar

1 tbsp

powdered sugar

1 tsp

vanilla extract

1 tsp

lemon juice
For the Topping
8 oz

dark chocolate (melted, cooled)
salted caramel sauce
---
Instructions
Pre-heat the oven to 250 degrees and line two large baking sheets with parchment paper. Set aside.
In the bowl of a stand mixer bowl fitted with a whisk, beat the egg whites until frothy. Increase the speed to medium-high and Gradually add in sugar, powdered sugar, vanilla and lemon juice. Whip until the meringue holds glossy peaks and mixture is free of sugar grit when rubbed between two fingers. Spoon mixture onto baking sheet.
Make sure the melted chocolate and salted caramel sauce is cooled and liquid.

Carefully drizzle on top of meringue and with a toothpick, just slightly swirl (don't mix).

Transfer to preheated oven and bake on the lower rack for 40 minutes, until the outsides are dry to the touch.
Turn off oven and leave in the oven for an extra 10 minutes. Remove the meringues from the oven and allow them to cool completely. Then gently peel them away and transfer to cooling rack.
The meringues are best when served the day they are made. Stored in an airtight container at room temperature for 3-4 days, or in the fridge for extra chewiness.
Prep Time:

10 minutes

Cook Time:

40 minutes

Cuisine:

French