Delicious homemade donuts tossed in a churro topping and filled with dulce de leche. Serve them with milk or hot chocolate.
This post is sponsored by Lifeway Kefir. All opinions are my own.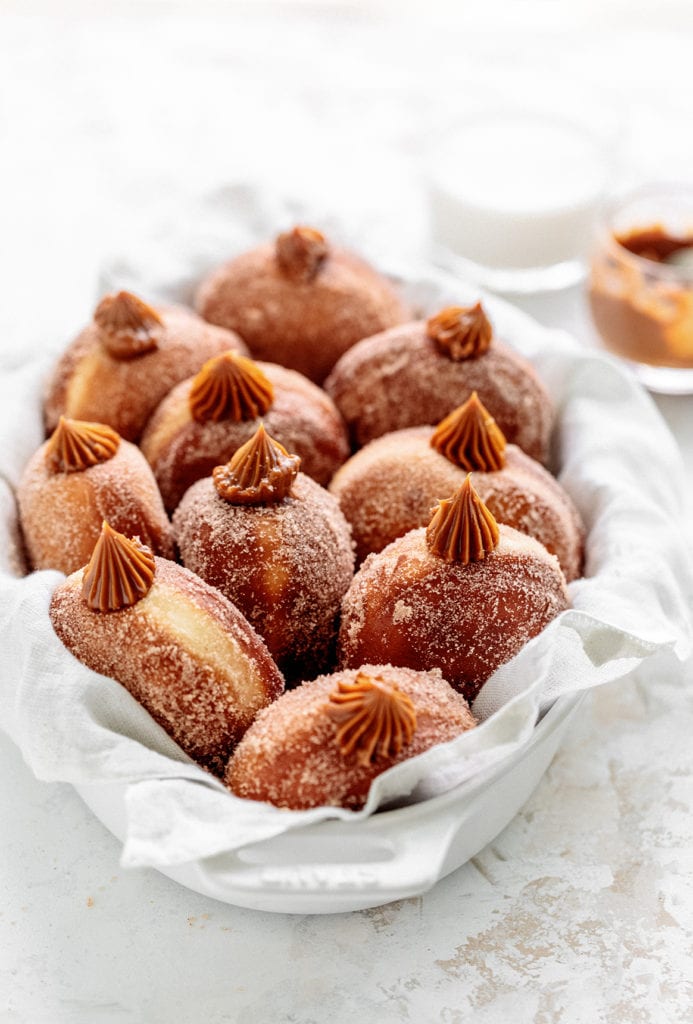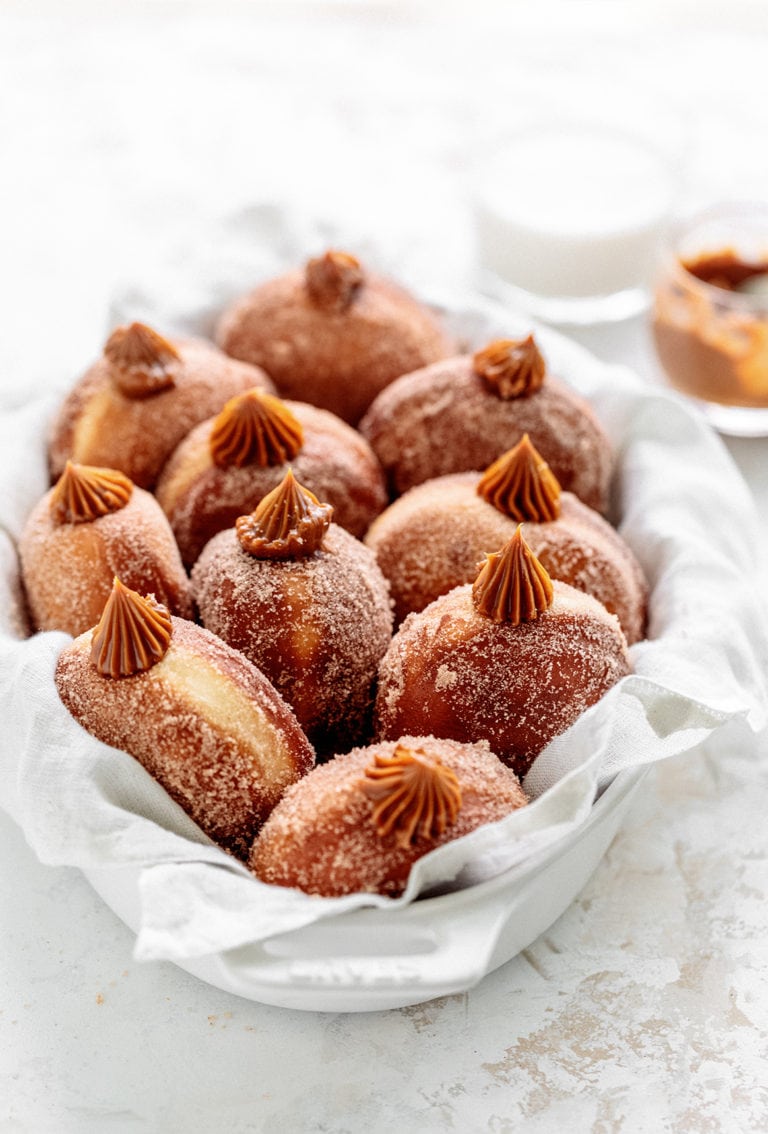 Not gonna lie, these dulce de leche filled churro donuts are anything but healthy! And, thanks ok. Sometimes you just gotta indulge, especially when it comes to homemade donuts.
Just like anything made from scratch, these churro donuts are a labor of love. However, that doesn't mean they're hard to make. In fact, after triple testing this recipe, I can assure you they're pretty straight-forward. All you need is high quality ingredients and some extra time (for the dough to rise).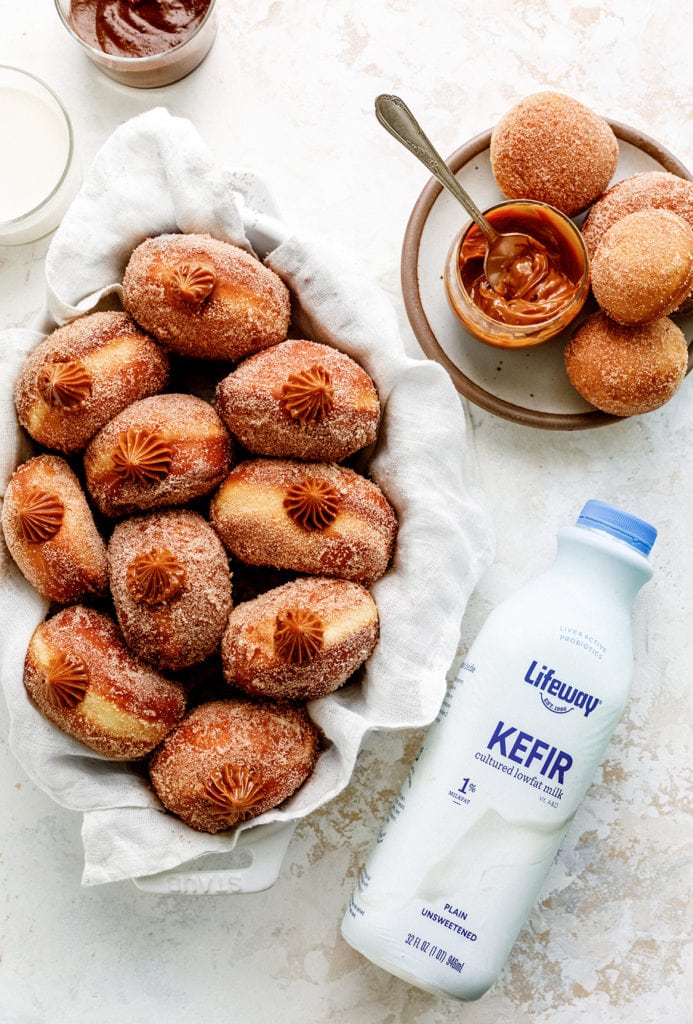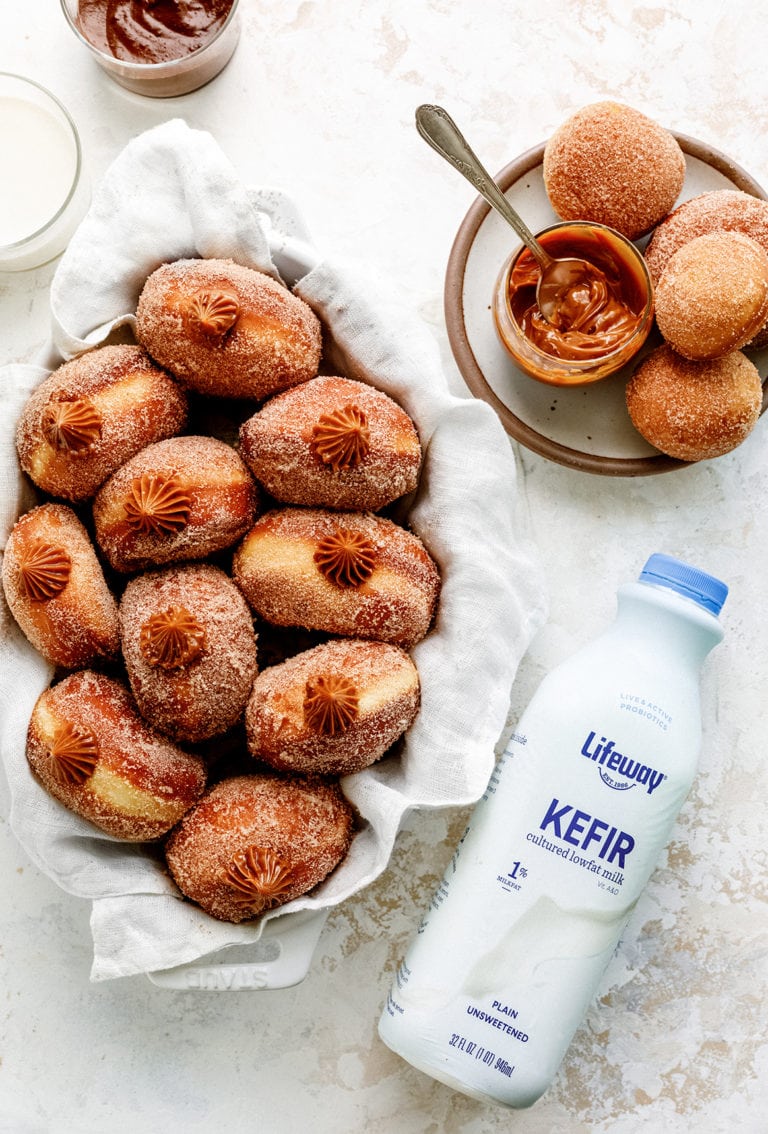 Speaking of high quality ingredients, I teamed up with Lifeway Kefir to bring you these delicious donuts. Below I'm sharing how to bake with Kefir and you can also see 2 other recipes here: Chocolate Cake and S'mores Meringue Pie.
I'm always excited to share hispanic (or Spanish) inspired recipes to add a little latin flavor to your lives. Churros are one of my favorite treats during the Fall and Winter. When I was living in Barcelona, they became my go-to during my walks home. Usually paired with a cup of hot chocolate (there's a recipe on my feed!)
how to use kefir in baked goods
We can all agree that baked goods aren't necessarily a nutritious food, however, when you use high quality ingredients you can feel so much better about your choices!
There's a few reasons why I love about Lifeway Kefir Organic Plain Whole Milk. First, it's a product we consume at home every day – wether it's in our morning smoothie or in our overnight oats. When baking, kefir adds a creamier consistency to cakes, quick breads and muffins, which is perfect for testing and developing recipes.
Also each bottle of Lifeway Organic Plain Whole Milk Kefir is made with certified organic, full fat milk that is up to 99% lactose-free, gluten-free and made with non-GMO ingredients and no added sugar. Plus it's packed with protein (10g per cup!), calcium and 12 live and active probiotic cultures.
Due to it's high acidity, it acts similarly to buttermilk in baking, resulting in a light and airy, and moist texture. To use kefir as a buttermilk substitute, use a 1-to-1 ratio.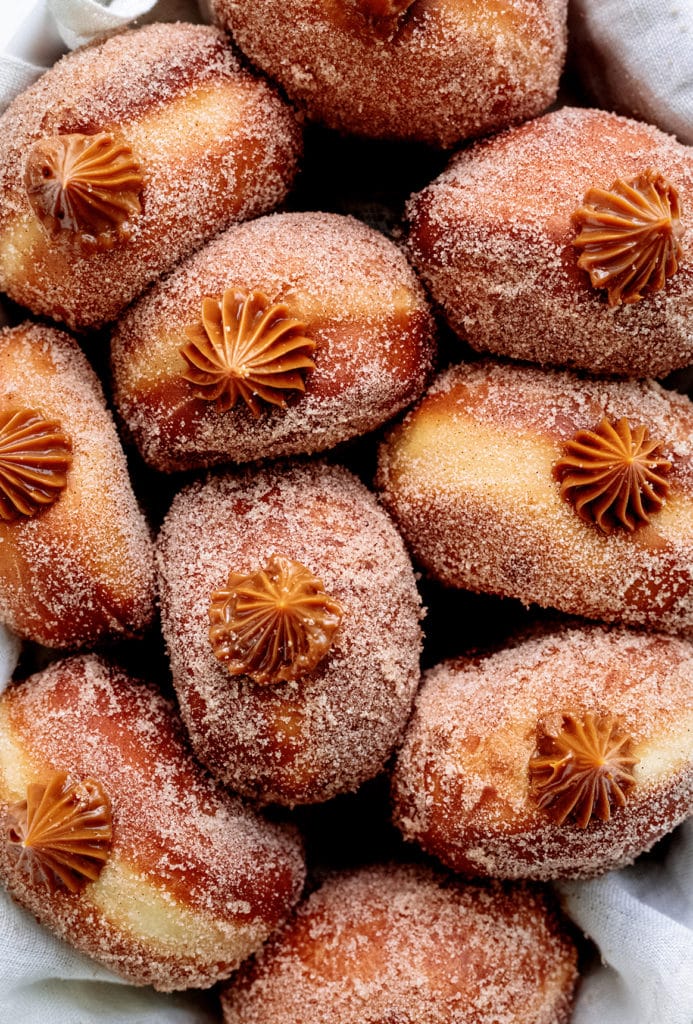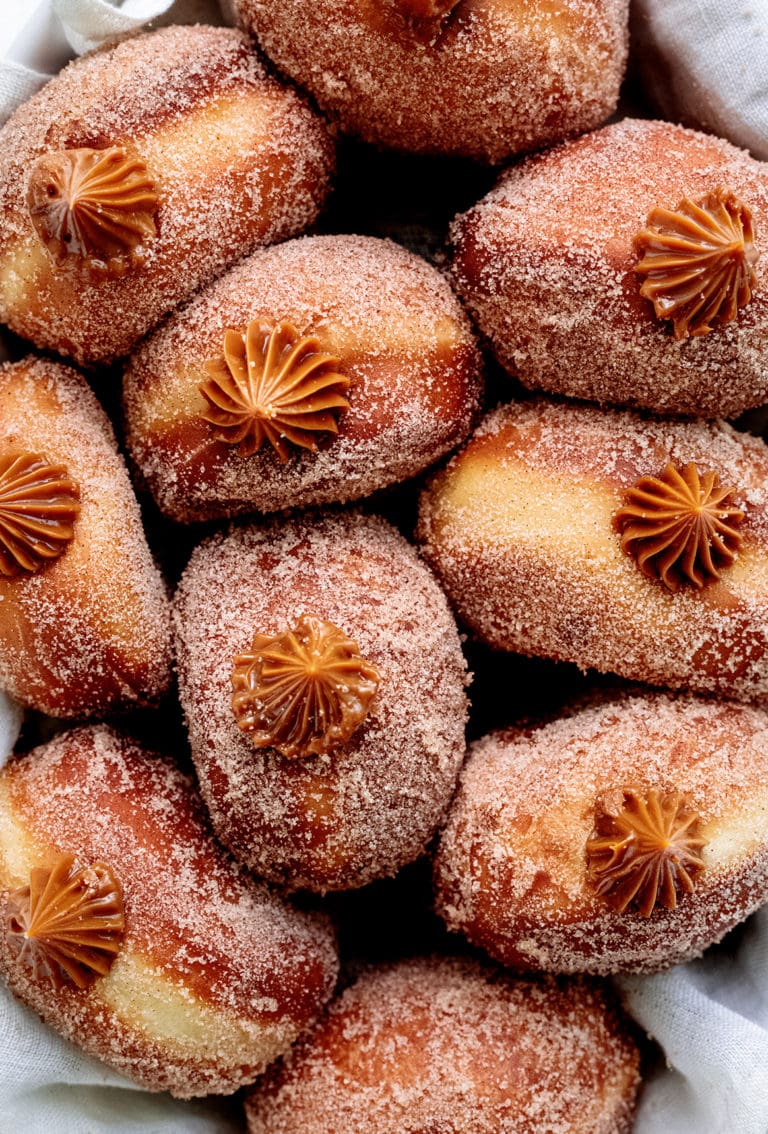 How to make Dulce de Leche filled Churro Donuts
Making donuts (or doughnuts) from scratch can be pretty simple. Make sure to read thru the entire recipe and account for the extra rest time, in case you're in a rush. But trust me, these are worth the wait.
To make dulce de leche filled churro donuts you'll need:
Active dry yeast: make sure it's fresh, if it's been sitting in your pantry for a while, I'd get a new one. I like this brand.
All purpose flour (unbleached): no substitutes here. You'll need 4 1/4 cups.
Lifeway's Plain Lowfat Kefir: due to it's high acidity, using kefir adds a softer texture to these donuts. You can use whole milk, too.
Softened butter: meaning butter that's been sitting on the counter for about an hour. Avoid using the microwave method.
Room temperature ingredients: nothing too hot (warm your milk to 110F) or too cold (like your kefir or milk).
Vegetable oil: heated to 350F. This is the best oil to fry donuts!
Dulce de leche: store bought is best. Stir until it warms up a little bit so it's easier to use.
Churro topping: a simple sugar-cinnamon mix.
Special Equipment: stand mixer with hook attachment, piping bag with star tip (or preferred tip), frying oil, 3 inch biscuit cutter and a candy thermometer.
This is a great basic recipe to have, you can use it to fill your donuts with pastry cream, nutella or jam. You can also switch up the churro topping for powdered sugar, or granulated sugar. And there you go, a brand new recipe idea!
I'm so happy you're here and are making one of my recipes! I would love to see how it turns out, so share it on Instagram using #yogaofcooking or send me a DM so I can see it and show others. It always makes my day!
Happy Baking! xo
Print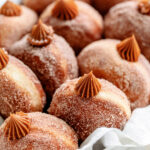 Dulce De Leche Filled Donuts
---
Author:

Rosana

Total Time:

30 minutes

Yield:

12-14 donuts
Description
Delicious homemade donuts tossed in cinnamon sugar and filled with dulce de leche. Serve with milk or hot chocolate.
---
2 1/4 tsp

active dry yeast (

1

packet)

4 1/4 cups

all purpose flour

2

large eggs +

1

yolk, room temp

1/3 cup

granulated sugar

1 cup

kefir or milk

5 tbsp

unsalted butter, melted and cooled

1/4 tsp

salt
Vegetable oil for frying
Churro Topping:
1/2 cup

granulated sugar

1 tbsp

cinnamon
Filling
1

(13.4 oz) can Dulce de Leche
---
Instructions
Warm kefir (or milk) to 110F. Combine the warm kefir (or milk), active try yeast and 1 teaspoon on sugar in a small bowl. Give it a gentle stir and set aside until it activates (doubles in size).
In the bowl of a stand mixer fitted with the hook attachment, combine the flour, sugar, salt, yeast mixture, butter and eggs, and mix on low speed for 5-6 minutes until dough comes together (it should come off the sides of the bowl).
Lightly flour a working surface and roll out the dough to about 1/2 inch thick. Using a 3 inch biscuit or round cookie cutter, cut out around 12-14 donuts.
Transfer to a baking sheet with parchment paper and sprinkle some flour over the top. Cover with a kitchen towel and allow to rise for 1.5 hours.
In a heavy duty pan, heat the vegetable oil to 350F (using a candy thermometer), fry 3 donuts at a time until golden brown (each side takes about 1 minute) on both sides.
Drain them on paper towel and toss them in the cinnamon sugar mixture.
Using a knife, cut a slit at the top and fill with dulce de leche (using a piping bag with a large star tip).
Churro Topping:
In a medium bowl, whisk the sugar and cinnamon until combined. Set aside.
Filling:
Using a spoon, stir the dulce de leche before transferring to a piping bag fitted with a large star tip.
Notes
*Lifeway Kefir products are available nationwide. For more information, visit the Where to Buy section on their site.
Prep Time:

15 minutes

Cook Time:

15 minutes

Category:

dessert, snack

Cuisine:

american, hispanic
Keywords: dulce de leche filled donuts, stuffed donuts
* This post is brought to you by Lifeway Kefir. All content, including recipe, photos, and words are my own. Thank you for supporting the brans that keep Yoga of Cooking, mindful.
looking for delicious recipes? check these out!