Decadent French Silk Pie made with a flaky pie crust, a chocolate ganache filling and topped with fresh whipped cream.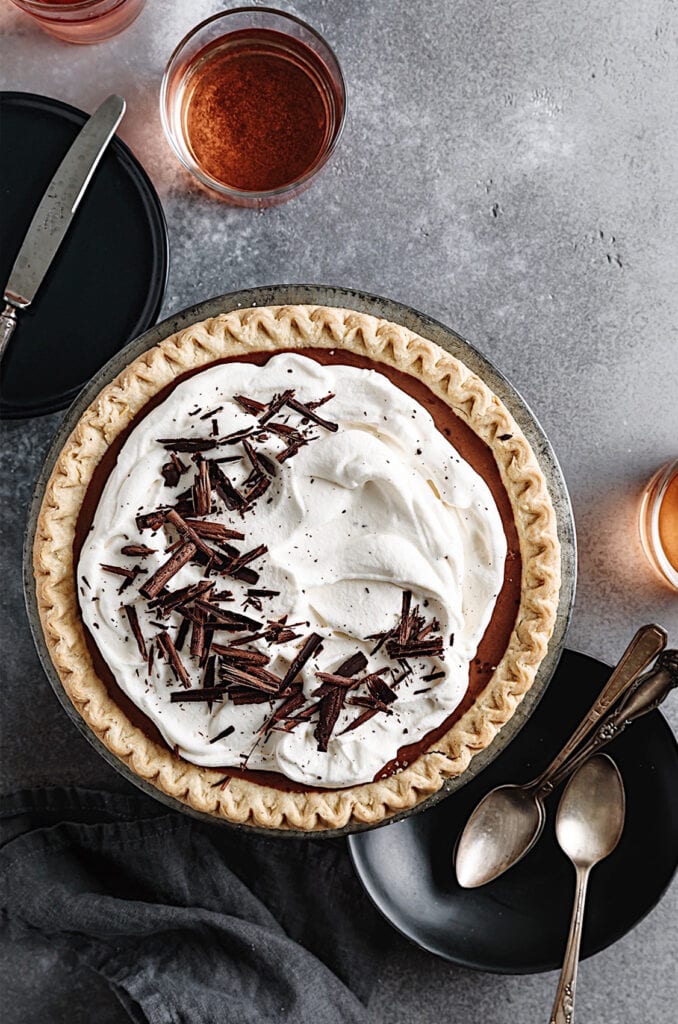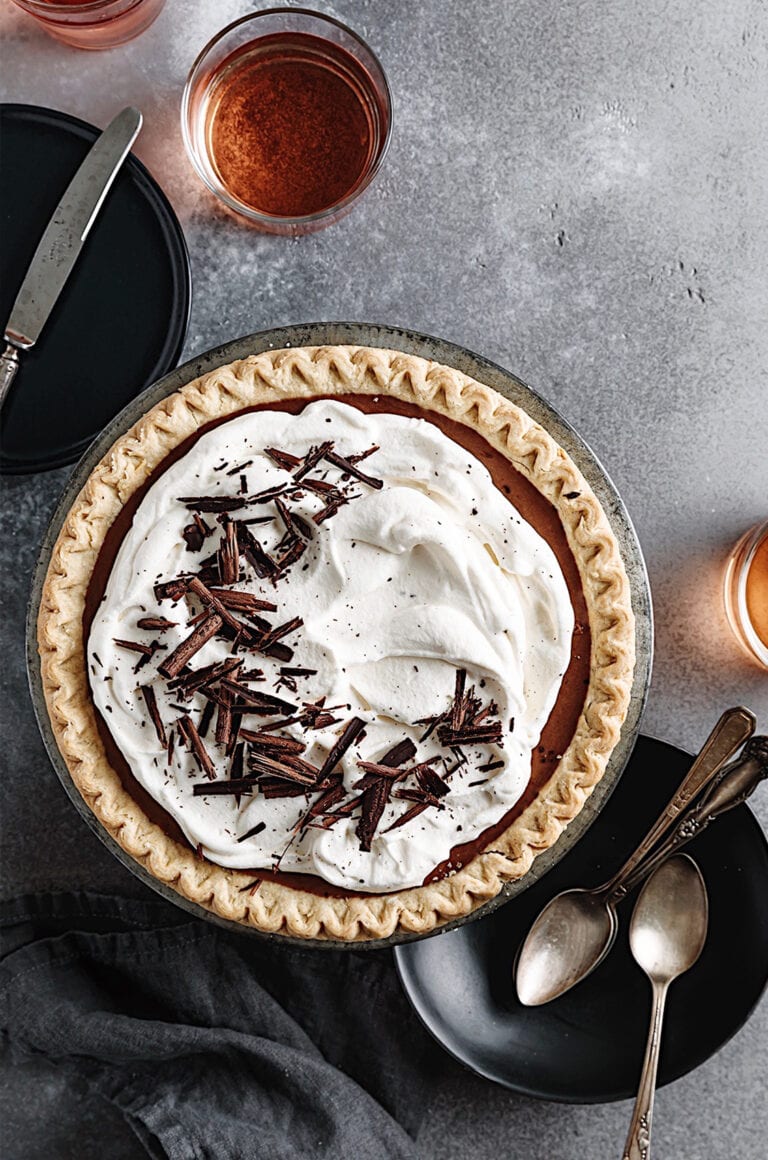 The idea behind this recipe was inspired by Joanna Gaines' French Silk Pie. I've actually never tried this dessert until I saw it in her new cookbook. However, I'm using my own pie crust recipe, filling and my go-to fresh whipped cream.
What's a French Silk Pie made of?
French Silk Pies can be made with a buttery pie crust or an Oreo crust. The chocolate filling is typically made with raw eggs, however this recipe doesn't call for eggs and doesn't require baking (besides the pie crust). It is topped with fresh whipped cream, which I suggest making it at home! And decorated with chocolate shavings.
If you'd like to make this recipe with an Oreo Crust, you can use this recipe.
Tips for making Pie Crust
Always weigh out your dry ingredients, especially when making a pie crust. But if you still prefer using measuring cups or simply don't have a scale, then make sure you level it off by using the back of a knife.
Always use cold ingredients. Use frozen butter* (life changing) and ice cold water. Use the least amount of water possible, adding one tablespoon at a time, until the dough comes together. 
*Use a box grater to cut up the frozen butter. 
This way it's easier to handle the flour mixture and always results in a tender crust. Also use your fingertips when working the dough.
Let the dough rest in the fridge, ideally overnight. If you're in a rush, refrigerate for at least 30 minutes. When ready to roll out the dough, flour the countertop and allow it to sit for about 10 minutes (it won't stick as much). Keep flouring as you go (including the rolling pin) to prevent it from sticking.
Transfer the dough to the pie pan by rolling it onto the rolling pin and layering it over the pan.
Use a glass pie pan like this Pyrex one.
looking for pie recipes? check these out!
I'm so happy you're making one of my recipes, and would love to see how it turns out! Share it on Instagram using #yogaofcooking so I can see it, it always makes my day!
Print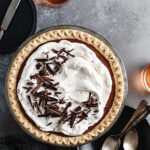 French Silk Pie
---
Author:

Rosana

Total Time:

1 hour 10 minutes

Yield:

12 servings
Description
Decadent French Silk Pie made with a flaky pie crust, a chocolate ganache filling and topped with fresh whipped cream.
---
For the Pie Crust
1 cup

 all purpose flour, unbleached

1 tbsp

 granulated sugar

6 tbsp

 unsalted butter, frozen

3

–

5

tbsp water, ice cold

1/2 tsp

 kosher salt

1

 egg, optional for egg wash
Chocolate Filling:
10 oz

 dark chocolate

2 oz

 milk chocolate

1/3 cup

 light brown sugar

1 1/4 cup

 heavy cream

1/3 cup

 butter
For the Whipped Cream:
2 cups

 cold heavy whipping cream, high fat

3 tbsp

 granulated sugar
Splash of vanilla extract
---
Instructions
For the Pie Crust
In a large bowl, combine flour, sugar, salt and cardamom (if using). Remove the butter from the freezer and grate, using a box grater. Combine the butter with the flour mixture using your hands, breaking it into the flour until mixture resembles coarse crumbs.
Add 3 tablespoons of water and continue mixing until the dough comes together. Add more water if needed, one tablespoon at a time.
Form the mixture into a ball and wrap in plastic. Refrigerate for at least 30min but preferably overnight.
Remove the dough from the fridge and cool for 10 min. Flour your countertop and rolling pin. Roll the dough out to fit a 9″ pie pan, around a 12-inch round. Place the crust in pie plate by wrapping it around the rolling pin and unrolling over dish. Fit the dough into the bottom and sides. And tuck in excess dough.
To crimp the edges: with one hand on the inside and one hand on the outside edge of the pan, use the index finger of your inside hand to push the dough between the thumb and index finger of your outside hand to form a U shape. Then, continue around the pie.
To bake the pie: preheat the oven to 400F. Line the pie with parchment paper and fill with pie weights. Refrigerate the pie while the oven preheats, around 10 minutes. Bake for 20 minutes. Remove from the oven, lift the parchment paper and weights out of the pie. Prick the pie with a fork to prevent air bubbles. brush the edges of the pie with egg wash and return the pie (without the weights) to the oven, and bake for 15 minutes until golden.
For the Chocolate Filling:
Place dark chocolate in a medium bowl. Set aside.
In a medium saucepan, heat heavy cream without allowing it to boil. Remove from heat and pour over the dark and milk chocolate. Let it sit for a minute before stirring.
Add the butter and brown sugar to the mixture and stir until smooth and fully combined.
Pour over the cooled pie crust. Smooth the top using with an angled spatula or the back of a spoon. Refrigerate for at least 4 hours, but preferably overnight.
For the Whipped Cream:
In the bowl of a stand mixer fitted with the whisk attachment, beat the heavy cream and sugar on medium-high speed until stiff peaks form, about 3-4 minutes.
Spread whipped cream on top, just before serving. Garnish with chocolate shavings. Enjoy!
Prep Time:

20 min

Cook Time:

50

Category:

Dessert

Cuisine:

American, French
Keywords: French silk pie, chocolate pie, easy pie crust